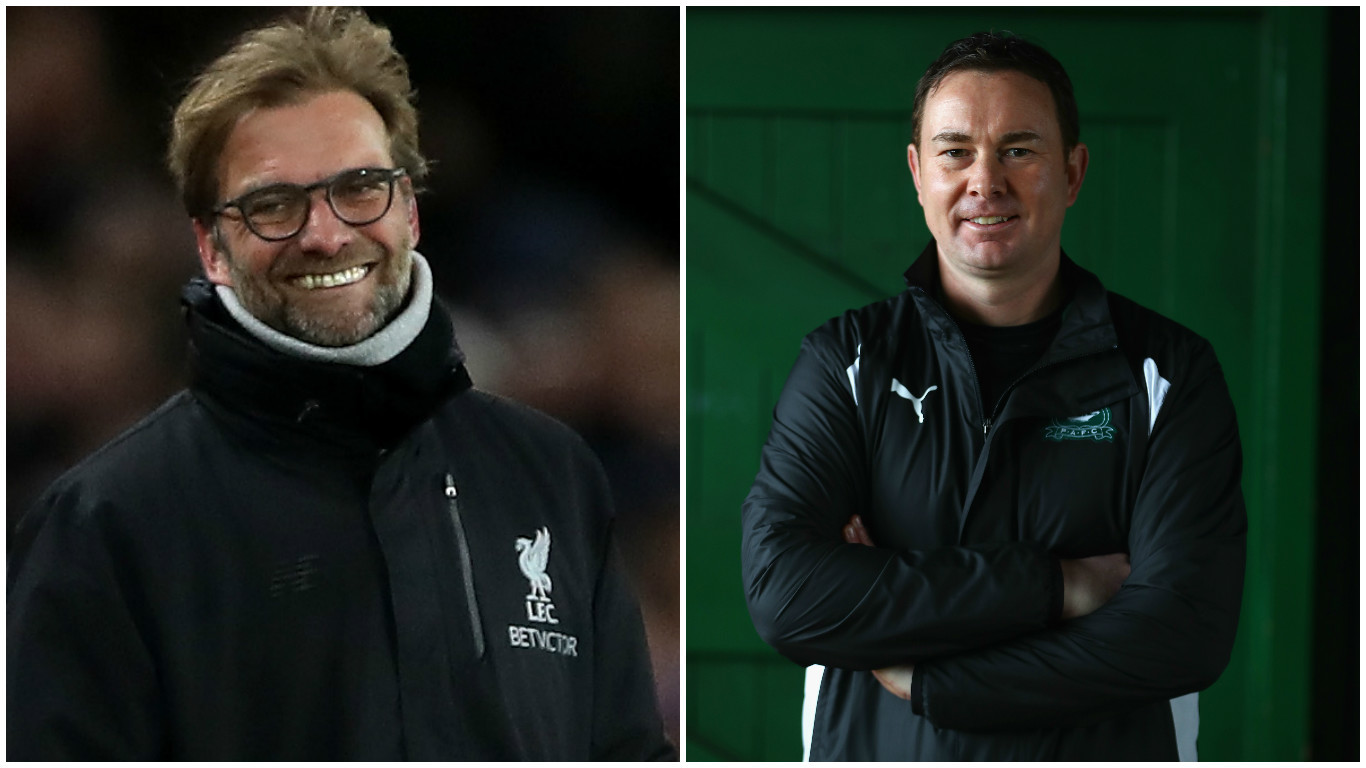 SIR ALEX FERGUSON once famously said his greatest achievement was knocking Liverpool off their perch.
Expletive deleted!
This afternoon on Merseyside, his fellow countryman, Derek Adams, will have a go at pulling off the same feat, only in microcosm.
The former Ross County manager will lead Plymouth Argyle to Anfield for an FA Cup Third Round tie which gives the League Two side a shot at pulling off one of the competition's great shocks.
However, as he admits, to do so they will need to not only overcome the second favourites to win the Premier League, but also handle the aura that surrounds one of the world's most-storied clubs.
"I think every Scottish football fan brought up in the 1970s and 1980s has a special regard for Liverpool, and I am no different," said Adams.
"They were the dominant force, not just in England but in Europe.
"To win the European Cup four times in eight years between 1977 and 1984 was an incredible achievement.
"Right at the very heart of that success were three Scots.
"Kenny Dalglish, Graeme Souness and Alan Hansen were different types of footballers, but they were all among the best players we have produced.
"The impact made by Kenny and Graeme, in particular, on the pitch was reflected by the fact they both went on to manage the club.
"And, of course, when they did so, they were following in the footsteps of another of our own, the great Bill Shankly.
"He was the man who helped establish the 'Boot Room' culture at Anfield, which was at the root of the club's phenomenal success.
"So, while some kids might have liked this English team or that English team, everyone watched Liverpool.
"To go to Anfield, a ground with so much history and tradition, in charge of Plymouth is one of those occasions you daydream about happening before the draw takes place.
"For me, for the fans who have bought up all the away ticket allocation, for the players and for everyone else connected with the club, it will be a terrific occasion.
"We can enjoy it, too, because there is no pressure on us whatsoever.
"We are a League Two side up against one of the Premier League's best.
"Liverpool's players are household names, some of the most-gifted and exciting talents you will find anywhere."
On top of that, of course, they have a manager to match, as acknowledged by Adams.
"You have to have a big personality to be in charge of the top clubs these days, and Jurgen Klopp is certainly one of those," said the 41-year-old Aberdonian.
"He has a tremendous enthusiasm for the game, and is very happy to share it.
"You are not going to see every manager breaking his glasses joining in a pitchside celebration, but that is him.
"His enjoyment of the game is there for all to see, and it has helped him very quickly become a popular figure in this country.
"People might imagine him to be larger than life.
"But I have actually found him to be extremely down-to-earth in the dealings I have had with him.
"He is friendly and interested in what is going on at other levels in the game.
"His main focus, of course, is on Liverpool and he has done really well with them.
"They are up there right at the top of the Premier, and they have got there playing the sort of bright, attacking football everyone likes to watch."
As impressed as Adams has been with the impact the German has made since moving to Merseyside to succeed Brendan Rodgers in October, 2015, he has no doubts about his team's chances of inflicting what would be an embarrassing defeat on the Reds this afternoon.
"We can definitely win at Anfield," he said.
"I was in charge of Ross County when we beat Celtic in the 2010 Scottish Cup semi-final.
"So I know from personal experience that shocks not only can, but do happen in football.
"No one outside Dingwall would have expected us to win that day.
"Celtic didn't win the league that year (Rangers retained their title), but they still had a really strong side.
"You are talking about the likes of Robbie Keane, Georgios Samaras and Aiden McGeady – big-name internationalists.
"We were a wee club from the Highlands, who had only joined the senior ranks 16 years earlier.
"But we had a game plan, which the players stuck to brilliantly, and thanks to their efforts and courage it came off for us.
"While we ending up losing in the Final to Dundee United, the Celtic win was a fantastic day.
"No one can ever take that away from any of us who were involved.
"It was also an important one in the history of Ross County.
"It was part of the development which would eventually see the club capture its first major honour with the winning of the League Cup last season.
"That is what you get in football.
"It doesn't matter how many millions of pounds that was spent on this player or that player, it is which eleven that performs best on the day that counts.
"So we can't allow ourselves to get too worried about Liverpool, regardless of how good they are.
"We will treat this like every other game, which means focusing on our strengths and the way we want to play.
"And we will go into this game with plenty of confidence.
"After reaching the League Two Play-off Final last year, we have been strong again this season.
"We are up there in contention at the top of the division, and believe we have a decent shot at winning promotion.
"The FA Cup is something different, a very exciting adventure for us all.
"To come out of the hat with a chance of playing against Liverpool at Anfield was an amazing feeling.
"We had to earn it by getting past Newport in the replay. We did that.
"Now we can go and enjoy our reward."