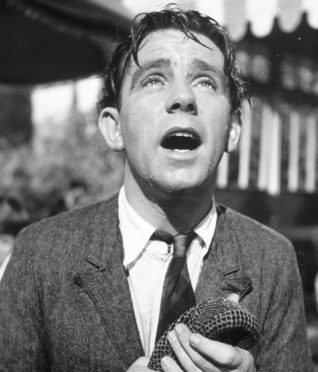 Few comedy stars have ever been taken to the hearts of a nation more than the wonderful man who only needed to walk on stage and shout "Mr Grimsdale!" for there to be an instant roar of laughter followed by cheers and standing ovations.
Life was not always a bundle of joy for Norman Wisdom and there were times when the tears fell from his eyes. But he was always certain that there were better times to come and he turned his tears of despair into tears of laughter and shared them with as many people as possible.
Nobody tells his story better than Norman himself and while he is, of course, sadly no longer with us, hours of time spent with him and many interviews resulted in his words being recorded to help us both laugh and cry for many years to come.
So, let us go back to Norman's very beginning about which he said: "Can you imagine what it was like in Marylebone on February 4 1915. That was the day I was born – Norman Joseph Wisdom. Nobody noticed of course. Well, my mother, Maude, did and my father Frederick almost did. My older brother Fred knew that something was up but since he was only two at the time nobody thought to tell him much about it.
"The reason nobody else took a blind bit of notice of my arrival was that they were all far more concerned with the events of World War One. Kaiser Bill had a lot to answer for and I've never really forgiven him for making my entrance into this world so unspectacular.
"We actually lived at 91 Fernhead Road, Paddington in a ground-floor flat which consisted of one bedroom, one sitting room, the kitchen and the toilet. Fernhead Road was still there when I last looked and it didn't seem to have changed very much."
Norman's family were of course working class.
"My mum was a talented seamstress and once even made a dress for Queen Mary," Norman proudly revealed.
"My dad was a chauffeur and took a lot of pride in the limos he drove. Although they were both working we always seemed to be poor.
"Shoes were a luxury and if that sounds a little trite let me explain that my dad used to actually shave rubber off old tyres to repair the shoes that we wore.
"My mother did her best for us and I loved her dearly and my brother Fred and I grew up to be good mates.
"Perhaps it was adversity that pulled us three together.
"My dad was a law unto himself. He liked his drink too much. The drink didn't improve his temperament either. In fact it made him much worse.
"My mother was frightened of him although I don't remember him actually hitting her. It was different for Fred and me. We always had bruises and I remember once my dad threw me across the room with such force that I actually hit my head on the ceiling."
It was not a great family environment and Norman never forgot it no matter how hard he tried. Tears would always flood into his eyes when he relived it.
Norman and Fred's mum left home and the law demanded that they would stay with their dad. Later they went into foster homes and it was at that time in his life that Norman encountered something that was to be one of the great moments that would change his life.
"I ended up in Walmer where Mr and Mrs Blanche of Downs Road became my guardians," Norman recalled.
"I also joined the Sea Scouts and that was to lead to a huge difference in my life. I was returning home to the Blanches when I came across an unusual group of people outside Walmer Lifeboat Station.
"There was something going on and me being me, I just had to find out what it was. Nobody took much notice of me as I walked among them looking at the strange equipment they had piled up on the quayside.
"They were people like I had never seen before – almost a breed of their own, Their language was different – English, but different.
"Of course, they were actors, extras and a film crew. I was really struck by their liveliness and fascinated by their work. It was the first time that I had ever encountered any element of showbusiness in the flesh and the experience caused something to stir deep down inside me.
"I ran home and asked Mr and Mrs Blanche if I could go back and watch them, even though it was getting late.
"Mrs Blanche refused point blank so I went meekly to bed at my usual time. About an hour later I crept out of bed again, climbed out of the window and raced back to the quay.
"The filming was brilliant to watch. They wanted a sea storm scene at night and since the sea was in a fairly relaxed mood they whipped it up a bit with a rain machine.
"I felt as if I was being let in on a really big secret as I watched the illusion unfold that would one day thrill thousands of people sitting on the edge of their seats in cinemas all over the country.
"The crew didn't mind me being there. In fact they gave me a sense of belonging as they included me in their conversation and shared with me their mugs of tea and doorstep sandwiches.
"They filmed all night and I completely lost track of the time which is why I sprinted home in a blind panic to avoid discovery only to run straight into the arms of the Blanches.
"Since it was now 7.30 in the morning I got a real dressing down and Mrs Blanche made her point clear when she gave me a stinging slap on the ear.
"My experience with that film crew was one I always cherished. It was such a special occasion in my life and left an indelible mark.
"When it came to be my turn in front of the cameras I sometimes spotted a kid like I had been and I always tried to make sure there was a kind word and a mug of tea available for him or her in fond memory of that wonderful crew who opened the door a crack and gave me my first peek into the fantastic world of showbusiness."
When he left school Norman tried various jobs but, mostly through no fault of his own, things did not work out.
He was let down a number of times and even as a cabin boy on a ship bound for Argentina he was coaxed into training to box when he got there.
He was battered and bruised but went the distance only to find that his so-called mates made off with his prize money. He returned to Britain with no home, no friends and no money.
One of the dock workers suggested that he should go to the Cardiff Labour Exchange and they would surely find him a job.
Of course, it was not quite that simple. It was just a couple of days before Christmas and temporary jobs were coming to an end but in the meantime they found him lodgings at a hostel.
"I'll never forget that Christmas of 1929," he said. "The day before Christmas Day I went for a walk around Cardiff and watched everyone bustling about doing their last bits of shopping. All the shops had lights on and decorations and people seemed to be in what could only be the festive spirit and I enjoyed being there.
"When I got back to the hostel the place was almost empty except for a couple of staff people. They told me that one of them would be in on Christmas Day to give me my Christmas dinner.
"I got up in the morning and wished myself a Merry Christmas. I had a wash, looked in the mirror and grinned at myself as I combed my hair. I think that's when I wished myself a Merry Christmas. When I went downstairs it was like the Marie Celeste – no sign of life.
"I found the cook and she told me that everyone else was gone and I had the place to myself. She said that she would be going as well after she had given me my Christmas dinner. Christmas dinner! I was looking forward to that.
"I sat at the table and she brought it in, shoved it in front of me on the table and muttered something about Christmas and was gone in a flash – coat on and out of the door. That plate of sausage and mash and I were quite alone in the hostel. The salt on the plate was from my tears."
Norman made his way back to London and joined the homeless until a kindly mobile cafe owner told him how to get into the Army even though he was underage.
It was to be the start of another great experience on the road to stardom.
Norman joined the Army and was reunited with his mum who thought she was doing the right thing by buying him back out.
Norman agreed but found that he missed it so much he went back in and joined the 10th Hussars.
"It was a fantastic time for me," he said. "I went to India, I learned to be a soldier, I learned how to play musical instruments, ride horses and do displays and all sorts of things.
"I even became boxing champion at my weight and when it came to an end I was very sorry. I celebrated my 21st birthday on the voyage home and then when I arrived back in England I went and saw my lovely mother again."
While deciding what he wanted to do with the rest of his life, Norman took a job at Willesden telephone exchange and when the Second World War broke out he was considered to be in a role too vital for him to be called back to the Army.
"I used to get very frustrated when I would walk to and from work because I passed bomb sites, each of which told their own personal story. The worst part was seeing distraught people searching through the rubble remains of their homes trying to salvage anything they could of their belongings. I really wanted to hit back at the enemy.
"Eventually I was to play a small part in the downfall of Adolf Hitler though I didn't realise it when myself and a few colleagues were told that we were being seconded to a top-secret wartime communications post off Edgware Road. It was one of the key command units of the great man himself – Winston Churchill.
"Our post was in a basement two floors below ground level. From the outside the next room looked like a storeroom but it was in fact the Strategic Command Room.
"I had to monitor calls between Churchill and various leading military men in different areas of the war. It might be Montgomery, Eisenhower or Patton – but each one had to be dealt with in a professional and efficient manner.
"I saw quite a bit of Churchill. He even knew me by name and would often enquire if everything was all right. You had to reply in a direct style and could never try to engage him in unnecessary conversation.
"I met Churchill again after the war when I was selected to appear at the El Alamein reunion at the Empress Hall in London in 1951. The place was packed with about six thousand men.
"Suddenly the lights went out and a spotlight swung into the door by the podium. Three figures stood there – Monty, Ike and Churchill. The place just erupted. I did my act and later met the three great men.
"Monty said a polite thank you for the performance, Ike pumped my hand and Churchill looked at me and said: 'Judging by the way you fall about the stage, if you had been blown up during the war I am sure you would have emerged unscathed.'
"I smiled and thanked him and then I just couldn't resist telling him that we had met before. 'Oh?' he queried. I told him that it had been in the Edgware Road and that I had been his switchboard operator in the communications bunker we all affectionately called 'the bunk-up'.
"With a twinkle in his eye, he smiled at me and simply said: 'So I gather.' It was great to see him again and I felt that we had just shared a special moment."
When the war ended Norman had to start all over again.
"I had something inside me pushing me down a road I didn't even recognise at first. I hadn't forgotten the film crew and in the Army I had been in front of audiences while boxing and doing horse riding displays but even more so with the band.
"I played different instruments, sang solos and was even allowed to do a bit of comedy. It all gave me a buzz that I didn't really recognise but I knew I had to try something."
A star was about to be born.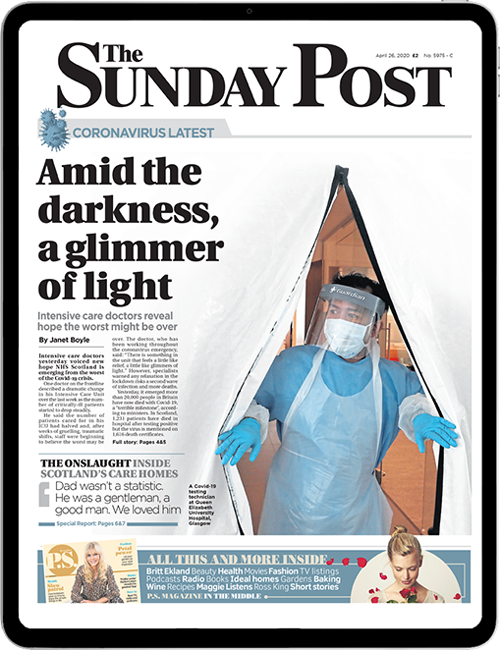 Enjoy the convenience of having The Sunday Post delivered as a digital ePaper straight to your smartphone, tablet or computer.
Subscribe for only £5.49 a month and enjoy all the benefits of the printed paper as a digital replica.
Subscribe