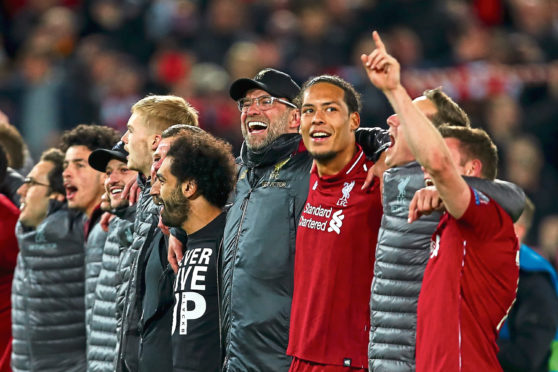 So we have an all-English Champions League Final in Madrid.
I must admit, my first thought was that it looked like a recipe for disaster.
Dumping 50,000-plus boozed-up Liverpool and Tottenham Hotspur fans into the Spanish capital for a high-stakes game smacked of impending trouble.
Not just from the punters – from the Spanish police, too.
After all, El Plod have never been backwards in coming forwards while waving their batons above their heads.
But now I reckon it could pass off without a hitch.
Why? Because Spurs' visit to Ajax did just that.
If you think about it, that's a match that looked destined to spark problems away from the stadium.
Travelling English fans have always had a reputation for causing trouble.
But their Dutch equivalents are more than capable of causing havoc on their own.
Put the two together and, more often than not, you're going to have issues.
So fair play to the Dutch police for keeping everything cool.
From what I hear, they had a firm plan of action to keep control from the second Spurs fans started arriving in the city until they headed home.
Apparently there were a good few thousand Ajax hooligans looking for bother, but the Dutch cops had the Spurs support contained in Dam Square, and they kept the Amsterdam lads away.
It was a textbook policing operation.
If the Spanish police take advice from their Dutch counterparts, work alongside the British cops to identify the troublemakers and get rid of them, there's every chance the Champions League Final will go off without any problems.
It just has to be organised – keep the two sets of fans apart. Give them different fan zones, different pubs, different gathering points and get them to and from the game safely.
It also needs the Spanish police to take it easy with their approach.
Police in European countries aren't like police in the UK.
You can't reason with them – they will get stuck in at the drop of a hat.
The Spaniards will have to rein themselves in a bit, but I think they will.
They'll have UEFA in their ear, of course. The world will be watching, too.
And what a game I think we're going to get.
I said from the start that I thought Liverpool had enough about them to get the better of Barcelona.
OK – I didn't think they'd win the second leg 4-0. But over the piece, I think you've got to say they more than deserved it.
Spurs, meanwhile, were incredible in Amsterdam.
They made up for how disappointing they were at home with a stunning second-half performance.
They will fancy themselves to turn Liverpool over now.
But Liverpool just shade it for me.
They will go for the jugular from kick-off, just as they have all season.
Jurgen Klopp doesn't know how to send his team out any other way.
With Spurs a fantastic footballing side on their day, I think it promises to be a fantastic game on June 1.
The players will hold up their end of the bargain.
Now I just hope the fans and Spanish police do, too.
That way we'll all get what we deserve – a Champions League Final to remember.