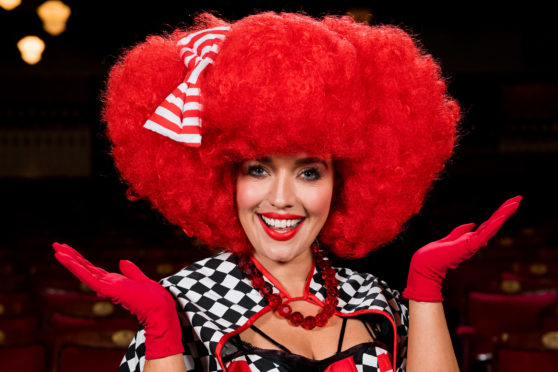 Playing a journalist on the verge of a nervous breakdown was Joy McAvoy's unlikely pantomime audition.
The Two Doors Down star is tearing it up as an ugly stepsister in Cinderella, the first panto of her career.
And it was her performance in crime writer Denise Mina's acclaimed play, Ida Tamson, that led to her being asked to join the cast at His Majesty's Theatre in Aberdeen.
She said: "I guess I wasn't on the panto circuit before, but Alan McHugh and Ed Curtis from (panto company) Qdos came to see Ida Tamson, and they asked afterwards if I'd be interested.
"My character in the play was a career-driven journalist who has a baby and suffers a mental breakdown. Maybe it was seeing me on stage with Elaine C Smith and Paul-James Corrigan, who both do panto every year, that led Alan and Ed to ask me."
Joining the cast of hit comedy Two Doors Down also helped to secure her role as Hernia, one of the Wicked Stepsisters, at His Majesty's.
"Two Doors Down probably had a lot to do with it," she said. "If they know you can act and are in a popular show, it's always good.
"I was a huge fan beforehand. I used to rewatch episodes constantly, like people do with Friends, so the nerves really kicked in when I walked on the set because I was going to be working with these amazing people.
"I grew up watching Elaine in Rab C Nesbitt and Naked Video and I looked up to Doon Mackichan in Smack The Pony when I was studying drama at college, because there were so few female-driven comedies around at that time.
"I'm glad I joined alongside Grado, because he was as nervous as me, so it was like starting a new school with a wee pal beside me. But the cast is lovely, no egos, and we can't stop laughing every day."
Joy, 37, younger sister of X-Men and It star James McAvoy, is also part of the cast for Hogmanay TV stalwart Only An Excuse.
"I grew up watching the show, so it's strange to be a part of it," she continued.
"They gave me a list of people to impersonate. I can't say too much, but Jodie Whittaker from Doctor Who is one of them.
"I've always impersonated people ever since I was a little girl – that was my escapism as a kid."
Working in Aberdeen means Joy will miss spending Christmas with her family, although her husband Geoff, who she married in the summer, will travel north from their home in London to be with her.
"It'll be the first time I haven't spent Christmas with my family," Joy said. "We have two panto shows on Christmas Eve and two on Boxing Day, so I'd be worried about trying to get a train back up from Glasgow and then there's the stress of trying to get round everyone and spending the right amount of time with them.
"I love giving gifts and making people happy, so I'll just need to wait until January before I can spread the joy."
Playing an ugly stepsister, alongside former River City cast-mate Sally Howitt, is a change of pace for Joy.
"My last few roles, like Michelle in Two Doors Down, have been sweet and nice, so it's great to play the baddie," she smiled.
"Hernia is one of those girls who wears too much make-up and fake tan, her clothes are too tight, and she tries so hard and throws herself at any man she sees.
"She's so much fun to play, and I love all the innuendos.
"I'm having a ball."
---
Cinderella is at His Majesty's Theatre, Aberdeen until January 5