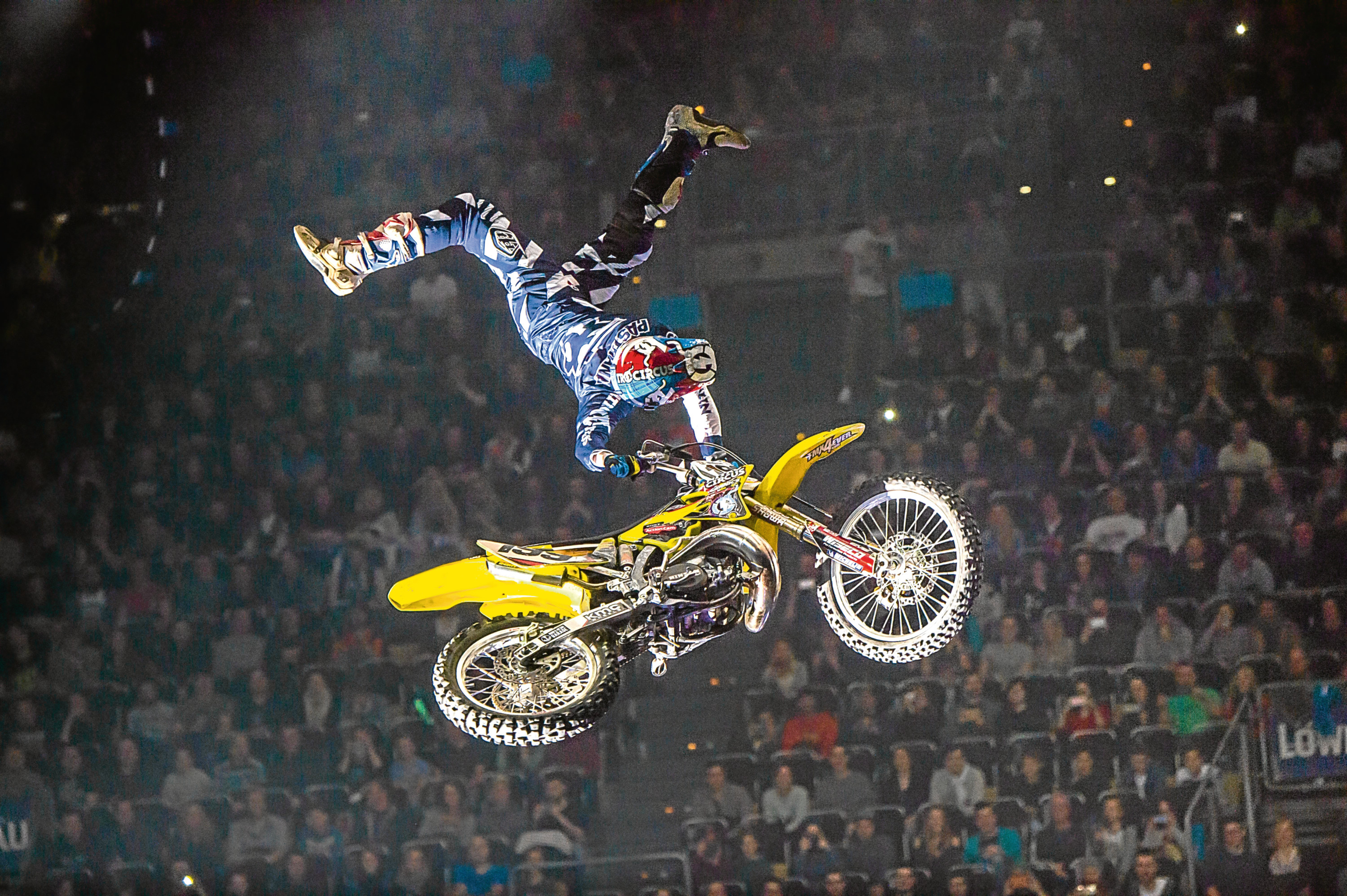 EVEL KNIEVEL multiplied by 10 — that's how stunt rider and all-round daredevil Travis Pastrana has been described.
Travis is the No 1 extreme sportsman on the planet, taking all kinds of cars and motorcycles to the limit, and he's the inspiration behind the Nitro Circus stunt show.
But if you ask him about Knievel, the original stunt superstar, he says: "Evel was the pioneer. Yes, I've back flipped farther than the biggest jump he ever did, but at the end of the day, he was the first one to do it.
"I feel like we're similar in the fact we want to push the limits.
"Obviously, our equipment's better now and our knowledge is far, far beyond what he had, so that makes it easier to do what he did and to do it first, that's the challenge."
Unlike Travis, though, I don't recall Evel jumping out a plane without a parachute . . .
"Ah, details!" he laughs. "That was kind of pass or fail, I always like those tests the most!"
But at the same time, Travis hasn't tried to jump the Snake River Canyon on, wait for it — a steam-powered rocket cycle.
"It didn't work out too well for Evel as he hit a rock, and my motto is learn from the mistakes of those who went before you!" says Travis.
"I didn't understand why he had a rocket, but there was going to be no landing, he was going to parachute back down to Earth.
"The landing for me is key, there has to be something tangible or it's not really a jump."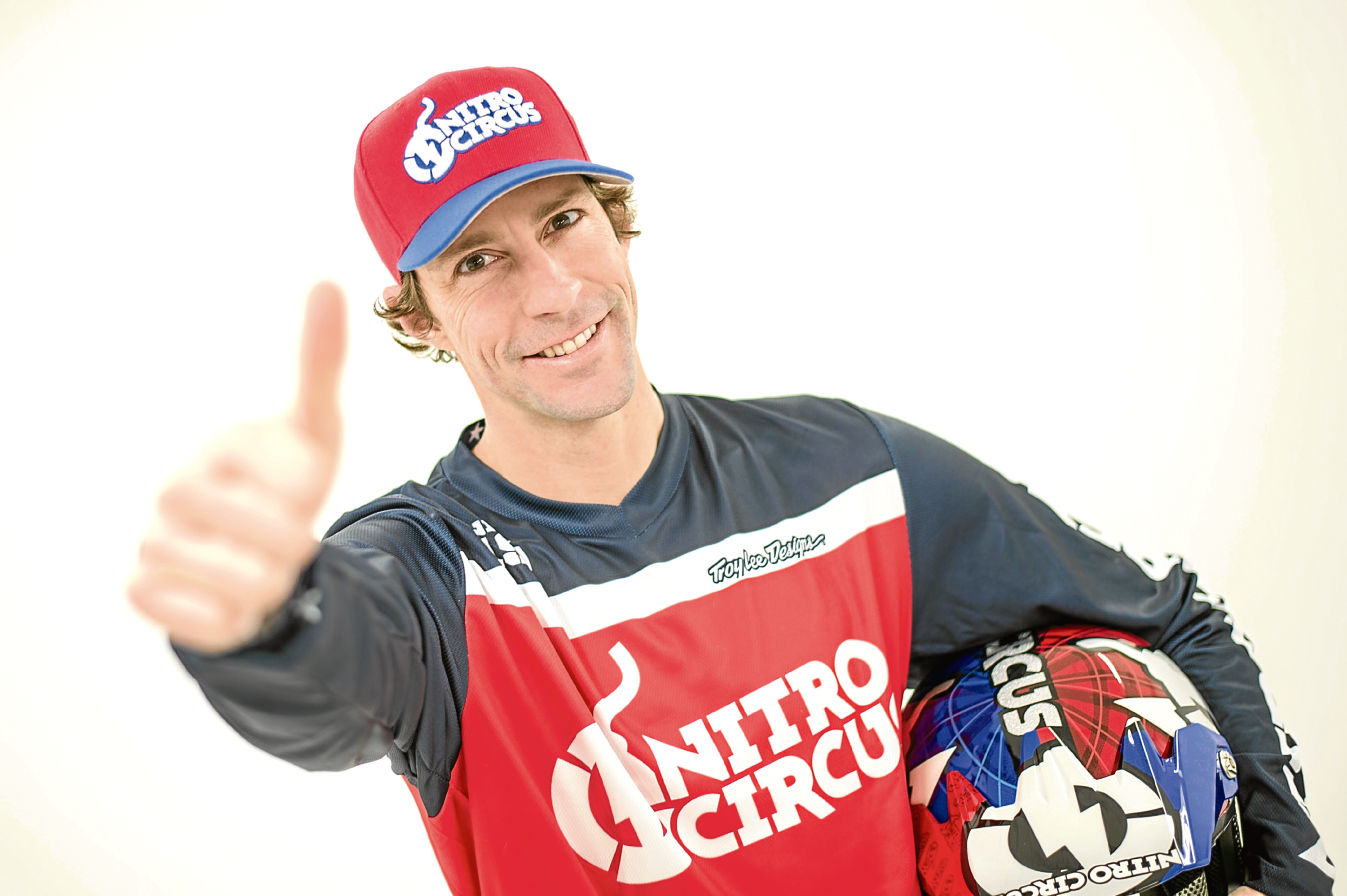 Travis has broken more than 90 bones and sustained 25 concussions, but that's nowhere near Evel's Guinness World Record mark of 433 fractures.
"That's a record I don't want!" laughs the 34-year-old American.
"It's one thing I try not to think about, even though with Nitro Circus everyone always brings it up.
"My passion is to wake up in the morning and I'm more afraid of not being able to do what I love than of getting hurt whilst doing it.
"I guess with time everything changes, but then I'll get a real job!"
Nitro Circus, which returns to the UK next year, constantly tries to bring crowds ever more spectacular stunts and Travis reckons the new show involves all of his best — and worst — ideas.
"For the last couple of years, the themes have changed, but the show has remained relatively similar — though obviously the riders have improved and the tricks have improved," says Travis.
"But for next year, I said: 'Look, guys, we've ended the show with either a double back flip or a front flip on a motorcycle, or a triple back flip on a bicycle for the last two years — what do we need to do to go bigger than this? What do we need to do to elevate action sports to that next level?'
"We're just trying to see how big we can get that so our launch ramp still fits under some of the roofs we have on tour.
"Without a doubt we've tried a lot but amazingly, these guys continually come up with new ways to hurt themselves!
"We're entertaining the audiences and it's my job at Nitro Circus to see that it goes higher and crazier, but it also has to be safer.
"We work a lot with our landings and different designs for lighter bikes and trying to really take the sport to the next level.
"The goal is: 'We're all going to be stepping up, we're all going to be doing stuff that's a little out of our comfort zone, but action sports are not about pointing your toes and trying to be a little more perfect than the next guy, it's about trying to do stuff that's never been done.'
"Obviously, the Olympics are coming around and having skateboarding and BMX in the next Games as well as surfing all helps action sports.
"Our goal is not to be better than the Olympics, it's simply to give these guys an outlet to continue pushing the human limits."
Speaking of pushing the limits, a feature of the show is seeing riders shoot down their 40-foot "giganta ramp" on everything from penny-farthings to armchairs and launch themselves into the air in the vague hope of making a safe landing.
"Honestly there have been a lot of contraptions that have come and gone pretty quickly because they've just been kind of unlandable!" laughs Travis.
"We did a bicycle with a sidecar and they were trying double back flips for an entire tour and when they landed one, they immediately burned it.
Nitro Circus comes to the UK next November. For more information visit www.nitrocircus.com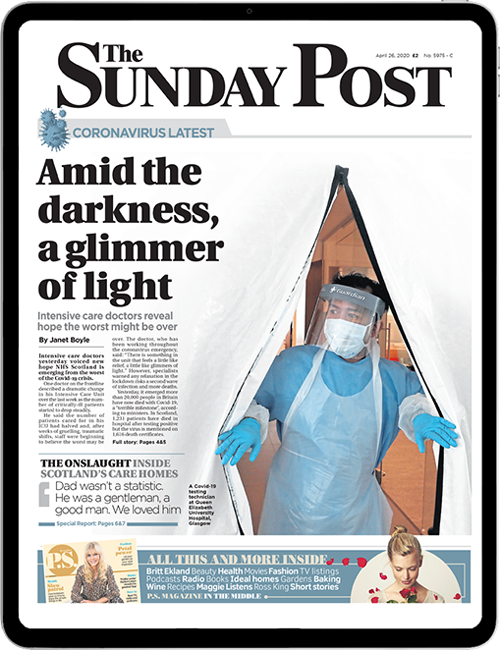 Enjoy the convenience of having The Sunday Post delivered as a digital ePaper straight to your smartphone, tablet or computer.
Subscribe for only £5.49 a month and enjoy all the benefits of the printed paper as a digital replica.
Subscribe