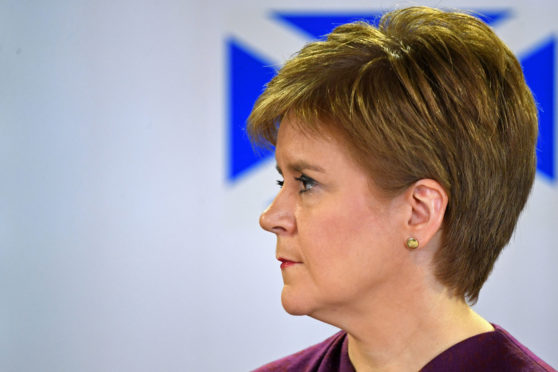 Nicola Sturgeon has urged Scots to stick with lockdown rules by not meeting up with people from other households indoors  – ahead of forecasts for heavy rain across the country this weekend.
The First Minister said meetings inside are a "surefire" way of allowing coronavirus to spread again, adding unless people are prepared to put on their waterproofs and meet safely outside, they should not be meeting anyone at all.
Her plea comes as the good weather in Scotland is predicted to grind to a halt later this week, with some areas in the country already experiencing rain showers.
Thousands of Scots took to beaches, parks and gardens last weekend to bask in the sun and meet up with friends and family members for the first time in months, after the country entered phase one of the "route map" out of lockdown.
From 29 May, groups of up to eight people from two different households have been able to meet outside and at a two metre distance.
At her daily press briefing on Thursday, Nicola Sturgeon announced that the R number (infection rate) had moved down slightly from between 0.7 and 1 to between 0.7 and 0.9, but reminded the public that they still need to obey the rules which are in place.
She said: "I want to re-emphasise our key public health guidance. I'm asking you today to focus not just on what you're now allowed to do as a result of the small changes we made last week, but to focus even more so on what we are asking you not to do."
"It is by not doing certain things right now that we will all help to stop this virus spreading. That means not meeting other households indoors. Not coming within two metres of people from other households. Not shaking their hands, or hugging them, for example.
"Not sharing food or utensils with others or touching hard surfaces they may also have touched, and not leaving your face uncovered in shops or public transport.
"You should still be staying home most of the time, and you should still be meeting fewer people than normal."
She added that as well as the social distancing rules, the public should remember to keep washing their hands often and using hand sanitiser, wearing face coverings in shops and on public transport and avoiding touching hard surfaces.
If your life feels like it's getting back to normal at the moment you should ask yourself whether it should be and whether you're complying with all the guidance – Nicola Sturgeon
NHS Scotland's Test and Protect system is now up and running in all of the country's 14 health boards, and the Scottish Government is asking anyone with Covid-19 symptoms – a continuous cough, a fever of a loss of smell and taste – to book a test through NHS inform and begin self-isolation.
The contacts of those who test positive will be traced and also asked to self-isolate for 14 days.
Ms Sturgeon said people must follow the guidelines on testing. She urged: "Above all else, remember that the decisions each of us take right now as individuals will affect the health and wellbeing of all of us. Please, I'm asking you to continue to do the right thing as you have been doing and to stick to all these guidelines.
"It really, really matters, and it matters as much now as it did at the start of this pandemic. By doing that we will continue to slow the spread of this virus and we will save lives. My thanks, once again, to all of you for doing that."