Nicola Sturgeon said she doesn't envisage a return to the full lockdown of earlier in the year as she outlined the new tier system for coronavirus restrictions.
The proposals, which will be debated and voted on in parliament next week, create five tiers of measures that can be imposed nationwide or on a local level.
They will be numbered from a "baseline" of zero to the most strict restrictions at level four, and reviewed on a weekly basis.
The aim, Ms Sturgeon said, is to "strike the best balances we can in the interests of minimising the overall harm that the pandemic is causing."
The five levels would allow parts of the country with lower levels of infection to have fewer restrictions.
Level zero would be close to where the country was in August, when the virus was suppressed but still a threat. It would signal the closest to normal the country can be without effective treatment or a vaccine.
Level one would see slightly stricter restrictions on indoor meetings, but would still be a "reasonable degree of normality".
Level two and three, however, would roughly correspond with measures currently in place outside and within the central belt respectively.
Ms Sturgeon said level four would be closer to a full lockdown, but it would allow visiting outdoors, unlimited outdoor exercise and manufacturing and construction businesses to stay open.
Non-essential retail, gyms and hair salons would have to close.
The First Minister said: "Assuming Parliament endorses the framework, we will then take decisions on which levels will apply initially to different parts of the country from November 2.
"We will consult with local authorities and local Directors of Public Health as part of that process and take advice from the National Incident Management Team. And when we set out these decisions, we will also set out our rationale for them.
"The application of levels will thereafter be reviewed on a weekly basis."
---
How the Scottish Government defines the levels
A 69-page document outlines the framework for the tier system.
Here's how the levels are summarised.
Baseline and Level 1
"Within these levels, we would expect to see low incidence of the virus with
isolated clusters, and low community transmission. Broadly, these levels are
the closest we can get to normality, without a vaccine or effective treatment
in place, before conditions will allow us to move to Phase 4 of the Route
Map. They would be similar to the measures in place during the summer,
once we reached Phase 3. The Baseline and Level 1 are designed to be
sustainable for longer periods."
Levels 2-3
"Within Levels 2 and 3, we would expect to see increased incidence of the
virus, with multiple clusters and increased community transmission. There
would be a graduated series of protective measures to tackle the virus,
focusing on key areas of risk – broadly, indoor settings where household
mixing takes place with less, or less well-observed, physical distancing and
mitigations. The measures would be intended to be in place for relatively
short periods (2-4 weeks), and only for as long as required to get the virus
down to a low, sustainable level."
Level 4
"Within this level we would expect to see very high or rapidly increasing
incidence, and widespread community transmission which may pose
a threat to the NHS to cope. It is likely that this level would see the
introduction of measures close to a return to full lockdown. Measures would
be designed to be in place for a short period, to provide a short, sharp
response to quickly suppress the virus."
The document also outlines what impact each level has on a number of sectors: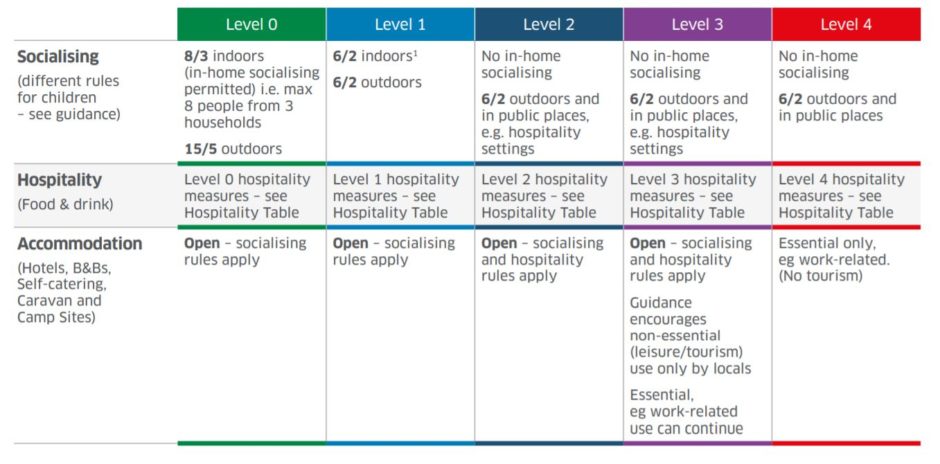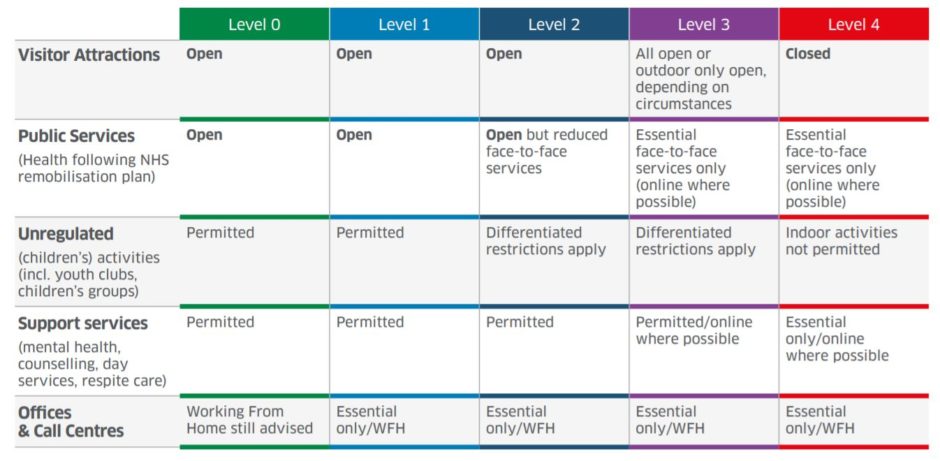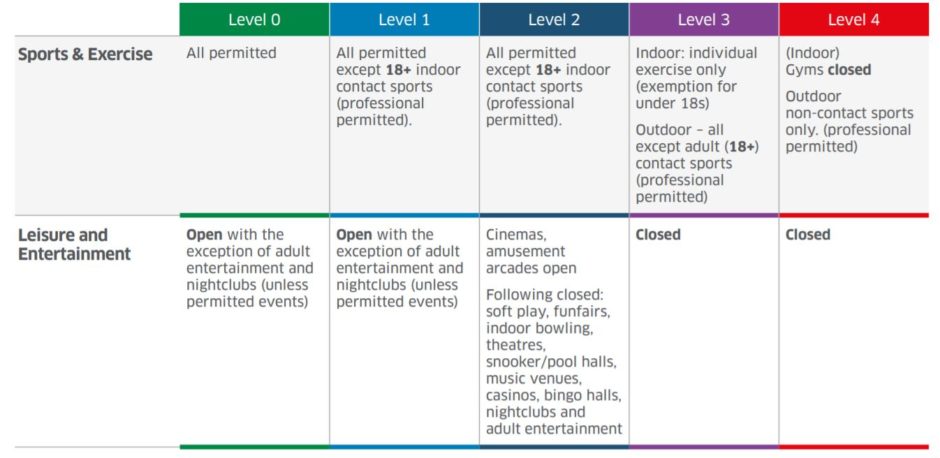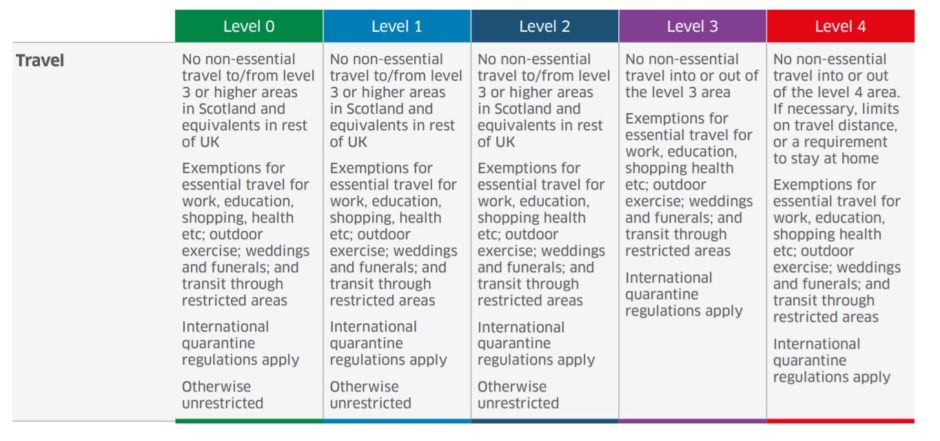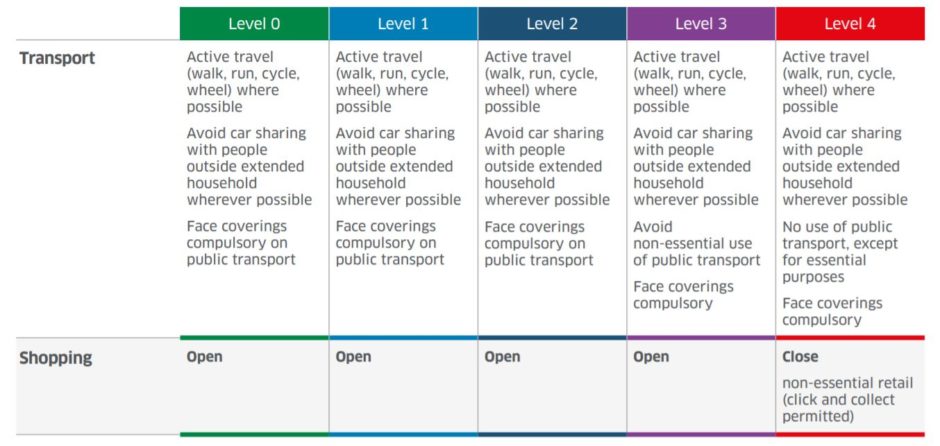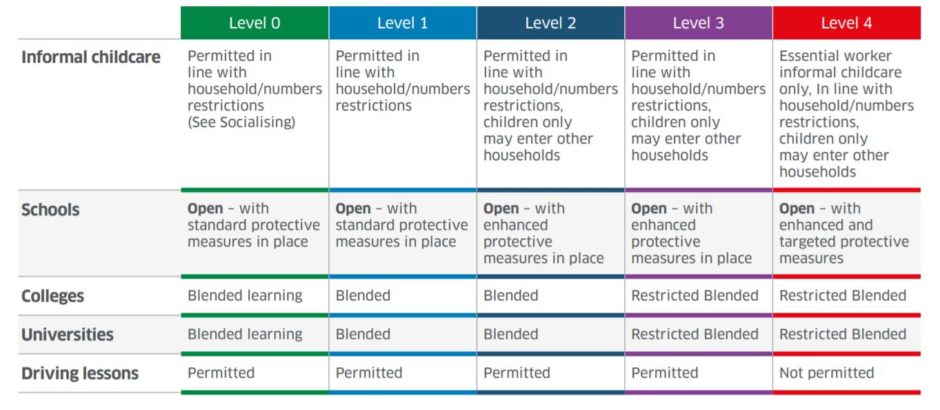 ---
Today's figures
Scotland has recorded 18 deaths from coronavirus and 1,401 positive tests in the past 24 hours, Nicola Sturgeon said.
The First Minister told the Scottish Government's coronavirus briefing the death toll under this measure – of people who first tested positive for the virus within the previous 28 days – has risen to 2,688.
Ms Sturgeon said 54,016 people have now tested positive in Scotland, up from 52,615 the previous day.
The daily test positivity rate is 8%, down from 9.2% on Thursday.
Of the new cases, 493 are in Greater Glasgow and Clyde, 413 in Lanarkshire, 169 in Lothian, and 117 in Ayrshire and Arran.
There are 969 people in hospital confirmed to have the virus, up by 41 in 24 hours.
Of these patients, 76 are in intensive care, a rise of two.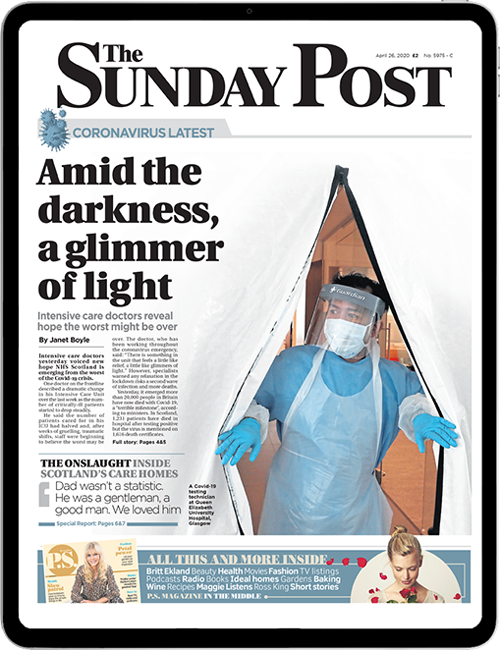 Enjoy the convenience of having The Sunday Post delivered as a digital ePaper straight to your smartphone, tablet or computer.
Subscribe for only £5.49 a month and enjoy all the benefits of the printed paper as a digital replica.
Subscribe