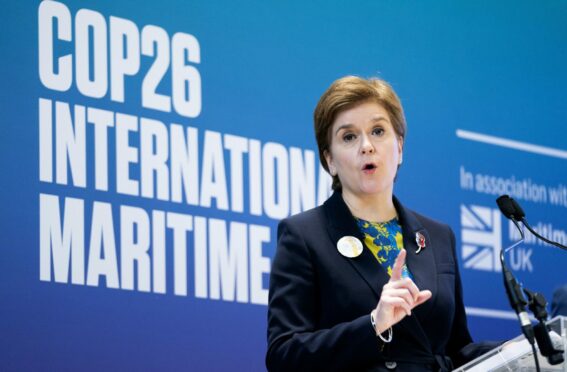 Writing in today's Sunday Post, first minister Nicola Sturgeon looks ahead to Cop26.
Today marks the beginning of what may become the most important global gathering of the 21st Century, the most significant international meeting that Scotland, and indeed the UK, has ever hosted.
Glasgow can become known as the place where a decisive and defining step forward was achieved in the fight against climate change as the leaders of more than 100 nations gather in our biggest city.
The stakes could hardly be higher. The consequences of the world failing to agree on the action needed are potentially catastrophic. Already we are seeing the devastating effects of the climate crisis.
Those impacts are no longer distant or theoretical. They are being experienced now. Just this year we have witnessed wildfires in Greece, massive flooding in Nigeria and Uganda, a food crisis in Madagascar – as well as devastating flooding in western Europe.
The recent report of the Intergovernmental Panel on Climate Change could not have been clearer about the necessity of action. Compared to pre-industrial times, global temperatures have already risen by more than one degree on average.
And, as the UN Secretary General made clear last month, the definite promises made by member states at that stage – assuming they were all delivered – were sufficient only to keep temperature increases to 2.7°C. He said that would create a "hellscape" on earth.
"It is an honour for Scotland and Glasgow to host you."

First Minister @NicolaSturgeon welcomes world leaders, activists, negotiators and campaigners to #COP26.

Plan ahead and stay safe ➡ https://t.co/P9OiOfq4PC #LetsDoNetZero pic.twitter.com/TGfitMHUGc

— Net Zero Scotland (@ScotGovNetZero) October 30, 2021
So what does Cop26 need to achieve in order to be regarded as a success?
Most importantly, it must secure commitments to emissions reductions that are capable of limiting global warming to 1.5°C – at the very least, it must achieve short-term commitments that keep that objective well and truly alive in the longer term. Of course, limiting warming to 1.5°C won't prevent all of the impacts of climate change.
But every fraction of a degree above that intensifies the catastrophic nature of what we face. If we allow it to happen, we risk life on this planet becoming unrecognisable. Every single leader gathering in Glasgow knows that. No one can pretend otherwise.
In the coming days, the countries which emit the most need to step up most. While they are the biggest contributors to climate change, the harshest effects are often felt by many of the poorest nations – those in the global south.
So the richest countries and biggest contributors to the problem must commit to significant cuts in emissions by 2030 – which is crucial to keeping 1.5°C alive – and be clear in their determination to achieve net-zero.
Providing the cash to meet commitments is also a key goal for Cop26. Twelve years ago in Copenhagen, developed countries promised $100 billion of climate finance every year from 2020. In Paris, that promise was repeated. In Glasgow, it must now be delivered.
And this money must go where it is needed most. It must help the countries and communities now facing the worst impacts of climate change tackle the causes of it and adapt to its consequences.
Scotland won't be represented in our own right at the negotiating table in Glasgow – but as host country, we have a big role to play – and we carry a big responsibility.
I have made clear to both the UN and the UK Government that we stand ready and willing to do anything we can to help make the summit a success.
In most comparisons of international climate targets, Scotland ranks very well. So we have much to be proud of. But we are determined to do even better.
The Covid crisis may have masked the urgency of the climate emergency but we now need to see the same ingenuity, global focus and combined action which has been evident in tackling the pandemic applied to the climate challenge.
There are times and places which can become turning points in human history – moments on which the fate of whole continents and generations can hinge.
That time is now, and that place is Scotland.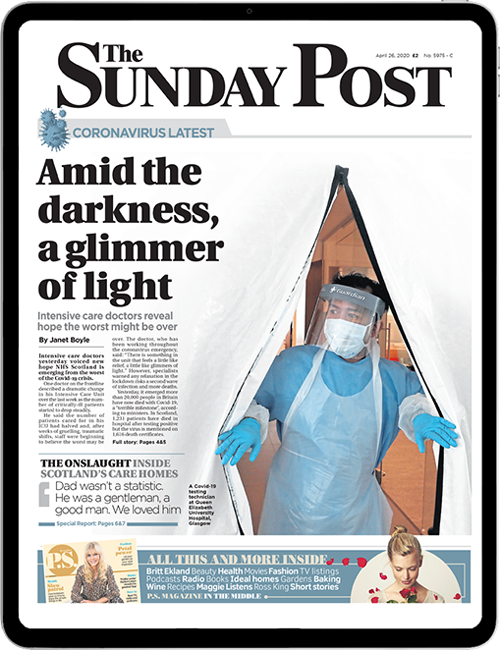 Enjoy the convenience of having The Sunday Post delivered as a digital ePaper straight to your smartphone, tablet or computer.
Subscribe for only £5.49 a month and enjoy all the benefits of the printed paper as a digital replica.
Subscribe