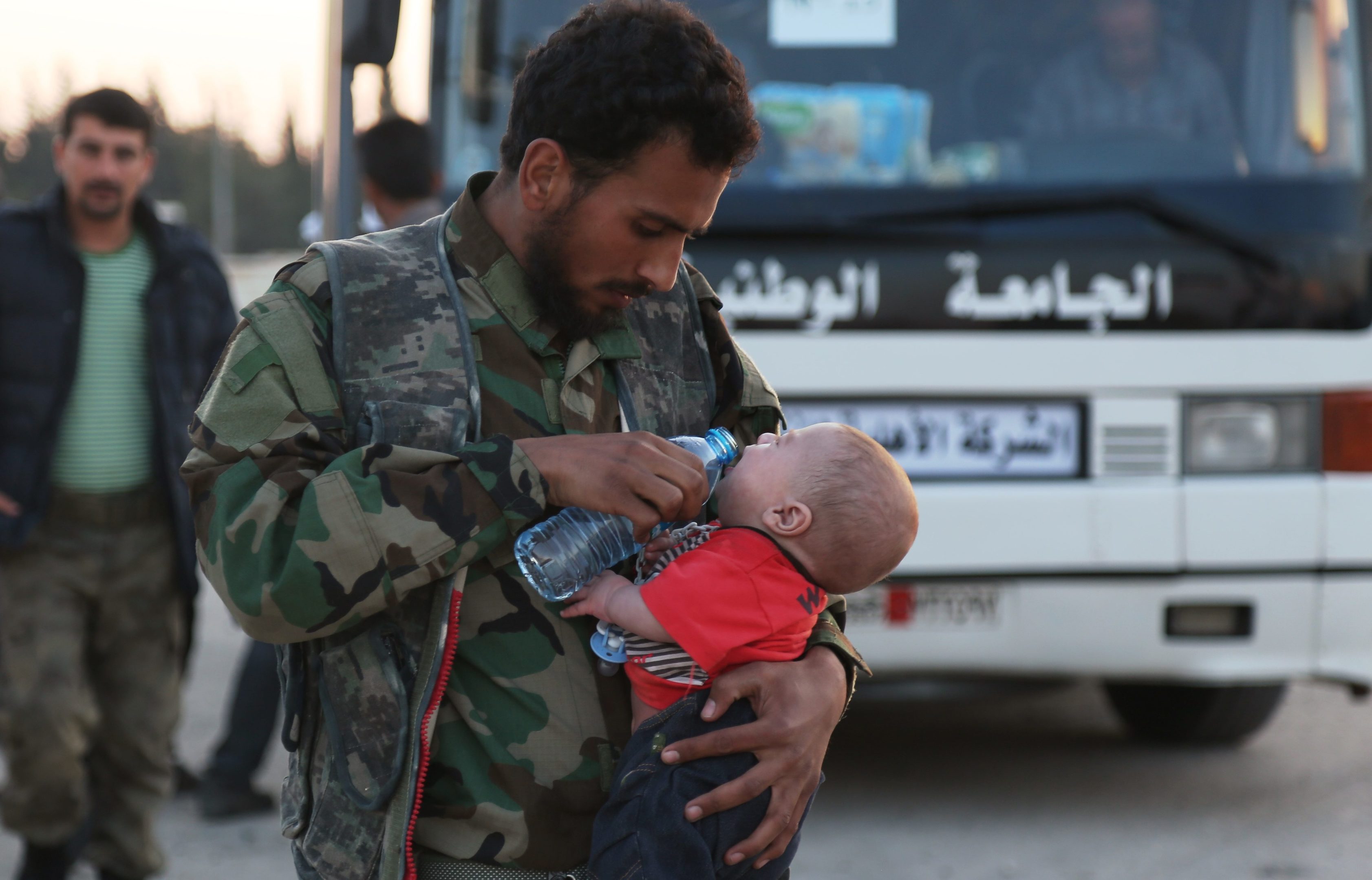 THE First Minister yesterday warned US-led military strikes on Syria risk escalating international tension without a plan to end the country's civil war.
Nicola Sturgeon questioned the impact of the air raids early yesterday morning, which were ordered without parliamentary approval.
She spoke out, after returning from a trade trip to China, as the SNP's Westminster leader Ian Blackford lodged a motion pressing for an emergency debate in the House of Commons on the bombing raids.
Ms Sturgeon said: "Air strikes by US and UK forces have not resolved the situation in Syria in the past and I am not persuaded they will do so now.
"This action risks not just further escalating the civil war in Syria but also a dangerous escalation of international tensions. There must be urgent confirmation from the Prime Minister that there will be no further action and no change to the role of UK military in regards to Syria without a full parliamentary debate.
We will not stand by: Theresa May on UK's missile strikes on Syria
"An international strategy is urgently required to bring peace and stability to the region. UK foreign policy should be aimed at reaching an international consensus not simply complying with presidential wishes."
Labour leader Jeremy Corbyn also criticised the joint air strikes, which unleashed 100 missiles against chemical weapons facilities.
Speaking during a visit to Derby, the Labour leader said: "More bombing, more killing, more war will not save life."
Responding to Trump's inflammatory tweets in which he said that "nice and new and 'smart!'" missiles would soon be fired toward Syria, Corbyn said: "I think the whole world should be alarmed at that sort of instant reaction – sending stuff out on social media to make policy.
"What happened in Syria is disgraceful. Any use of chemical weapons by anybody against anybody else is clearly illegal as well as immoral and wrong.
"The United Nations has a duty and a function to ensure there's a proper investigation undertaken as the inspectors are now in Douma doing just that and, when we've got the results of that, decide what action to take.
"But, I would just say this. Hundreds of thousands have died and lost their lives in Syria.
"Millions have been forced into refuge. Many are living in terrible poverty and desperation. There has to be a political solution.
Analysis: Putin and Assad pay little heed to Trump's tantrum
"Russia, America, the European Union, all the neighbouring countries, Iran, Saudia Arabia have got to be involved in ensuring there is a real ceasefire and a political process that does give hope to the people of Syria in the future."
The Church of Scotland echoed unease over the decision to launch air strikes.
Rev Dr Richard Frazer, convener of the Kirk's church and society council, said: "Our firm belief is that air strikes will not improve this situation, but will lead to further loss of lives, displacement, suffering and fear."
Scottish Conservative leader Ruth Davidson defended the military action and pointed out that the vast majority of the international community backed the bombing.
She said: "While carried out by UK, US and French military personnel, the strikes have the express support of the EU and Nato, as well as the governments of Canada, Australia and Germany, among others.
"The international community recognises that chemical weapons cannot be used with impunity, and that last night's targeted action will degrade the ability of the Assad regime to further develop and deploy chemical weapons in future."
European leaders, as well as those in Canada and Australia, supported the response to the suspected use of chemical weapons by Syrian President Bashar al Assad on his own people.
Nato Secretary General Jen Stoltenberg said the use of chemical weapons is unacceptable "and those responsible must be held accountable."
Just as with Iraq, reverberations of Syria airstrikes may be felt for decades
European Council president Donald Tusk pledged the European Union would stand with its allies "on the side of justice" and warned Russia and Iran they could not continue to back the Syrian government "without cost".
However, at an emergency meeting of the UN Security Council in New York, called by Russia, the global organisation's secretary general called for "restraint".
Antonio Guterres said: "I urge all member states to show restraint in these dangerous circumstances and to avoid any acts that could escalate matters and worsen the suffering of the Syrian people."
Vassily Nebenzia, Russia's ambassador to the UN, said the response followed a "well tried" pattern of provocation, "mendacious" accusation, verdict and punishment.
He said: "This is hooliganism in international relations, and not minor hooliganism given that we are talking about major nuclear powers."
US ambassador to the UN, Nikki Haley, pointed out the meeting was the fifth this week on Syria. "The time for talk ended last night," she said.
Ms Haley added that President Trump had told her that if there was further use of chemical weapons by Assad's regime, the United States was "locked and loaded".
UK ambassador Karen Pierce told the meeting there had been "clear boundaries" in the action that had been taken in an attempt to avoid escalation.
She said repeated attempts to hold the Syrian regime to account had been met with Russian "obstruction and resistance".
"We are faced with a litany of violations, no sense of guilt, no sense of regret, no sense of responsibility, a shameful record wrapped in a mix of denial, deceit and disinformation," she said.
Ms Pierce added: "I will take no lessons in international law from Russia."
German Chancellor Angela Merkel said the air strikes against the Syrian regime were "necessary and appropriate" .
Saudi Arabia also expressed its full support for US-led strikes on Syrian government military installations, saying they were a response to "regime crimes" against civilians.
But Iran, which provides military advisors and "volunteer" ground forces to the Assad regime, warned of "regional consequences" following the wave of strikes.
And the Iraqi foreign ministry said the air strikes could give terrorism an opportunity to expand in the region.
The ministry called on Arab leaders to discuss the situation at a summit due to be held in Saudi Arabia on Sunday.
The conspiracy
Edinburgh University academics are members of a group accused of spreading pro-Syrian Government propaganda.
Tim Hayward, professor of environmental political theory, and Paul McKeigue, a professor of genetic epidemiology and statistical genetics, are part of the Working Group on Syria, Propaganda and Media, which has suggested the White Helmets civilian volunteer force fabricated video evidence of gas attacks on civilians by President Assad.
A blog article by Professor McKeigue claims there was almost "zero likelihood" that Assad carried out chemical attacks. He used "probability calculus" to assess the evidence.
Professor Hayward has used the hashtag #Syriahoax when discussing chemical attacks in the country on social media.
The hashtag was said to have been promoted by a Russian cyber operation.
He said: "I understood a hashtag to indicate a topic rather than a creed. I do not accept that I am spreading any 'disinformation'."
The university said: "Freedom of expression within the law is central to the concept of a university. We recognise and uphold the fundamental importance of freedom of expression, and seek to foster a culture that enables it to take place within a framework of mutual respect." Last month we revealed how the university had been given a £240,000 donation from a foundation linked to Vladimir Putin.
SNP MP Stephen Gethins called on the uni to return the Russkiy Mir Foundation gift.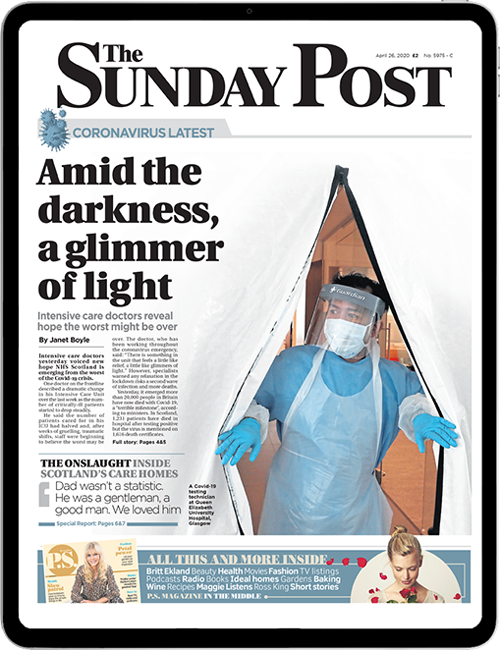 Enjoy the convenience of having The Sunday Post delivered as a digital ePaper straight to your smartphone, tablet or computer.
Subscribe for only £5.49 a month and enjoy all the benefits of the printed paper as a digital replica.
Subscribe