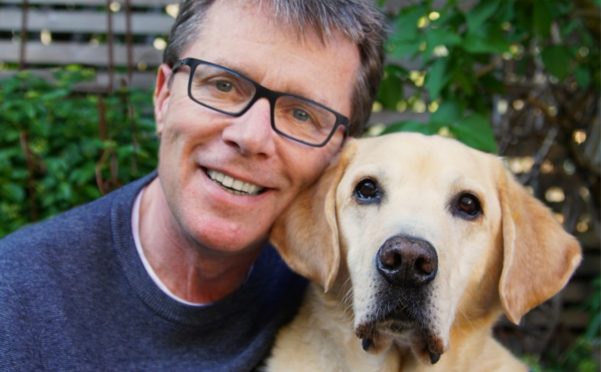 Broadcaster Nicky Campbell has revealed how his pet dogs have helped him through some of the darkest times.
In a powerful memoir, Nicky tells how his pet labrador, Maxwell, helped him endure and conquer the mental health problems and his feelings of abandonment from being adopted as a baby.
It was Maxwell, he says, who allowed him to appreciate all that is good in his life: his loving childhood in Edinburgh with adoptive parents Frank and Sheila Campbell and the support of his wife Tina and four daughters after an emotional breakdown that led to a diagnosis as bipolar.
Long Lost Family presenter and Radio 5 host, 59, said: "I have always found comfort in Maxwell. He is a very old boy now, nearly 13-years-old. It's a feeling of bliss and reassurance. I don't have to explain anything to him, he just kind of knows. Great apes, elephants and dolphins have the same body chemistry and feel the same things."
Maxwell is not the first dog to enrich Nicky's life.
Just before his 30th birthday, in 1991, Nicky traced his birth mother Stella Lackey, a hospital matron from Ireland, later meeting her for the first time in a Dublin hotel. Her first question to him was: "Do you like dogs Nicky?" and she went on to tell him that in the first nine days of his life, as she waited in an Edinburgh guesthouse to hand him over for adoption, a Collie-cross called Toby had guarded his bed.
In his book, One of the Family – Why A Dog Called Maxwell Changed My Life, he says: "This was Stella's account of those desperate last days with me and this was our connection. There in that boarding-house room, one little animal on the bed and one underneath it, and although she couldn't protect me, Toby could. Although she wasn't allowed to love me, Toby was."
Nicky, who already knew he had a half-sister who was put up for adoption in Edinburgh before him, admits he left the meeting feeling crushed but was heartened by the dog story.
He said: "It is desperately crushing when you meet your birth mother and feel nothing, or very little. You turn it on yourself. You have guilt because there is no magical connection and because you feel disloyal to your parents.
"But her question, 'do you like dogs Nicky?' it says so much. It asks you what you're like as a human being and explores your emotional world. It's trying to get to your heart."
Despite being brought up in a happy, professional home by loving adoptive parents Nicky says he felt like "an imposter" growing up. At his 10th birthday in a swanky restaurant as the cake blazing with candles was carried out he erupted in tears because he felt "that I didn't deserve all this".
In 2013 Nicky, who has thrown his weight behind animal rights charities over the years, suffered a breakdown.
He revealed: "I saw all the cruelty in the world towards animals and realised the extent and pain of it. All that campaigning got on top of me and crushed me."
With the love of his family and with medication, his condition stabilised and he credits his pet Maxwell as playing an important role in his recovery.
He said: "Maxwell helped me. He was my animal and he was safe, I could save him and, in a sense he saved me.
"Sometimes it's difficult with those who are nearest and dearest and who you love. With an animal who loves you it is easier because it is unspoken. If you're asked 'how are you feeling today?' you sometimes don't want to describe it, you don't want to talk, you just want to be, and you can with an animal.
"I have always had a bond with animals, whether that leads back to Toby being under my bed, I don't know. But I told the psychiatrist about him and he said from a very early age you remember stuff you don't know you remember. It is an imprint right from the word go.
"Then when I was adopted, and went to my home in Mayfield Road, Edinburgh, Candy (a piebald fox terrier cross) was there. It was a continuity." Nicky recalls in his book how the two crawled on all fours together and together were "barking at the world".
He said: "Toby was my guard dog, Candy was my brother and Maxwell is my therapist."
Nicky later got to know his birth half-sister Esther who he discovered was a friend of his pal's sister. Incredibly, they had even hung out in the same house in Edinburgh without laying eyes on another. He said: "When I met Esther and she said she felt the same way as me it was a huge relief in my life. Stella was pleased that we found her and I think she had contentment because of that and that makes me feel happy."
Nicky, whose dad Frank died in 1996, dedicated his book to his adoptive mum, Sheila, who sadly passed away in 2019 aged 96.
He said: "She was incredible in all of this. That is the mark of a great mum – a great mum understands."
So what would Sheila have made of the book? "She would have loved it," he said. "She knew all about it and was incredibly proud."
---
One of the Family – Why A Dog Called Maxwell Changed My Life is out now, Hodder & Stoughton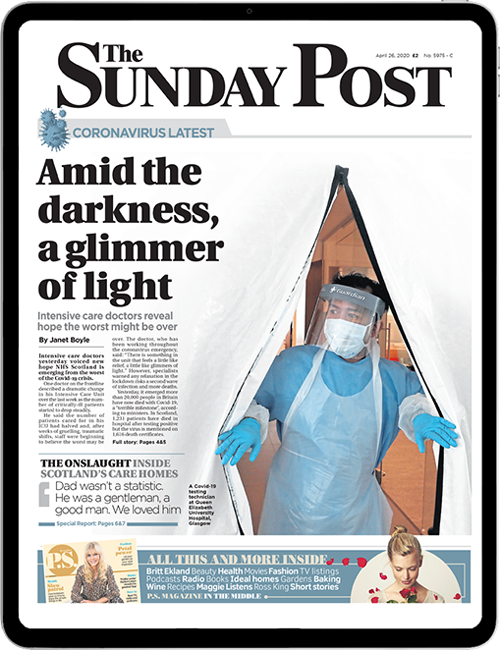 Enjoy the convenience of having The Sunday Post delivered as a digital ePaper straight to your smartphone, tablet or computer.
Subscribe for only £5.49 a month and enjoy all the benefits of the printed paper as a digital replica.
Subscribe