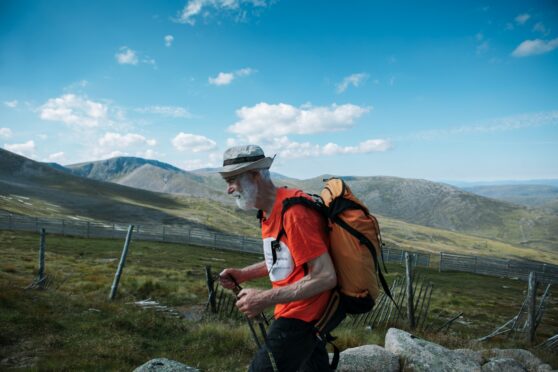 Two years ago, Nick Gardner, 82, set out to climb all of Scotland's 282 Munros and yesterday, surrounded by 200 friends, family and well-wishers, he scaled the last one.
His incredible effort to claim all of Scotland peaks over 3,000ft in just 800 days – sometimes climbing seven mountains a day – was hailed yesterday as the retired teacher who lives in Wester Ross climbed his final Munro, Cairn Gorm.
The grandfather of four has been fundraising for the Royal Osteoporosis Society and Alzheimer Scotland after his wife, Janet, was diagnosed with both conditions.
Originally he had hoped to raise £10,000 to be split between the charities, but the total has now surpassed £50,000, thanks to widespread sharing of the challenge on social media, where he now has almost 14,000 followers on Instagram.
He told the Sunday Post: "I feel like a little boy at Christmas. I'm so overwhelmed by all the support and the amount of money that we've managed to raise, and of course I feel great that I've been able to complete the challenge so quickly. I'd originally hoped it would take me 1200 days.
"Janet has always been passionate about helping others so I wanted to raise money in her name to hopefully help make things a bit better for others suffering from these horrible diseases.
"When she was well, she never enjoyed climbing mountains the way I do, and I'm actually very thankful for that, because when I'm out in the hills it means I'm not reminded of her or happy times we've spent together there. It helps take my mind of the sadness."
I'm a little lost without her: Climber, 80, ready to scale every Munro in tribute to wife after she is diagnosed with dementia
Describing Janet as "the love of his life," the couple met in 1972 through mutual friends, and decided to move to Scotland 32 years ago.
"We often talked about how lucky we were to have met," said Nick.
"We had both been married before and had four children between us and we both wanted to live a similar lifestyle, so when the children left home, we moved from suburbia to a 10-acre croft.
"Janet has been the most wonderful and caring wife, mother and grandmother possible and I am eternally grateful that l fell in love with her."
He added: "I'd always been completely enchanted with the Scottish Highlands since I was at university in St Andrews, so I knew we were making an amazing choice moving here."
Moving to the North-West Highlands from Leicester, the pair lived an "idyllic" 30 years there together before Janet's condition meant she had to be hospitalised.
"Janet's diseases meant that our wonderful lifestyle had to come to an end, and I have struggled greatly coming to terms with it all," said Gardner.
"I didn't know what to do, I felt completely lost.
"It has been terrible – I lost my soulmate and I just felt like my world had been turned upside down."
"She no longer knows who I am which is incredibly difficult."
Gardner's daughter, Sally McKenzie, helped him set up the challenge fundraiser and social media presence online, and told the Sunday Post how proud of her father she was for completing the amazing feat.
"My dad has always been passionate about nature and mountains, and he took my sister Maria and I out hiking from a young age, which we have both grown to love," she said.
"I thought he would throw himself into the challenge but the passion and dedication with which he has done it has been incredible.
"I have looked after the social media for him and the support there is overwhelming – every day there are many messages of support and admiration and a common theme is how inspiring he is to so many people.
"I'm really proud of my dad and how he has created this adventure to cope with a difficult time.
"Not only has it been good for his wellbeing but the support he has generated for charity has been amazing."
Having climbed many mountain ranges in his long life, including the Alps, and mountains in Spain and Norway, Gardner believed that even despite his age, he still had the skills, stamina and fitness to reach his goal.
And he has proven himself right, completing the feat in just over half the time he had originally predicted, after beginning back in July 2020.
"I had looked after Janet myself for a couple of years, but then it got too hard and I just wasn't able to do it anymore. That was very tough and I was a getting into a bit of a mess and my mental health wasn't very good.
"So I thought, I need to do something about this.  I saw a story in a newsletter from the Alzheimer's society where a young woman who had no climbing experience climbed 20 Munros in memory of her grandfather who had the disease.
"I've been an experienced climber most of my life, so that inspired to me to try and do all 282 Munros to raise money for these charities that support people like Janet."
He added: "From a mental health perspective, the challenge has helped immensely. When I'm in the hills they seem to give me so much strength and it's like they have healing qualities for your problems.
"And although it's not stopped what's happened to Janet, it's helped me become stronger to cope, it's been very therapeutic."
The experience has also helped Gardner meet a whole host of new people, old and young, who have become friends over the last two years of the challenge.
"I used to stop people and tell them what I was doing and about the money I was raising, but now it's the other way around and I'm now recognised all the time on the mountains," he said.
"I even had someone shout to me at one point – 'Nick, you're a legend!'
"I've met so many wonderful people through it and there's a core, nucleus group of around 20 people who now come out with me on most of the climbs – people I would never have met had it not been for the challenge, so that is tremendous.
He added: "Hill walking is such a great sport – and I do think of it as a sport – but you're not competing with anyone else, you're not competing with anything except the mountain and the experience of the hill and just enjoying the views and the atmosphere.
The challenge hasn't come without its trials however, with weather and tough conditions making things a "little unpleasant," at times, admits Gardner.
"You never 'conquer' a mountain – it's been there long before us and it'll be there long after we're gone," he said.
"It lets you climb it and you have to respect it. If the weather is good then that's great, but if it's bad, the mountain can kill you.
"I am obviously an old man, and the last few weekends of climbing have been incredibly hard.
"Last weekend at Knoydart we had terrible wind and rain, so that made the experience a bit more challenging. And I was on the mountain for 14 hours, walking the entire time.
"There have also been a couple of times where I've completed seven Munros in just one day.
"But now the challenge is over I'm definitely not going to stop walking. I might have a rest for a little while but I still feel well.
"And I have to say, the benefits of walking cannot be underestimated, especially with diseases like Osteoporosis and preventing it by keeping your bones strong.
"I won't stop until I have to."
---
Donate to Nick's Munro Challenge here.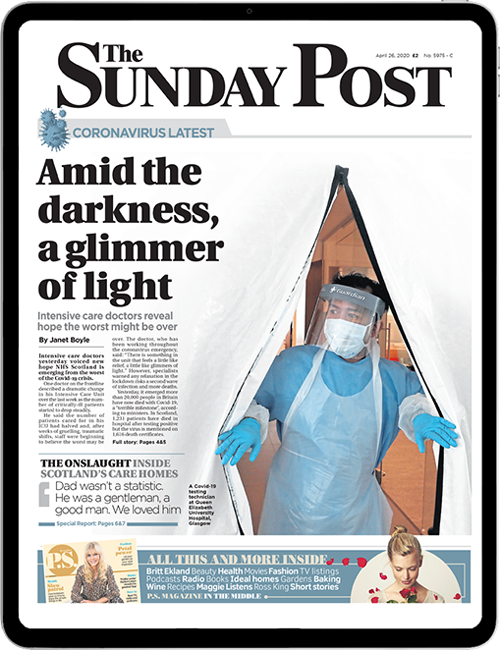 Enjoy the convenience of having The Sunday Post delivered as a digital ePaper straight to your smartphone, tablet or computer.
Subscribe for only £5.49 a month and enjoy all the benefits of the printed paper as a digital replica.
Subscribe