UK Government to wipe £13.4 billion NHS debt to help in fight against coronavirus
By
Jenna Macfarlane
April 2, 2020, 6:06 pm
Updated: April 2, 2020, 6:14 pm
Matt Hancock has announced £13.4 billion of historic NHS debt will be wiped to place the service in a "stronger position" in the fight against the pandemic.
Speaking at the daily Downing Street press conference, the UK's Health Secretary called the move a "landmark step" which will not only help the NHS fight the current threat of Covid-19 but give trusts "stronger foundations" for the future.
He said: "Today, to help NHS trusts to deliver what's needed without worrying about past finances, I can announce that I'm writing off £13.4 billion of historic NHS debt.
"This landmark step will not only put the NHS in a stronger position to be able to respond to this global coronavirus pandemic, but it will ensure that our NHS has stronger foundations for the future too."
Mr Hancock said he had made £300 million available for community pharmacies to make sure "every part" of the health and care system is supported.
The Health Secretary also announced, through a "five pillar" plan on testing, that the UK has set a goal to carry out 100,000 virus tests per day "over the coming weeks" and "before" the end of April.
The five pillars are:
Swab testing in Public Health England and NHS labs
Using commercial partners, including universities and private businesses, to establish more swab testing
Introducing antibody blood tests to determine whether people have had Covid-19
Surveillance to determine the rate of infection and how it is spreading across the country
Build an "at-scale" diagnostics industry to reach 100,000 tests by end of April
The new goal includes all tests – those that tell you if you have had the virus as well as those that say if you currently have the virus.
He added there is a "challenge" in ensuring tests actually work.
The Secretary of State said: "In one case a test that I'm being urged to buy missed three out of four positive cases for coronavirus.
"That means that three-quarters of cases, that test would have given the false comfort of sending someone with coronavirus back on the wards.
"Approving tests that don't work is dangerous and I will not do it."
Mr Hancock defended his decision to prioritise patient testing over NHS staff.
He said: "I understand why NHS staff want tests, so they can get back to the front line, of course I do.
"But I took the decision that the first priority has to be the patients for whom the results of a test could be the difference in treatment that is the difference between life and death.
"I believe anybody in my shoes would have taken the same decision."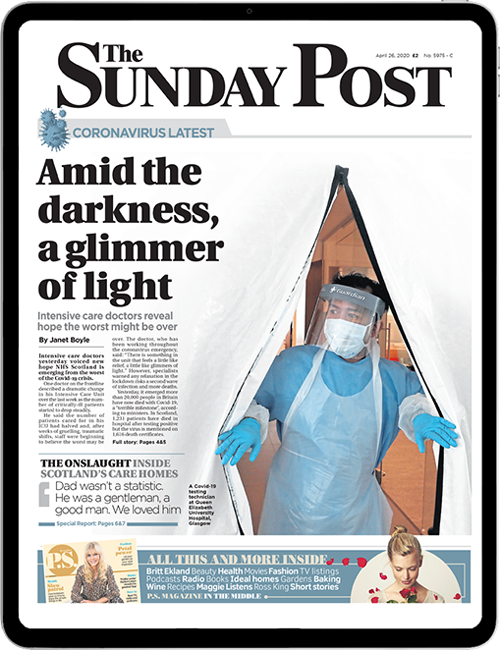 Enjoy the convenience of having The Sunday Post delivered as a digital ePaper straight to your smartphone, tablet or computer.
Subscribe for only £5.49 a month and enjoy all the benefits of the printed paper as a digital replica.
Subscribe