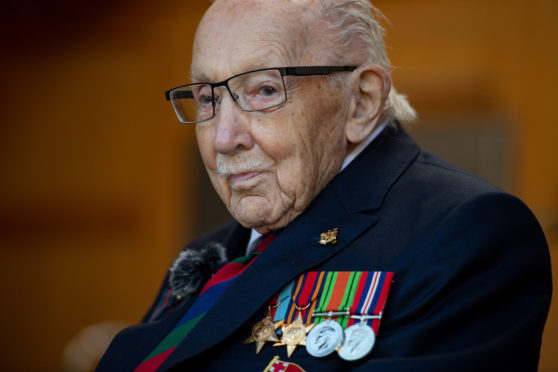 Captain Sir Tom Moore has died at the age of 100 after suffering from pneumonia and contracting coronavirus.
The Second World War veteran became a national treasure in 2020 after a fundraising challenge to walk 100 laps of his garden raised more than £32 million for the NHS.
— Captain Tom Moore (@captaintommoore) February 2, 2021
In a statement, Sir Tom's daughters Hannah Ingram-Moore and Lucy Teixeira said: "It is with great sadness that we announce the death of our dear father, Captain Sir Tom Moore.
"We are so grateful that we were with him during the last hours of his life; Hannah, Benjie and Georgia by his bedside and Lucy on FaceTime. We spent hours chatting to him, reminiscing about our childhood and our wonderful mother. We shared laughter and tears together.
"The last year of our father's life was nothing short of remarkable. He was rejuvenated and experienced things he'd only ever dreamed of.
"Whilst he'd been in so many hearts for just a short time, he was an incredible father and grandfather, and he will stay alive in our hearts forever.
"The care our father received from the NHS and carers over the last few weeks and years of his life has been extraordinary. They have been unfalteringly professional, kind and compassionate and have given us many more years with him than we ever would have imagined.
"Over the past few days our father spoke a great deal about the last 12 months and how proud he felt at being able to leave behind the growing legacy of his Foundation.
"We politely ask for privacy at this time so we can grieve quietly as a family and remember the wonderful 100 years our father had."
"Thank you."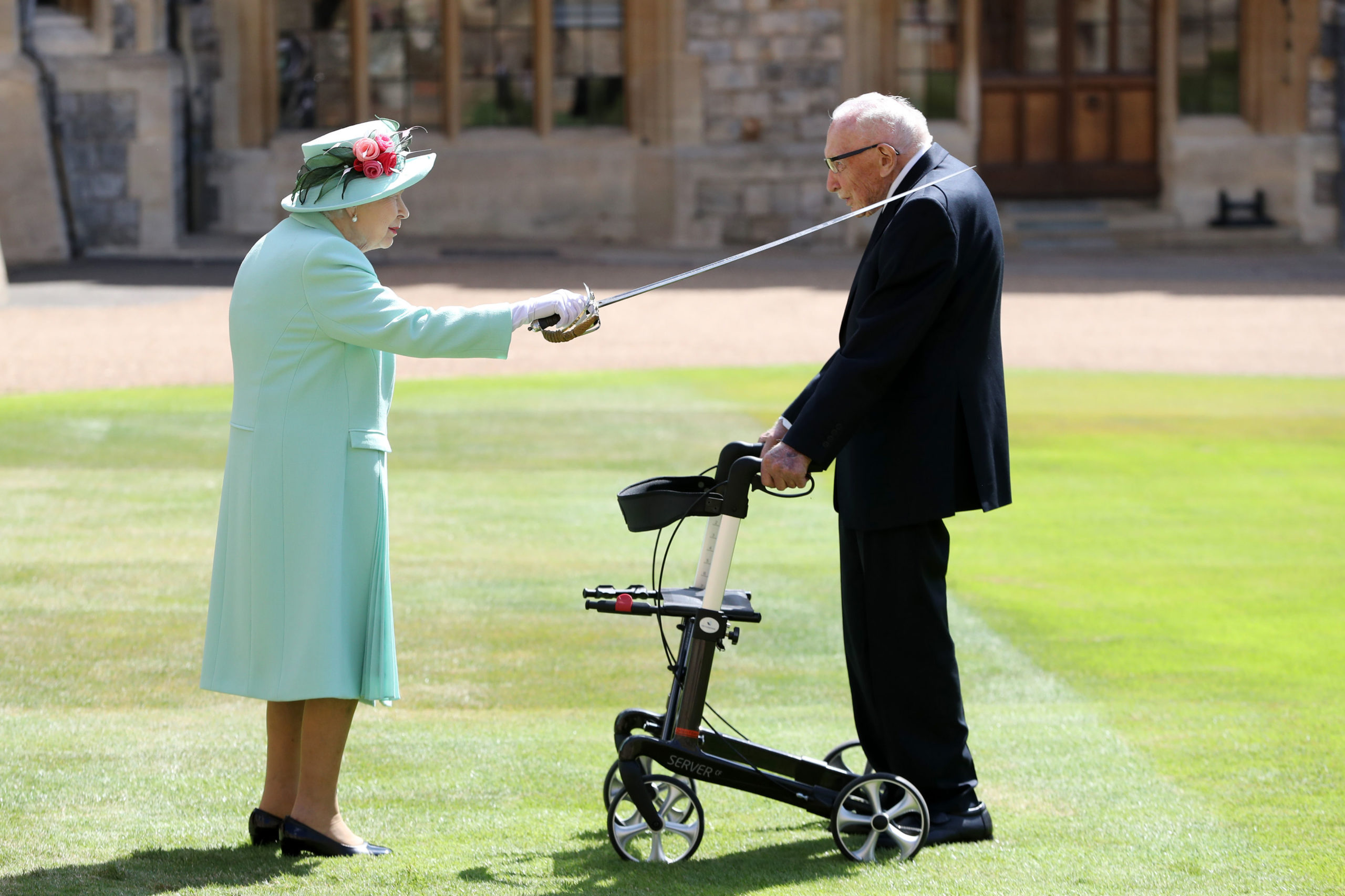 Information released on behalf of Captain Sir Tom Moore's family revealed he tested positive for Covid-19 on January 22 after returning home from hospital where he was diagnosed with pneumonia.
The statement said Sir Tom was tested regularly for Covid-19 between December 9 and January 12 and each test returned negative.
"He was admitted to hospital on January 12. Whilst in hospital he received a pneumonia diagnosis. In addition, as with other patients, he was tested regularly for Covid-19.
"On January 22, Tom was discharged from hospital back to the family home where he felt most comfortable. Unfortunately he was left still fighting pneumonia and tested positive for Covid-19 that day.
"He remained at home, cared for by family and medical professionals, until he needed additional help with his breathing. He was taken by ambulance to Bedford Hospital on Sunday January 31.
"Tom was able to have visitors to say goodbye to him at the end of his life. Yesterday evening his daughter Hannah and grandchildren Benjie and Georgia were able to be by his side and his daughter Lucy was able to speak to him on FaceTime."
Sir Tom's efforts inspired the nation during the first national lockdown, and donations quickly surpassed his £1,000 target.
Donors worldwide brought the total into the millions, and he was later awarded a knighthood to recognised his achievement.
He also made it to number one in the UK charts in a duet of You'll Never Walk Alone with Michael Ball.
---
Tributes to 'British hero'
— Boris Johnson (@BorisJohnson) February 2, 2021
In a statement shared on Twitter, Liz Lees, chief nurse at Bedfordshire Hospitals NHS Foundation Trust said: "It has been our immense privilege to care for Captain Sir Tom Moore.
"We share our deepest condolences and sympathies with his family and loved ones at this incredibly sad time.
"We'd also like to say thank you, and pay tribute to Captain Sir Tom Moore for the remarkable contribution he has made to the NHS."
How terribly sad: Captain Sir Tom Moore has passed away. What an extraordinary life, with the most wonderful finale over the last year. A National treasure and a hero. RIP.

— Gary Lineker 💙 (@GaryLineker) February 2, 2021
The man who united and inspired our nation at a moment of deepest despair. Thank you Captain Sir Tom Moore for your service. I am heartbroken for your family. A life well lived, and well loved. RIP. https://t.co/5tV7ZCuGUZ

— Susanna Reid (@susannareid100) February 2, 2021
Health Secretary Matt Hancock tweeted: "I'm so sorry to hear that Captain Tom has passed away in hospital.
"He was a great British hero that showed the best of our country & I send my best wishes to his family at this time."
Such sad news. RIP Captain. https://t.co/Dg4TYasNTI

— Nicola Sturgeon (@NicolaSturgeon) February 2, 2021
Chancellor Rishi Sunak tweeted: "A proud Yorkshire man. A dedicated Army Officer. A tireless fundraiser. And above all, an inspiration to us all. Rest in peace Captain Tom."
A Buckingham Palace spokesman said: "The Queen is sending a private message of condolence to the family of Captain Sir Tom Moore. Her Majesty very much enjoyed meeting Cpt Sir Tom and his family at Windsor last year. Her thoughts, and those of the Royal Family, are with them, recognising the inspiration he provided for the whole nation and others across the world."
---
Millions raised by Captain Sir Tom Moore helping NHS staff and volunteers
By Catherine Wylie, PA
The millions of pounds raised by Captain Sir Tom Moore have funded a range of projects providing practical and emotional help to NHS staff and volunteers.
The Second World War veteran raised a total of £32.7 million after vowing to walk 100 laps of his garden before his 100th birthday in April 2020.
NHS Charities Together said health service charities used some of the money he raised to assist those experiencing bereavement due to Covid-19.
The organisation said it has helped patients, their families and carers at one of their most isolated and stressful moments, when they are very ill in hospital and separated from those they care for.
A significant proportion of the money that went into the Urgent Covid-19 Appeal came from Sir Tom's fundraising efforts and was a key part of the first tranche of funding.
The organisation used the initial tranche of cash to meet urgent needs on the ground during the first wave of the pandemic and distributed further urgent funding towards the end of last year in response to the second wave.
NHS charities are also using the funds to support communities outside hospitals, and the recovery of staff and patients affected by the pandemic across the NHS.
Funds have already been allocated to providing bereavement support for families who have lost loved ones, and gone towards supporting extremely sick patients, keeping them connected with family members by funding equipment like iPads to enable virtual visiting.
Some money has been used for counselling services and helplines to support the mental health of NHS staff.
There has also been practical support, such as access to food, drink and rest areas to enable staff to continue with their work.
Other funds are being used to help partnerships outside hospitals, such as hospices, community healthcare and social care, so patients returning home have access to the care they need to recover.
NHS Charities Together said it has been working with members to support staff, volunteers and patients who are being disproportionately affected by the Covid-19 crisis, such as patients and staff from BAME communities and high-risk groups like those living with disabilities.
Funds are also being used to help the NHS in the future, to aid its recovery from the long-term impact of Covid-19 once the immediate crisis has abated.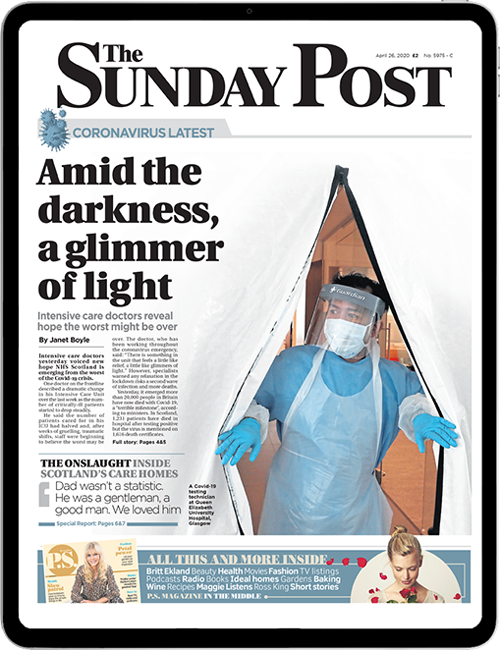 Enjoy the convenience of having The Sunday Post delivered as a digital ePaper straight to your smartphone, tablet or computer.
Subscribe for only £5.49 a month and enjoy all the benefits of the printed paper as a digital replica.
Subscribe