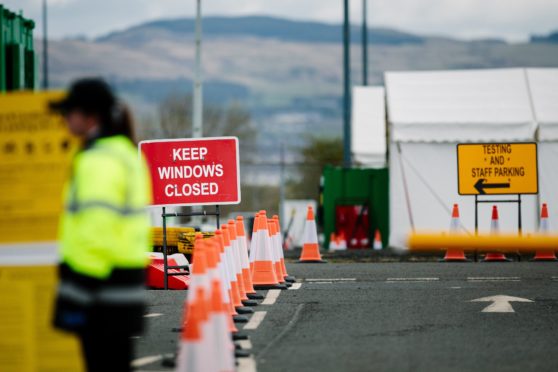 A huge drive-through testing centre for NHS staff will open near Glasgow Airport today.
The airport's 17-acre long-stay car park has been transformed into a testing facility. The site will test frontline NHS staff by appointment only.
It is part of the drive to test NHS staff, self-isolating because a family member has symptoms, and get them back to work if they do not have Covid-19.
The centre will be staffed by up to 25 Boot employees. When it opens this afternoon, the facility will have up to five lanes for cars and provide capacity for a greater number of Covid-19 tests each day.
The Westminster and Holyrood governments are funding testing centres, with other drive-through stations opened at Glasgow's Queen Elizabeth University Hospital and at Chalmers Sexual Health Centre in Edinburgh.
Figures show 10,500 NHS staff were off on Thursday due to Covid-19, the majority of the absences due to workers self-isolating. The number represents more than one in 20 of the total Scottish NHS workforce of 166,000.
Figures from some health boards showed virus-related absences of more than one in 10 workers. NHS Ayrshire and NHS Shetland each said 11% of workers were off for Covid 19-related reasons.
The country's biggest health board, NHS Greater Glasgow and Clyde, reported 700 workers were self-isolating. NHS Lothian, the next largest, said 7% of staff were off for reasons related to coronavirus.
The Scottish Fire and Rescue Service said 514 staff were off for similar reasons, more than one in 20 of the 7,900 workforce.
Sources suggested Police Scotland absences, including coronavirus-related cases and annual leave, was 15% with 3,000 absences out of the 22,000 total of civilian workers and officers. Police declined to disclose the figures, citing "operational reasons".
Boots UK said: "We feel incredibly proud to be supporting Covid-19 testing for NHS workers in Glasgow. Boots has been at the heart of UK healthcare for 171 years and has always come forward to support the community in times of need. Our team in Glasgow is no exception. Some colleagues have already stepped forward to volunteer."