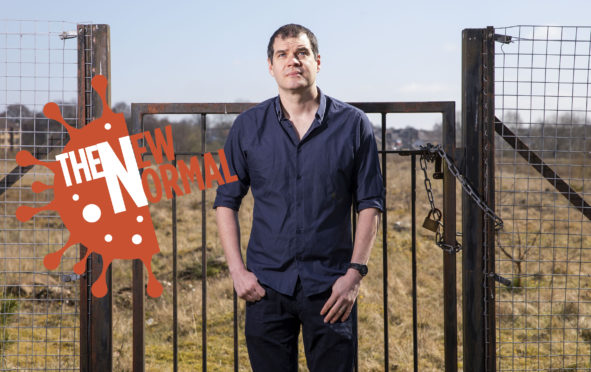 In our New Normal series, we look at how Scotland could be transformed after the pandemic.
This week, cultural leader Jamie Cooke explains how post-Covid Scotland must seize the opportunity to become a fairer country where no families are left behind.
Before he joined the Royal Society of the Arts (RSA) in 2011, Cooke had an eclectic career. He spent two years in a seminary in Rome, before deciding the priesthood wasn't for him and returning to Scotland to study at Glasgow University.
Head of the RSA Scotland since 2015, Cooke's areas of interest include basic income, inclusive growth and the role of cities.
---
In 1942, William Beveridge identified five giants – Want, Disease, Squalor, Ignorance and Idleness – that had to be confronted as part of post-war reconstruction. His landmark report would become the blueprint for the creation of the welfare state.
"The 1930s had been a time of flux, but at the end of the Second World War – with all its great sacrifices – came a recognition that there was a need to repair society; that we had responsibilities towards one another," says Jamie Cooke. "Now, for the first time, there was an understanding that helping people wasn't a question of responding to one issue; that you had to look at the underlying causes which exist across society."
Beveridge's vision of a country whose citizens were cared for from cradle to grave held sway for more than 30 years. But then neoliberalism – ushered in by Margaret Thatcher in the UK and Ronald Reagan in the US – and a process of de­industrialisation that left many disenfranchised, caused the social contract to fray.
Gradually, we shifted from an acceptance that anyone could suffer hardship, and that those who did should be supported, to a divisive rhetoric of "strivers and skivers". The notion many people claiming benefits were scroungers unwilling to work became entrenched.
With this shift came a severing of our sense of connectedness and a distrust of one another and the state. But Cooke believes Covid could act as another watershed. "Like World War Two, the pandemic has been characterised by shared loss and sacrifice," he says. "That is a tragedy, but it could give us another opportunity to reflect on the type of society we want; an opportunity to create a new social contract."
In the 21st Century, work and the economy have evolved, but our social security system has not. It is still predicated on a world where you could access a nine-to-five job-for-life, whereas nowadays employment is more transient. People move from job to job, from career to career. This can offer opportunities, but it also creates insecurity.
Universal Credit was supposed to simplify the system, consolidating myriad benefits into a single payment. But, Cooke says, it has been blighted by its punitive approach and is now beyond saving.
In its place, Cooke would like to see the introduction of a Universal Basic Income (UBI) – a regular payment given to everyone regardless of need and with no conditions attached. The idea behind UBI is that it would reduce stigma and give people a sense of commonality, while allowing them to do more with their lives.
"I have never subscribed to the dichotomy that you are either for the state or for individuals," Cooke says. "That seems daft to me. We are part of communities and a state, but we are also individuals and families, and we make choices on that basis. You can't have UBI without recognising you are part of something bigger. You are receiving it from the state; you are receiving it as part of a community, but you are then also empowered to make choices for yourself."
Cooke says pilot programmes in other countries, including Finland, suggest UBI rebuilds trust both amongst fellow citizens and between citizens and the state. "When you say to people 'You have a right to have this basic security', when you say 'We trust you', people respond to that trust," he says.
Five years ago, UBI was a fringe idea. But the pandemic underlined the precariousness of our lives and the lack of humanity at the heart of the benefits system. In doing so, it has brought the conversation forward by several years.
At the last televised election debate, four out of five of the leaders – the exception being the Conservatives' Douglas Ross – said they were in favour of further investigation into UBI. Less than 48 hours later, the SNP pledged to work towards establishing a "minimum income guarantee" – a first step towards establishing a UBI if Scotland was to gain independence in the future.
Alongside the introduction of UBI, Cooke would like to see a reflection on universal services. In the 21st Century, which services are fundamental to an individual's sense of wellbeing and connectedness?
When Labour included universal free broadband in its 2019 General Election manifesto it was ridiculed, yet the pandemic has underlined the key role it plays in social inclusion.
Cooke says both internet access and digital literacy are critical for young people. "You can't access benefits without the internet, the push across public services is digitisation and there's been a debate around whether we should become a cashless society. But, while technological advances can be a positive, they can also leave a lot of people behind," he says.
The SNP has made a manifesto commitment to provide £200 million to bridge the digital divide, offering devices, data and training to 300,000 digitally excluded households.
Investment in social housing was at the heart of the Beveridge report. Initially this housing was meant to cater for large swathes of society. The left, in particular, bought into the idea of mixed schemes, where a doctor might live next to a shipbuilder. Gradually, however, Britons became a nation obsessed by home-ownership. The social housing lost under Margaret Thatcher's right-to-buy policy was never replaced. What stock remained was reserved for those in extreme need and so the quality declined. And yet, at the same time, young people found it impossible to get a foot on the property ladder.
Today, Cooke says, someone in Scotland becomes homeless every 17 minutes. He believes we need to invest in Housing First – a policy that prioritises placing a roof over someone's head. After the individual has a home, wrap-around support can be put in place to deal with any mental health or addiction issues.
Housing First worked well in Utah's state capital, Salt Lake City, which had, at one stage, eliminated homelessness. But, as its population grew, its leaders discovered the policy only works so long as there was sufficient housing stock. Here in Scotland, the government endorses Housing First in principle, but it is only being implemented on a limited scale.
Cooke believes there needs to be more investment in social housing across the country. He says infrastructure projects could be forced to replace and/or increase any social housing they remove, and derelict land reclaimed to build new schemes. "We need to recapture the idea of social housing as a positive," he says.
The relationship between individuals and the state is being further eroded by disinformation and fake news. Arguably this is a vicious circle. If people feel alienated from society they are more likely to invest in conspiracy theories, which further fuels distrust.
Cooke believes a vital step would be to include media literacy in the school curriculum. He would also like to see more media organisations introduce fact-checking services and the Scottish government explore the introduction of either a disinformation office or a disinformation commissioner.
"We must be cautious about anything that might infringe on a free and independent media, but at the same time we need to empower people to navigate their way through all the information they are receiving and make informed judgments about its credibility," he says.
"Maybe the answer is to look at a disinformation office or commissioner as a vehicle to support society – for it to focus more on the educational side rather than stamping everything 'information' or 'disinformation'."
Cooke says Scotland suffers from an entrenched paternalism. The state believes it knows what is best for people. It parachutes into communities then blames those communities for the failure of its initiatives. "To rebuild trust we should start with what people want and need and feel within their communities and then build from there," he says.
Used judiciously, citizens' assemblies and juries, participatory budgeting and community wealth-building (which seeks to increase flows of investment within local economies) could play a role in fostering inclusion and countering polarisation. Citizens' assemblies have already proved useful in Ireland, where the process led to the referendum on abortion, and in Scotland to look at ideas on climate change. Citizens' juries, which function much like court juries, have been used to assess infrastructure projects in Austria, ensuring the same entrenched interests aren't always making the big decisions.
The key, Cooke believes, is not to over-use any of these initiatives to the point where they are reduced to a box-ticking exercise, but to see them as part of a toolkit which can be drawn on to encourage democratic engagement.
Cooke says one of the positives of Covid has been the outpouring of empathy, particularly in the early stages. "We were told community cohesion didn't exist any more, that there was no society but, though the pandemic meant we couldn't physically be with one another, it has increased social connectivity," he says.
In his home town of Bishopbriggs, a mystery resident – known only as Briggsy – has been knitting objects and attaching them to post boxes or lampposts, a gesture that has brought the town closer together. "It's not about setting national targets, it's about giving people the time and space and some resources to do their own thing," Cooke says.
He wants "wellbeing" rather than GDP being used as a measure of economic success – an idea that is gaining traction across the globe.
Cooke says, in the past, discussions around this have tended to focus on profit, people or planet. "Capitalism is all about profit, socialism is all about people, degrowth is all about the planet," he says, "but, actually, can you find a balance that says it is OK to make a profit as long as it is benefiting people and sustaining the planet? If you set that in a Scottish context, it's about measuring success in a way that avoids exploitation, that is positive for everyone."
Cooke believes that 80-plus years after the Beveridge report, we have a fresh opportunity to confront the "giant evils" plaguing society, and to create a new social contract.
"I think if we could give people basic security and a renewed trust, alongside the space to reimagine their communities in new and positive ways, this could be a hugely exciting country," he says.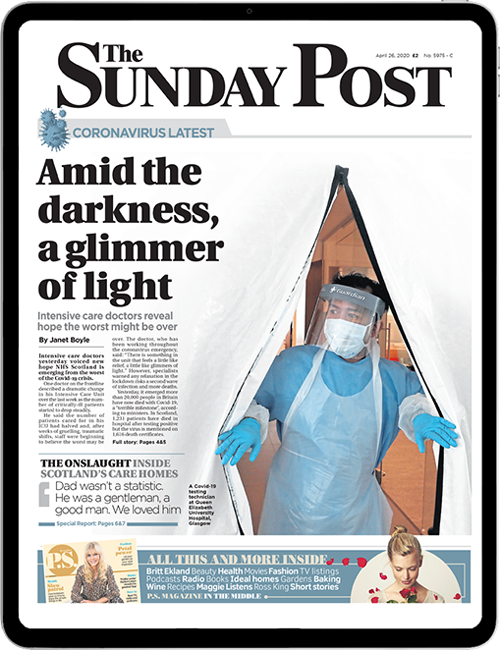 Enjoy the convenience of having The Sunday Post delivered as a digital ePaper straight to your smartphone, tablet or computer.
Subscribe for only £5.49 a month and enjoy all the benefits of the printed paper as a digital replica.
Subscribe