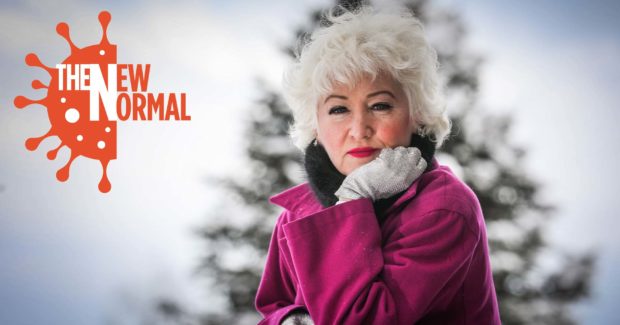 Claire Mitchell QC trained in criminal law, then set up her own firm doing agency work two days a week and practising as a women and children's rights lawyer at Castlemilk Law Centre for the other three.
Called to the Bar in 2003, she now specialises in appeals, public inquiries and extradition cases which she describes as the point where criminal law meets human rights. She has attended the Privy Council and Supreme Court and provides seminar training for Bar Associations, the Judicial Studies Board and Glasgow and Edinburgh University.
Mitchell is also the driving force behind a national campaign to secure pardons, an apology and a monument for the thousands of women persecuted as witches in Scotland.
---
Covid-19 has wreaked havoc with Scotland's criminal justice system. In the aftermath of lockdown, both high court and sheriff court trials were suspended. In September, Holyrood's Justice Committee warned a backlog of cases could take up to a decade to clear.
The Scottish courts system has been talking about the need to embrace technology for years and there have been advances, such as vulnerable witnesses being allowed to give evidence via video links. And yet, until the pandemic, courts remained anachronistic places, wedded to the theatrics of wigs and gowns.
Mitchell believes Covid has the potential to drag the criminal justice system into the 21st Century; to be a catalyst for changes that would allow it to function in a more economic, efficient and environmentally-friendly way.
There have already been innovations. High court and sheriff court jury trials can be held using remote jury centres in cinemas. Courtrooms have been fitted with the technology necessary to broadcast the trials to cinemas and to receive footage of each juror back into the courtroom.
The model has proved so successful that in the last three months of last year, three or four more trials were completed than in the same period in 2019, although there has been a significant reduction in the number of summary (non-jury) trials during the latest lockdown.
It has been suggested, even after courts are once again fully functional, remote jury centres might continue to be used to allow trials to be held in courtrooms which do not have jury boxes in order to increase capacity and reduce the backlog.
"One of the things that is most stressful for the accused, witnesses and complainers is delays, so the Scottish Courts and Tribunal Service has done an amazing job in coming up so quickly with a model as close as possible to an ordinary criminal trial," Mitchell says.
"But, for the long term, trials depend on assessing the credibility of witnesses. Having everyone in the same room gives the best opportunity to see witnesses, the best opportunity for communication and therefore the best opportunity for justice."
So, Mitchell wants criminal trials back in courts as soon as practicable. But during lockdown, judicial business including appeals, civil cases and bail hearings, have been held remotely. She believes this could continue after the pandemic.
The QC has not been in a courtroom since lockdown. Mostly, she presents appeals from her home, via video, with few glitches. She has not, yet, suffered the ignominy of accidentally appearing with the face of a cat (as a US lawyer did in footage that went viral).
"What you're doing in the Appeal Court is presenting a legal argument put down on paper, which they have already looked at, and saying: 'This is why I think you should uphold this appeal'. There's much less drama. That is why I feel appellant proceedings lend themselves particularly well to being conducted remotely," Mitchell says.
The advantages of moving proceedings online are manifold. For a start, it strips out the pre-court and post-court rituals. "In the old days, I would go to the gown room, put on my robes and my silks, collect physical papers, or books and bring them all along to the appeal court – and at the end, of course, all that would be done in reverse," Mitchell says. "Now there's none of that. We are not dressing in 18th Century attire in our living rooms – that would be ridiculous."
Mitchell says she misses the theatricality, which may have some psychological benefits, but that the loss is more than offset by the savings in time and money. "It feels weird when the case finishes because, where normally we would have been speaking to our own team and the other side about what had happened, it now just cuts off. On the other hand, it does mean I am immediately able to start other work."
Jails have also been forced to adopt new technology such as mobile phones and virtual visits, which means Mitchell is able to conduct consultations with prisoners from home.
"Now, if someone from HMP Grampian phones me after the appeal and asks for a consultation, I can do that – and then the following hour I can be doing a consultation with someone from HMP Shotts," she says.
Technology is also helping the appeals themselves run more smoothly. The biggest case Mitchell has been involved in since lockdown has been the third appeal by the family of Lockerbie bomber Abdelbaset al-Megrahi against his conviction. This involved a large legal team on either side, so was not conducted from her house. Instead, her team hired a room so they could confer while socially distancing. Mitchell and her opposite number from the Crown, presented their submissions to the judge via video link.
During the hearing, she wanted to cite a case that had not been on everyone's radar. "In a courtroom, a junior counsel would have gone to the library and printed off as many copies as required, and then they would have come back and everyone would have been presented with a copy – during which time perhaps there would have been an adjournment or perhaps I would have kept on speaking, but either way, the thread might well have been lost," she says.
"As it was, junior counsel looked up the article on the internet, emailed it to me, I emailed it to the clerk, the clerk emailed it to the court and the court was able to look at the paragraph I was directing them to almost immediately."
In pre-Covid days, the Lockerbie appeal, a case which has been ongoing for more than 30 years, would have involved boxes and boxes of paperwork, but increasingly all the information relating to cases is being moved online.
"As a result, I was able to present, using a laptop to interact with the court and an iPad which contained all the information I required. It's so much more efficient, it has to be the way forward whether cases are being held remotely or in a courtroom," she says.
Changes which reduce cross-country travel and the amount of paperwork would also be better for the planet. "I dread to think about what my impact on the environment must have been pre-Covid," Mitchell says. "I think I would have to plant several forests to offset my carbon footprint."
She had already decided her practice would go paperless before Covid and is confident others will now be galvanised into action.
"I had discovered the benefits of using my iPad, where you could mark things up, tag them, and have all the information you needed at your fingertips. It is more convenient and secure if you are not resorting to bits of paper everywhere, and it is now entirely feasible," she says.
"So much stuff is now provided to agents by the Crown electronically and there are so many apps that allow you to input that information directly to your iPad."
The New Normal in schools: How Scotland's education system could be transformed post-pandemic
While, for the reasons outlined, Mitchell believes trials must be held in a courtroom, there are other ways of reducing delays. Before Covid, for example, many summary sheriff court cases would be resolved by a guilty plea on the day the trial was scheduled; others would be called to court before they were ready to proceed. As a result witnesses and complainers would often attend unnecessarily and a slot in the court programme would be wasted.
In the wake of coronavirus, however, pre-intermediate diet meetings have been introduced to ensure only those cases which cannot be resolved by agreement, and which are ready for trial, advance to the trial date. This reduces unnecessary attendance and frees up space in the court programme for more cases to proceed to trial which should help clear the backlog.
In addition, Mitchell says, there is no reason why pre-trial hearings to discuss matters such as the admissibility or otherwise of evidence, could not be held remotely. In the trial of Alex Salmond, for example, there were three pre-trial hearings, each of which involved a huge amount of logistical organisation, such as marshalling large numbers of journalists and members of the public. Yet none lasted longer than two hours.
A final, less obvious potential dividend of online hearings, or online access to physical hearings, is they could improve transparency and accessibility for both the press and the public.
Before the pandemic if, as a journalist, you wanted to report on a trial or appeal or if, as a member of the public, you wanted to witness one, you would have to attend in person. In some courts, the press and public galleries are separated from the main body of the court by a glass panel and the acoustics are poor.
During Covid, it has been possible for journalists to view online proceedings through video conferencing and for members of the public to listen in by phone. For journalists, this gives a greater degree of flexibility and makes it easier to follow what is going on. It also allows many more members of the public to attend and opens up proceedings to those who have physical disabilities or live too far away to travel.
Listening in by phone, rather than watching on a screen, is not ideal, but there are currently fears information could be recorded and misused. With time and investment, though, it might be possible to come up with ways to make the system more secure.
To outside observers, the Scottish Court system has seemed outdated and inefficient, but Mitchell believes it is now time for it to shake off its affection for antiquated traditions and to embrace modernity.
"Covid has forced us all well past where we thought we would be in 2021," says Mitchell. "We are now seeing the benefits of investing in technology. Measures which increase efficiency save money which can then be reinvested in measures which increase efficiency – it's a virtuous circle."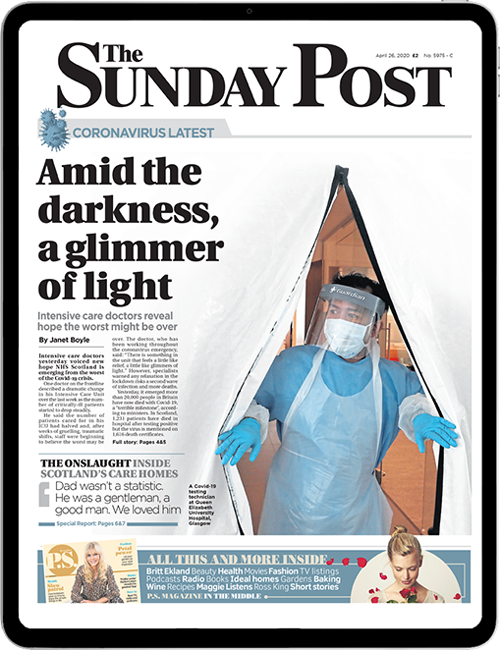 Enjoy the convenience of having The Sunday Post delivered as a digital ePaper straight to your smartphone, tablet or computer.
Subscribe for only £5.49 a month and enjoy all the benefits of the printed paper as a digital replica.
Subscribe