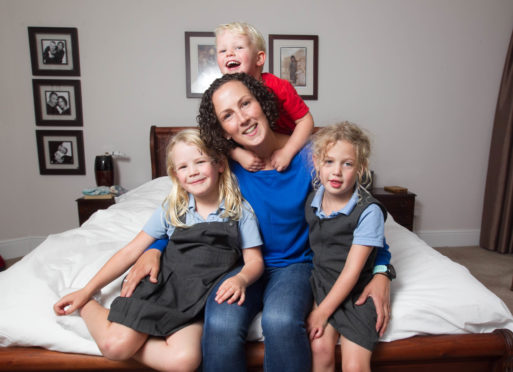 They were once – and not so long ago – described as "geriatric mums" by doctors.
But advances in IVF and changes in society have seen the number of women having babies well into their 40s almost double in a decade.
One in five women are aged 35 or older when they give birth, despite added health complications for mum and baby, including increased risk of birth defects, high blood pressure and prolonged labour.
Radio and TV presenter Myleene Klass, who recently gave birth to son Apollo at 41, revealed she experienced a traumatic labour.
She said: "It was a pretty complicated birth in the end."
Klass, who has two daughters from a previous marriage, said having a baby in her 40s has been a positive experience overall despite the difficulties.
She said: "I love the night feeds. I know how quickly this time will go."
So, do the pros of having children in later life outweigh the cons? We spoke to three mums to find out.
---
Ruth's story: "I was healthier at 40 than 20, so I didn't feel worried"
Teacher Ruth Scott, 44, from Glasgow, had her third child Matthew, three, when she was 41. She is also mum to Anna, six, and Emily, four.
I didn't get married to my husband Chris until I was 36, so I was a bit of a late starter.
We were living the life of Riley, enjoying nights out and nice holidays but I was aware of my body clock ticking.
I had my first daughter Anna just before my 38th birthday and Emily came along 20 months later.
When I fell pregnant with Matthew, despite having had two straight forward previous pregnancies, the atmosphere in the antenatal care changed.
I became paranoid because of the discussions about "the risks".
My brother works in neonatal and was a bit concerned but I didn't want to talk about it. The fact was: I was 40 and pregnant and I didn't need to be scared or freaked out.
I was treated differently. With Matthew I was automatically put on a "red path" and I had extra midwife appointments and had to see a few consultants.
I was much healthier in my 40s than in my 20s, so I didn't understand it.
In the end he was the easiest labour of the three. Anna was an emergency C-section and Emily almost arrived in the car on the way to the hospital.
I don't think there's a "right" age to have a baby but I do find myself thinking "what if?" Sometimes it's exhausting and I wonder if I would have been more patient and had more energy in my 20s.
In two years when Matthew goes to school, I have no doubt I will be the oldest mum at the gates.
I think about Matthew's 18th birthday and realise I'll be nearing 60. And the age I'll be as a gran, it doesn't bear thinking about…
But on the flip side, I'm much more financially secure now than I was 20 years ago.
And I like to think I look younger than my age, and I'm pretty young at heart.
---
Tricia's Story: "I'm a better mum now than I was in my 30s"
Pregnancy advisor Tricia Murray, from Edinburgh, gave birth to her fourth child, Arthur, last year, age 40. She also has three other sons, an eight-year-old and 10-year-old twins.
My last pregnancy was actually my best pregnancy. I knew how to look after myself and how to look after my body, what to eat, when to rest.
I was fitter, I was healthier, just much more in tune.
And because I was older, I knew there were more risks so I didn't feel guilty about looking out for myself.
In my job I work as a doula supporting women of all ages who are feeling overwhelmed by their situation so I had no qualms about having someone in to help me two mornings a week so I could take some time to myself.
Mums are so hard on themselves, thinking they have to do everything and be with their kids every minute they can, but it's so important to look after yourself.
I am looking for a yoga class that Arthur and I can do together, not really for his benefit but because I want to get back to yoga.
I have also put him into nursery a couple of mornings a week from much earlier than I did with my other children so I get some head space.
It sounds selfish, but it actually means I'm more able to give to everyone else.
I think I'm a much better mum in my 40s than I was in my 30s. Having the twins was a steep learning curve.
We were always busy with music classes, sensory classes. I think I felt that I should be with them all the time.
I am more relaxed about everything now. I felt like, before, I never really got the opportunity to enjoy being a mum as I was in at the deep-end with three boys 22 months apart.
Having that life experience and knowing how quickly it goes…this time, I just want to enjoy every minute.
---
Kathy's story: "After 12-hour labour I had an emergency C-section but it was all worth it"
Kathy Black, a therapist from Garelochead, had her second child, Hamish, at age 49. Her first daughter Imogen is 20.
After my daughter Imogen was born I was adamant I wasn't having any more children.
But when I split from Imogen's dad and met my now partner of 12 years David, I saw how good he was as a stepfather so we decided to try for a baby. By then I was 42 and had been sterilised so it was a long process. After a failed operation to have the sterilisation reversed we decided to try IVF using donor eggs.
We had to fund it privately as I was too old to qualify on the NHS. I was a little nervous, but when we saw the positive pregnancy test we were over the moon. I don't think the doctors were judgmental, but they did treat me differently as an older mum-to-be.
I was diagnosed with gestational diabetes so had to watch my diet. Apart from that the pregnancy went smoothly.
The options were more limited when it came to the birth though. I really wanted a home birth but was told it needed to be in hospital.
On reflection they were right. After an exhausting 12-hour labour, I had to have an emergency Caesarean section.
Hamish was a perfectly healthy 7lb 8oz baby. We had a healthy son and that was all that mattered, but with my 50th birthday looming my age was at the back of my mind.
Then not long after the birth I started experiencing signs of the menopause. Coping with a young baby while dealing with mood swings and hot flushes was a challenge.
Thankfully, I look young for my age and I haven't really experienced people having an opinion on it.
There have been times when we've been out and Imogen is with us – and strangers have addressed her as Hamish's mum. We have to explain that I'm the mum!
Overall, I honestly think Hamish will keep me young and thankfully David, who is 50, and I are both fit and healthy.
Because of our age, we will be able to cut back a bit on work and spend more time with him as he gets older.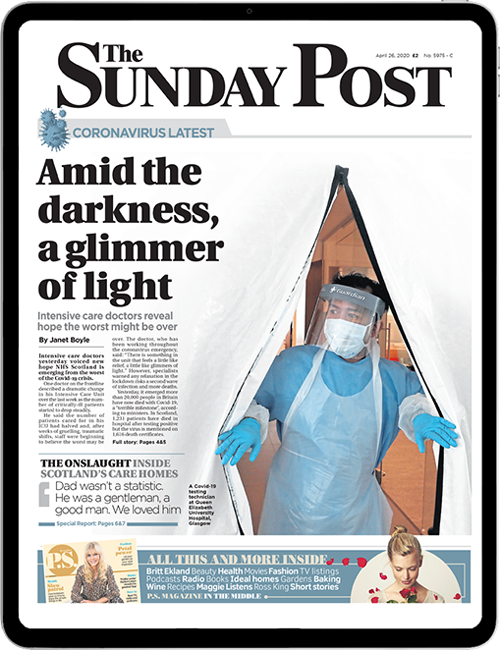 Enjoy the convenience of having The Sunday Post delivered as a digital ePaper straight to your smartphone, tablet or computer.
Subscribe for only £5.49 a month and enjoy all the benefits of the printed paper as a digital replica.
Subscribe