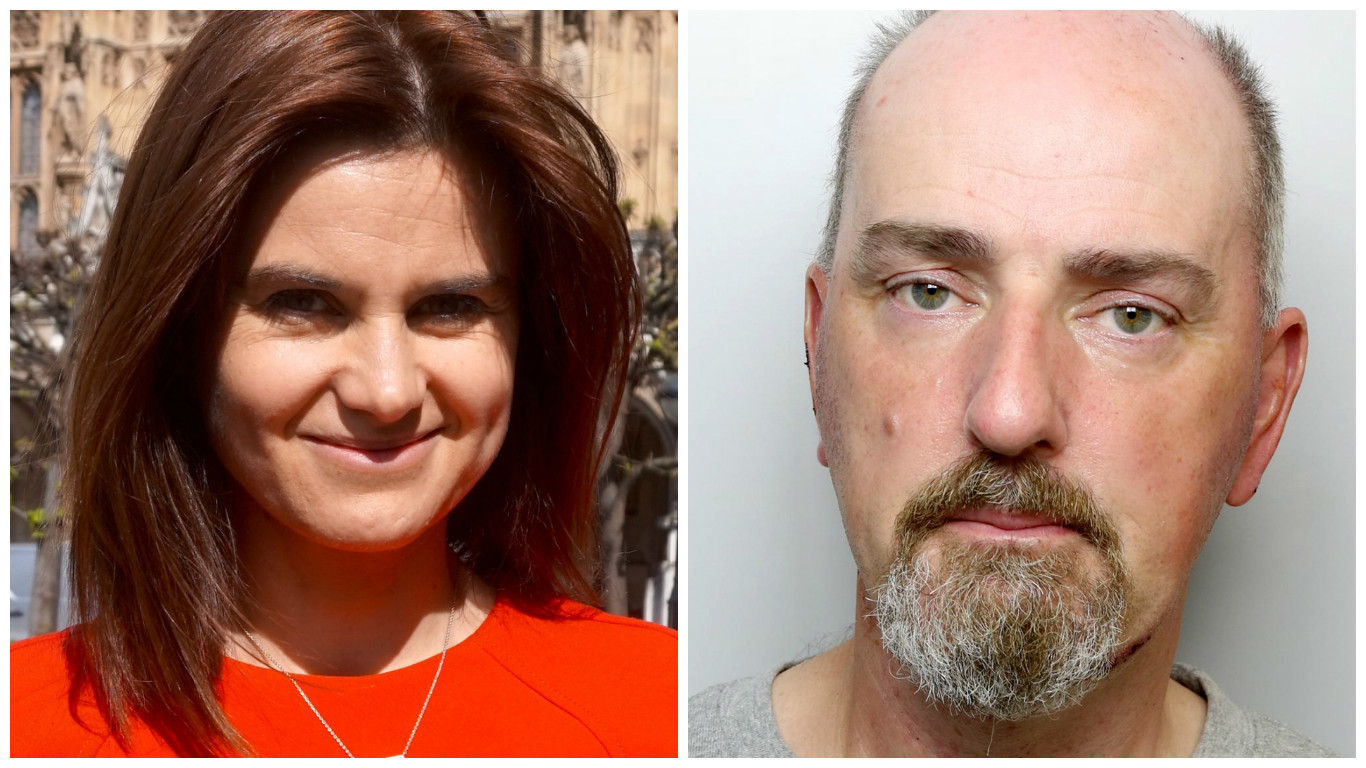 NEO-NAZI Thomas Mair, who gunned down Labour MP Jo Cox while shouting "Britain first", has been found guilty of her murder.
An Old Bailey jury took just over 90 minutes to convict loner Mair, 53, of what was described in court as an act of "sheer brutality and cowardice".
He has been given a whole life sentence for the killing due to its exceptional seriousness.
Mair, who was born near Kilmarnock before moving south at an early age, murdered mother of two and Remain campaigner Mrs Cox, 41, as she arrived for a constituency surgery in Birstall, West Yorkshire, a week before the EU referendum.
The white supremacist, who gave no evidence in his defence, shouted "Britain first" as he fired three shots at his MP and stabbed her 15 times.
He gave no reaction as he was convicted on all counts.
The MP's family sat in silence in the packed courtroom as the verdicts were delivered, and husband Brendan Cox told the Old Bailey he was not there for "retribution" and felt"nothing but pity for" Mair.
As she lay mortally wounded in the street, the MP for Batley and Spen tried to protect her aides by urging them to leave her and save themselves.
During the trial Mrs Cox's family were left in tears as her constituency caseworker Sandra Major described the MP's selfless response as she came under attack from Mair.
She told jurors: "He was making motions towards us with the knife and Jo was lying in the road and she shouted out 'get away, get away you two. Let him hurt me. Don't let him hurt you'."
Her account prompted Mrs Cox's widower Brendan to tweet, "this is who Jo was".
Her colleague Fazila Aswat hit Mair with her handbag and pleaded with Mrs Cox to think of her two young children and get up and run.
Despite being too hurt to move away, Mrs Cox's thwarted Mair's initial attack as she shielded her head with her hands.
Mair briefly walked away to reload the adapted sawn-off .22 rifle before returning to shoot and stab her again.
Passer-by Bernard Kenny, 78, was stabbed as he tried to halt the onslaught by jumping on Mair's shoulders from behind.
The pensioner said: "Just as I got short of him he turned around and saw me. He shoved the knife in and it hit me in the stomach.
"The blood started pouring out between my fingers. I saw the blood and I thought 'Oh my God'."
Mr Kenny, who by coincidence shared his birthday with Mrs Cox, staggered back and "flopped" down on the steps of a sandwich shop.
Describing the aftermath, Ms Aswat said: "Jo was in my arms. It was probably only two or three minutes before the ambulance arrived but it felt like a lifetime."
The attack was captured on grainy CCTV and witnessed by 16 members of the public who travelled to the Old Bailey to give evidence.
They described the popping noise of Mair's gun and how he threatened to stab people if they got in his way.
Afterwards, Mair walked away as if he had "not a care in the world", the court heard.
Despite discarding some clothes, Mair was swiftly tracked down a mile away, still carrying his holdall containing the blood-splattered murder weapons.
They included a reproduction of a Fairbairn-Sykes "fighting dagger", a design first made in 1941 for British special forces and commando units, with a 17.4cm blade.
Two police constables rugby tackled Mair to the ground and in the scuffle, he cut his head.
Following his arrest, police uncovered a hoard of neo-Nazi literature at his council house in nearby Lowood Lane.
In pride of place on a bookshelf was a golden Third Reich eagle ornament with a swastika emblazoned on the front.
Mair, who had a teaching qualification and a Kirklees college student card, was a frequent visitor to Birstall and Batley libraries.
An investigation of his use of library computers exposed Mair's interest in far right, anti-Semitic and neo-Nazi politics in Britain and abroad.
Not only had he researched Mrs Cox, Mair had also looked up another Yorkshire-based Remainer MP, former Tory foreign secretary William Hague.
Two days after the killing, Mair was brought before Westminster magistrates under the terrorism protocol.
When asked to confirm his name, the defendant, described by neighbours as a shy loner, said: "Death to traitors, freedom for Britain".
He has refused to answer to the charges against him and not guilty pleas were entered on his behalf to murder, grievous bodily harm to Mr Kenny and possession of the gun and dagger.
Having opted not to give evidence in the trial or put forward any positive defence, he was found guilty on all the charges.
Prosecutor Richard Whittam QC told jurors the murder brought out the best in Mrs Cox, her aides and the general public who tried to help – in stark contrast with the killer.
Mr Whittam said: "The sheer brutality of her murder and the utter cowardice of her murder bring the two extremities of humanity face to face."
Thomas Mair: Shy and helpful neighbour with a dark secret and a troubled mind
By Dave Higgens and Amy Murphy, Press Association
Before he murdered Jo Cox, Thomas Mair was a 53-year-old loner who never spoke about politics in public.
But the jobbing gardener's dedication to far-right extremism became apparent as he launched his cold-blooded attack on the Labour MP in the street, shouting phrases such as "put Britain first".
On his arrest, he told police officers he was a "political activist" and when he first appeared before magistrates in London, he responded "death to traitors, freedom for Britain" when he was asked his name.
When police raided unmarried Mair's housing association home, they found extreme memorabilia and books and it soon emerged he had links with international far right groups dating back to the 1990s.
But people living on the Fieldhead Estate, which is less than a mile from where Mrs Cox was attacked, described him as the epitome of the quiet loner who never spoke about politics and spent much of his time helping with neighbours' gardens.
Mair had lived in the unremarkable semi for more than 40 years – he had been on his own for the past 20 years following the death of his grandmother.
He was born near Kilmarnock, East Ayrshire, but is thought to have moved to Birstall as a boy with his grandparents and his brother, Scott.
One neighbour, Diana Peters, said teetotal Mair, who had teaching qualifications and a 2011 student card for Kirklees College, told her he was teaching English as a second language to the Asian community in Dewsbury and that she had seen no signs of racism.
Mrs Peters said: "He did gardening for neighbours. You couldn't ask for a more pleasant neighbour.
"I never ever saw him lose his temper. He never had a visitor that I'm aware of, doesn't have friends; nobody ever comes to the house."
She said he suffered from epilepsy as a child and had never had a standard job.
Katie Green, who had been Mair's neighbour for 13 years, described him as "very quiet, very shy".
She told his trial that Mair, who she always saw carrying shopping bags, spent a lot of time in his garden, which he always kept very tidy.
But a different side to Mair emerged on June 16.
Witnesses to the murder painted a picture of a cold and remorseless killer, who ate a chocolate bar in the moments before the attack and walked away afterwards "with not a care in the world".
Police who later raided his house uncovered evidence of his far-right extremism.
A gold Third Reich eagle ornament with a Swastika emblazoned on it, a large collection of far-right books and magazines, a press cutting on Norwegian mass killer Anders Breivik, information about far right groups, Nazi badges and a "Deutschland" cap were all found in his home.
There was also a dossier on Mrs Cox and her political history.
Searches on computers seized from libraries in Birstall and Batley showed Mair had used them to look for more far-right material, information on Mrs Cox and .22 rifles.
A US civil rights group, the Southern Poverty Law Centre (SPLC), based in Alabama, claimed it had obtained records showing a Thomas Mair had links with the neo-Nazi organisation National Alliance (NA) dating back to 1999.
It posted images showing what it claimed were orders by Mair for just over 620 US dollars for publications including the Improvised Munitions Handbook, which had detailed instructions for constructing a "Pipe Pistol For .38 Caliber Ammunition".
Mair was also named in 2006 by the hard-right Springbok Club, an organisation which has called for a return to apartheid-style government in South Africa, as "one of the earliest subscribers and supporters of 'SA Patriot"'.
Mair's half-brother, Duane St Louis, whose father is from Grenada, told reporters that his own mixed race had never been a problem.
But the trial heard that Mair made an internet search for matricide, searching for "son kills mother for miscegenation" – the mix of different racial groups through marriage, cohabiting, sexual relations and procreation.
Reports of Mair's mental health problems emerged in the days following the murder.
His brother, Scott, told reporters Mair had a "history of mental illness, but he has had help" and said he had never been political.
Mr St Louis said Mair suffered from OCD, scrubbing himself obsessively with Brillo pads.
Mair himself spoke to the Huddersfield Examiner in 2010 about volunteering at the Oakwell Hall country park in Birstall, after being a patient at a day centre for adults with mental illness.
But he did not use his mental health as a defence and gave no evidence at all during the murder trial.
Jo Cox's courage an public service dominated killer's trial
By Emily Pennink, Press Association
The presence of Jo Cox loomed large over proceedings in Court 8 of the Old Bailey.
At just over 5ft tall, the diminutive Labour MP and Remain campaigner cast a long shadow over the trial of her killer.
As in life, her courage and public-spiritedness shone through, in deep contrast to the hate-inspired ideology of Thomas Mair.
Her last words urging her staff to go and let her be hurt instead of them sent ripples through the packed courtroom – and beyond.
Her parents and sister wiped away tears in court while her husband Brendan, left to bring up their two young children, tweeted from afar "this is who Jo was".
If Mair had hoped a high profile trial would attract attention to his murderous brand of far right extremism then he would have been disappointed.
He struck a nondescript figure in a black suit with grey thinning hair and goatee beard, flanked by dock officers.
The white supremacist rolled his eyes as two black jurors were sworn in, and again when a glowing statement was read out from Mrs Cox's long time friend and colleague Stephen Kinnock MP.
Trial judge Mr Justice Wilkie had flatly refused his legal team's request to bar any Labour activists from the jury panel.
In his soft Scots voice, he pointed out to lawyers that the whole political establishment had been united in its shock and grief.
The evidence against Mair was overwhelming and his legal team were reduced to cross examining on whether a Flake wrapper he was thought to have discarded in a bin before the attack had gone missing.
Meanwhile, the prosecution steamed ahead led by seasoned terrorism prosecutor Richard Whittam QC who, with his forensic eye for detail, laid out the case against Mair piece by piece.
In one day, 16 Birstall residents travelled down to London to give their versions of how Mair killed their MP in front of them in broad daylight.
Their accounts consistently described the "popping" of Mair's sawn-off rifle and stabbing motions with a fake special forces 1941 dagger before he walked off "with not a care in the world".
In testament to her standing in the community, many of them had immediately recognised their MP as Mair carried out the attack.
Some appeared startled to arrive at the historic Central Criminal Court to find a large bank of around 30 photographers and TV crews camped outside waiting for them.
The seemingly inevitable march towards a life sentence was only briefly interrupted by prison officers' industrial action as no guards were available to bring Mair from top security Belmarsh prison.
But in the end, the trial which was timetabled to last three weeks, ended early after Mair, who had refused to enter pleas before the case started, declined to account for his behaviour.
---
READ MORE
Tributes to 'perfect' MP Jo Cox as accused gives name in court as 'death to traitors, freedom for Britain'