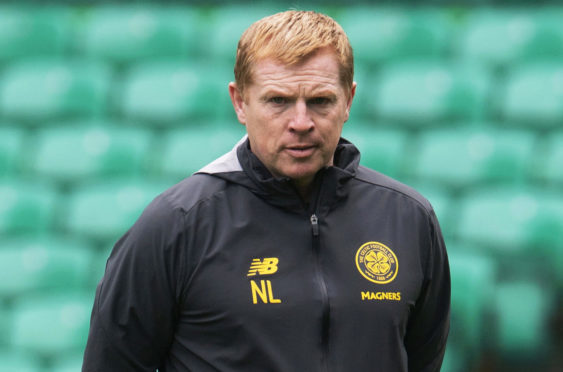 As a rule, Celtic manager Neil Lennon likes to accentuate the positive when assessing the varied challenges faced by his side.
It is a strategy that helps focus the minds of his players and coaches alike, even when the card sends his team to some of the county's less glamourous locations.
When it comes to the League Cup, though, which his team will continue their defence of against Partick Thistle at Celtic Park on Wednesday, the Irishman admits it is a little bit of a struggle.
Why? Put simply, previous experience.
"Aye, maybe there is a little bit of a hex over me with the competition!" the Northern Irishman said with a wry smile, as he readied his side to face Kilmarnock on League duty at Celtic Park this afternoon.
"The League Cup is the only trophy I have never won as a manager. As a player I did win it but less often than the others."
The devil is in the detail with mention of the name of Dieter Van Tornhout, the giant Belgian whose goal won 2012 League Cup Final for Killie against today's hosts, still enough to prompt a shudder from plenty of Hoops supporters.
"We should have won that. We should have won that hands down," said Lennon.
"There have been a few. I remember Morton at Celtic Park, we had a good team out and peppered the goal and ended up losing 1-0.
"Looking back, you ask yourself, 'Did I make too many changes?'. But I look at the actual team and we had seven internationals playing.
"Virgil van Dijk played, as did Teemu Pukki – they haven't done too badly, have they? Mikael Lustig was involved as well.
"And there was one that got away when we could have got a Treble, but lost to
St Mirren in the semi-final.
"So, as I say, maybe there is a little bit of a hex over me with the competition. We'll see. I certainly hope that's not the case."
Even if he wasn't too fussed, and that isn't the case, it is Lennon's job as Celtic manager to focus on what he can do to ensure his team move through to the last four.
"We don't want the run of trophies to come to an end so it is about trying to strike the right balance for the tie," Lennon continued.
"With so many games to play you have got to look at the occasion in terms of using your squad and obviously make sure we don't overcook it.
"It might be an opportunity to give some players who haven't played that much game time, with other games coming up.
"You need to give them some match rhythm but you don't want to make too many changes because some of the players are in very good form.
"It might be an opportunity for other players to get valuable game time with the carrot that if you win it there is an opportunity to get to a semi-final.
"But we go into the game wanting to win the competition so we'll put out a strong team."
If there is an upbeat thought for the Hoops boss to take into the tie, it is the gutsy display his side showed in avoiding what would have been a shock exit to Dunfermline in the last round.
"It was a difficult one, coming off the back of losing to Cluj (in a Champions League qualifier) but we got through it.
"You get these the ones you just have to battle through. I played in a crazy League Cup tie against Thistle myself in 2002.
"I was actually talking to the players about that after the Dunfermline game.
"Even in great eras you get a difficult tie . . . no matter how well or how badly
you play. I think it went to nine penalties each.
"I remember myself and John Hartson having a giggle about it afterwards. But Martin
O'Neill absolutely went through us, so that was the end of that.
"We know that if we win we will be a game away from a final and that will be a huge incentive for the squad.
"It's a game that we want to win, and a cup that the players want to defend as vigorously as possible."