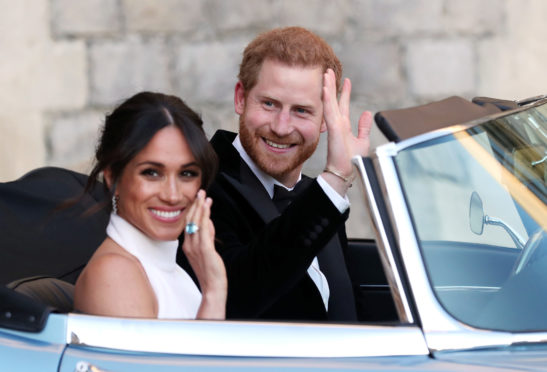 Do you remember the £56,000 Ralph & Russo dress Meghan Markle wore in her and Prince Harry's official engagement photos?
Lavish, daring and not at all what previous royal brides-to-be would have worn. And she was widely criticised for it.
Of course, the vilification of Meghan started the minute she started dating Harry.
She was nothing like the Sloaney blondes he had previously been seen clinching after a breathless polo match.
Instead, his new girlfriend was a breath of fresh air. After a stream of equine-adjacent dates, here was an intelligent, mixed-race woman with a glittering career, unafraid to speak out on big issues like gender equality.
Within months of getting together, the prince felt compelled to issue a statement condemning "the outright sexism and racism" directed at Meghan but, if anything, the mud-slinging intensified as the pair planned their wedding.
Suddenly, the spotlight was on her family. Her fractious relationship with her dad, who kept the paparazzi busy ahead of the big day then couldn't walk her down the aisle due to poor health.
Her half-siblings, who criticised her for omitting them from a guest list that included everyone from George Clooney to Richard and Judy's daughter, and later announced plans to write a tell-all book.
There was speculation as to Meghan's relationship with her future family, too.
Some said the Queen refused to give Meghan her first choice of tiara, others reported Kate Middleton didn't get on with her sister-in-law-to-be.
The Duchess-to-be was said to be "difficult", by the invariably unnamed sources and palace insiders.
When the big day finally arrived, the world paused briefly to admire the happy couple – the fairy tale dress with its sweeping train, the horse and carriage, the joyous gospel choir.
But it was back to business as usual immediately afterwards.
Meghan's humanitarian work and support of ethical and sustainable brands didn't fit with her media-anointed role as the royals' diva, so the headlines focussed instead on her supposed rifts with her new family and refusal to adhere to stuffy royal protocol.
How dare she wear a dress without tights, or close her own car door?
Prince Harry, despite once wearing a Nazi uniform to a fancy dress party, has never had to deal with anything like the barrage of negative press levelled at his wife.
In fact, none of the royals have, no matter what they've done – whether that's an affair, a racist remark or a long-standing friendship with a child sex trafficker.
Everyone is happy to forget about the actual misdemeanours of male royals while making life a daily misery for a woman because she doesn't sit quietly at home in a twinset, twiddling her pearls.
The only person who experienced anything similar was Princess Diana, another humanitarian who had the temerity to be different. Has no one learned anything?
Prince Harry has even drawn comparisons between the two most important women in his life, stating: "I lost my mother and now I watch my wife falling victim to the same powerful forces."
So, after all that, is it any wonder the couple want to take a step back from their royal position?
Megxit, as it's been dubbed – because of course it's all Meghan's doing and Harry has no say – might be the bravest move ever made by members of the royal family.
It is also, for the sake of their child, their marriage and their future, the best thing.
---
Natasha Radmehr is editor of Scottish Wedding