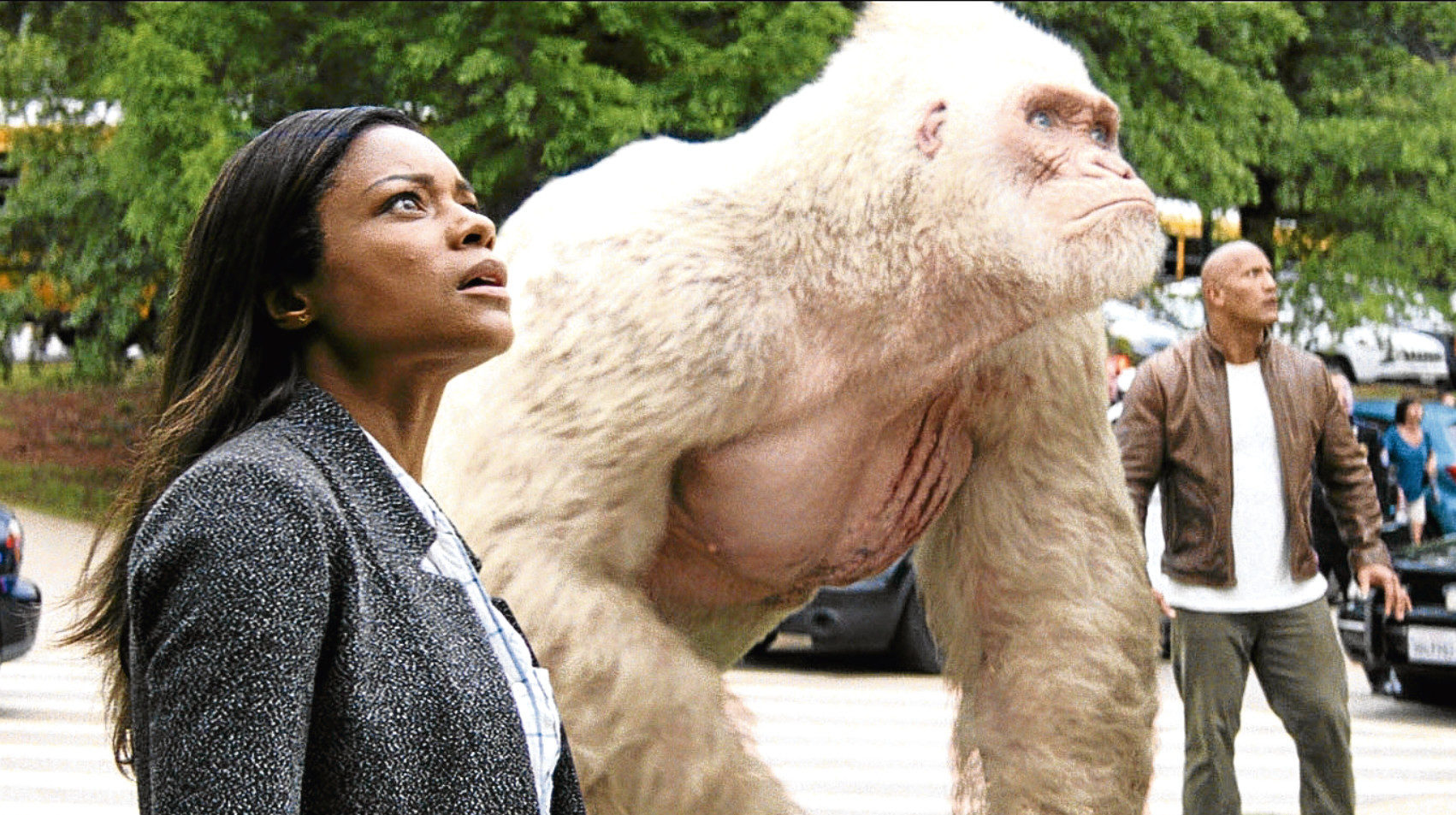 NAOMIE HARRIS isn't afraid to try different things.
And her latest role couldn't be more of a contrast to her last outing.
After being Oscar-nominated for playing the mother in the Academy Award-winning coming-of-age drama Moonlight, Naomie's now playing an all-action genetic engineer in Rampage, the big-screen version of an 80s video arcade game.
And her co-star is Dwayne "The Rock" Johnson, the highest-paid actor in the world, not to mention his pal George, who just happens to be a huge albino gorilla and who battles an equally enormous crocodile and wolf.
So why did she choose this to follow Moonlight?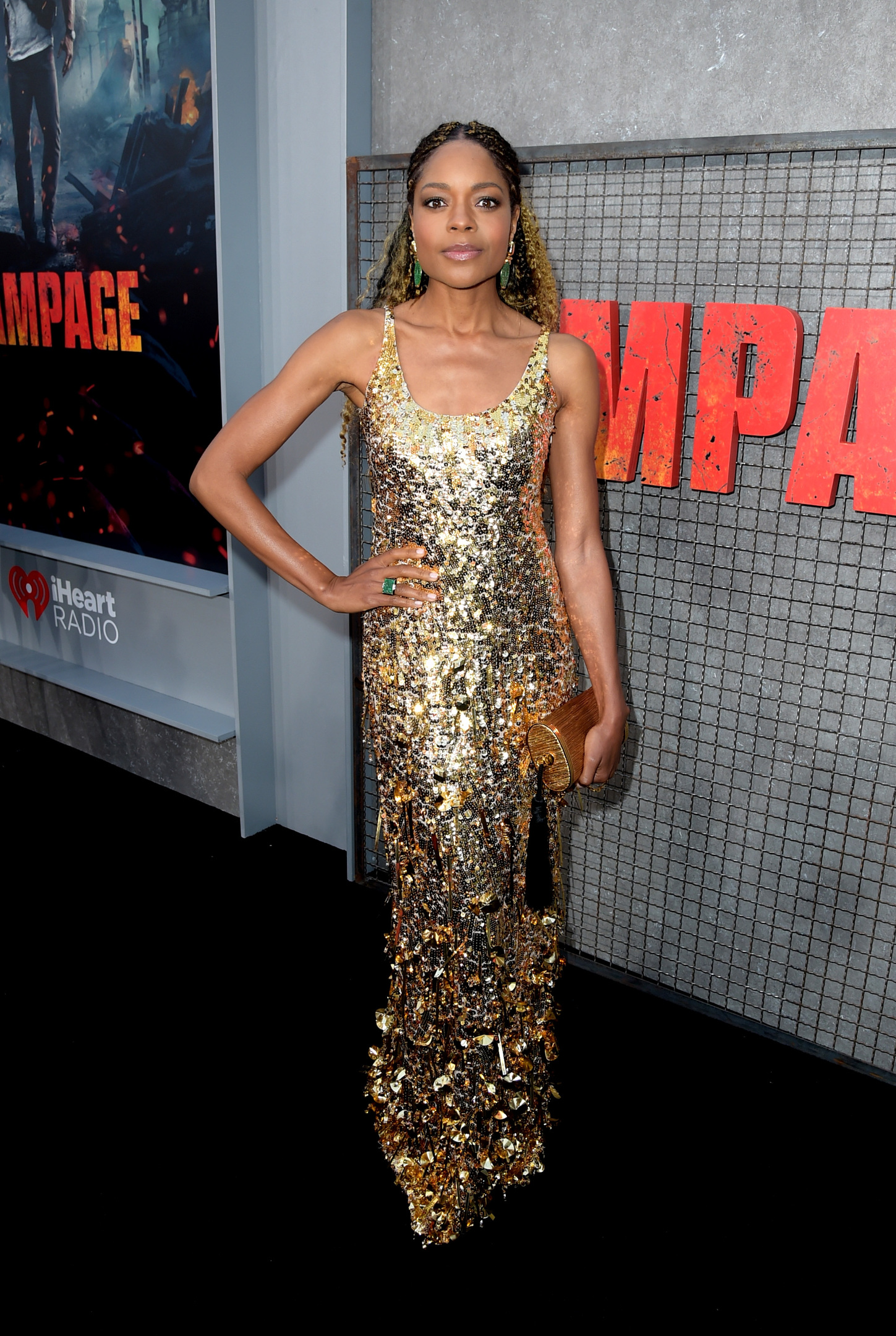 "There are several reasons," says Cambridge graduate Naomie, 41, best known as Moneypenny in the Daniel Craig Bonds.
"First of all because I read the script and I didn't expect it to be my kind of movie at all, but I was excited by the character.
"She was intelligent and capable and fun, all the kind of things I look for in a character. That's the main reason why I signed on to do it, and it was like that from day one.
"I'd love to lie and say I influenced that, or that I had a hand in the writing, but I didn't! It was just there from day one. That was the first thing, and then I spoke to the director Brad Peyton.
"I was having a really bad day, it was a really hectic time in my schedule, and I was really tired, but he's the most enthusiastic person in the entire world, and just speaking to him made me feel really fired up about the project and I was like: 'I wanna work with this guy!'
"The other reason was because Moonlight is such a specific character that I suddenly found myself in a position where I was being sent every 'haggard mother' role.
"I was like: 'I never started my career doing those kinds of roles. This is the one role I've done!' It's so easy when it's something that people kind of attach you to for you to get typecast.
"I said: 'I have to do something completely different to ensure that doesn't happen' because my career has always been based on playing completely different roles — that's what keeps me excited and I want to make sure that I have the opportunity to continue to do that."
And what about working with Johnson, the semi-retired wrestler who is now the world's biggest action star?
"He's the master of this genre, so just being taken by the hand and being shown how to do it, and watching someone as skilled as he is at work is really priceless," says Naomie.
"Occasionally, I'd realise I was in a massive The Rock action movie, but I had to keep that hidden, otherwise I'd be just way too intimidated!
Rona Dougall: Thousands of men around the world will be thankful that superstar actor did not remain silent like a Rock
"I had 20 of my friends and family come over and visit me while filming and each time they got a little bit like: 'Oh my god, The Rock!' but he's so down-to-earth and so humble and warm and easy-going that he just makes you feel comfortable.
"I've done action movies before obviously with Bond and other movies like that, but never anything like this.
"It's all been insane. Even shooting in Atlanta where this building is supposed to have come down, and you see the debris and the destruction — it's a mad movie!"
Rampage is in cinemas now.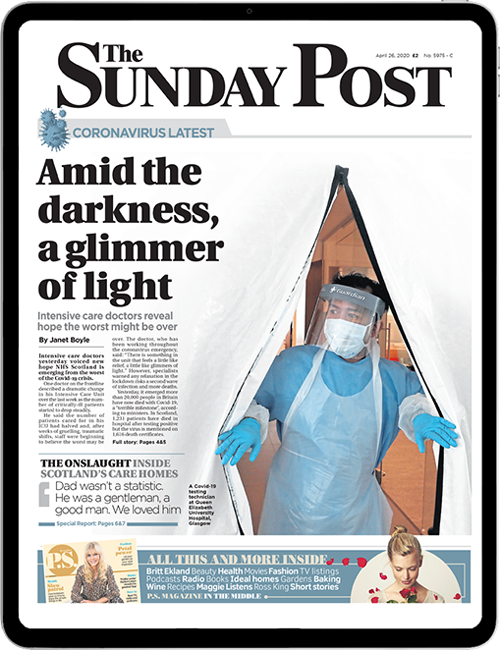 Enjoy the convenience of having The Sunday Post delivered as a digital ePaper straight to your smartphone, tablet or computer.
Subscribe for only £5.49 a month and enjoy all the benefits of the printed paper as a digital replica.
Subscribe