Yesterday my son and I will were at the Celtic-Rangers match at Celtic Park. It is one of the great rivalries of world football, a remarkable occasion.
Yet for some it is also a symbol of division in a country, in a world, where division is becoming more pronounced. Whether it is the question of Scottish independence, or Brexit, or Donald Trump or whatever, our instincts seem to be to revel in disagreement rather than put the effort into understanding.
The old phrase that we need to "agree to disagree" seems almost obsolete. It should not be. We need to find better ways to disagree. The pressures of social media make that ever more difficult to achieve. What should have been a benefit that allows people to publish their thoughts has too often become a tool of propaganda. Whether it reflects society or shapes it, social media is now a place where prejudices are more often reinforced than arguments made.
As in other places, motives are questioned rather than arguments contested. Mud slung rather than light sought. On Hogmanay I'll be presenting a programme for BBC Radio 4 that's a guide for all of us, as citizens, friends and family members, on how to disagree better.
Making the programme I met two people who had been on opposite sides of a real division that cost thousands of lives in Northern Ireland, but who are now close friends. The Troubles. Fiona Gallagher is a resident of Derry who grew up with soldiers on her streets and whose house, whose bedroom, was regularly raided by the Army. Her brother was jailed for being an IRA member and shot dead by a British soldier just days before his 21st birthday.
Lee Lavis was a soldier who did two tours of duty in Ulster during the Troubles. He regarded the nationalist community as a breeding ground for the IRA. He even saw the children there as the next generation of terrorists. Yet Lee and Fiona are now friends.
They made the conscious effort to understand each other. To find bonds to share rather than differences to divide. From there they could start to explore their differences from a foundation of common humanity. Of friendship.
To talk with them was humbling. We need to learn from their experience in our current world. To change stagnant arguments into methods of positive change.
We need to relearn the ability to debate and understand rather than just hone the dubious skills to destroy and condemn.
It means engaging with people on a human level. Conceding a point is not losing an argument. Winning one should not be seen as a way of humiliating someone either. The warped joy of humiliating your opponent needs to give way to the enriching experience of understanding them.
It's now more than 40 years since my dad first took me to the football. He passed on to me his love of the game, but he gave me something else: an understanding that wanting your own team to win is different – and better – than just wanting to see your rivals lose.
Of course, Glasgow will be divided by sporting rivalry. But from tomorrow, as a country we need to find new ways to come together across our divisions…old and new. So let's all make a New Year's resolution in 2020…to disagree better.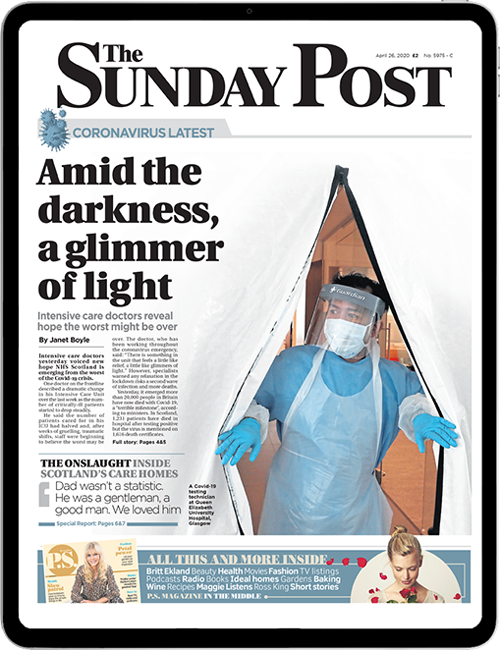 Enjoy the convenience of having The Sunday Post delivered as a digital ePaper straight to your smartphone, tablet or computer.
Subscribe for only £5.49 a month and enjoy all the benefits of the printed paper as a digital replica.
Subscribe