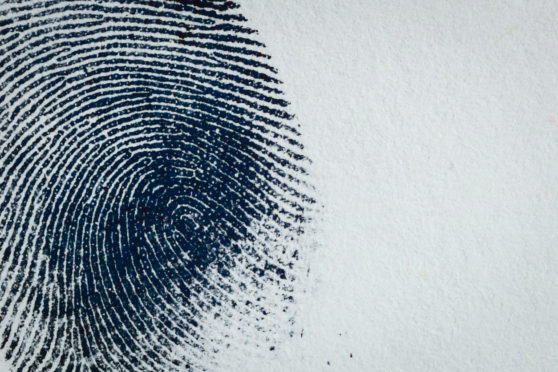 The appliance of ­science has been putting criminals behind bars for decades.
But, as discovery is piled upon discovery, experts predict advances in technology and systems mean forensics will become the cornerstone of major investigations.
One of Scotland's ­leading experts, Professor Allan Jamieson, believes developments in areas, including DNA and genetic profiling, promise a fundamental shift in police work.
However, he believes ­progress in more traditional forensic tools, such as fingerprints, could deliver the most significant steps forward.
Prof Jamieson, head of the Glasgow-based Forensic Institute, and who has provided expert testimony in many criminal cases, said: "Of all the techniques being looked at, I think fingerprint enhancement and identification of body ­fluids are likely to make the biggest ­contribution to advances in forensic science.
"DNA testing is now so ­sensitive that, because a person's DNA is on an item, it doesn't necessarily mean they have touched it. It may have been transferred by some other means.
"The benefit of a ­fingerprint is that it generally indicates a person was at a place to leave a fingerprint.
We are seeing significant advances in new ways of showing up a fingerprint not visible to the naked eye, known as latent print enhancement.
"Aluminium powder or superglue can be used to detect these prints and will bind to certain parts of the fingerprints. Different light sources can also be used for this.
"We have looked at cases involving documents where you can see through ink by using different wavelengths of light so you can look at the contrast between the fingerprint and the background.
"Very specific identification of body fluids also holds a lot of promise for the future.
"Determining specifically where in the body the cells in a blood sample came from could be important. This needs more research but has real potential."
Prof Jamieson said forensic science was about checking for a match between two items to find out if they had the same origin – then measuring the significance of the match.
He said: "We have increased the sensitivity of detection techniques so we can obtain DNA profiles much more readily.
"There are 10,000 cells on the head of a pin and we can now get a DNA profile from about 10 cells. The big issue is to resolve what the presence of DNA at a scene actually means."
A scientific technique called phenotyping is also being developed where scientists can use a person's genes to identify traits such as hair or eye colour.
Prof Jamieson said: "I am not yet convinced this can be specific enough to help an investigation in a practical sense. It may be able to say a person has dark hair – but is that really helpful?
"If we could develop this, for example to say whether a person has big ears and a big nose, then that might help police… it could almost be like a photofit."
Using statistics to spot potential crime – known as pre-crime policing – is another scientific area being looked at.
Data on recorded crime is used to predict where future incidents might occur.
Prof Jamieson said: "This is an area I have looked at and the predictive ability was about 50/50 – so it's the same as tossing a coin. Statistics apply to populations rather than individuals.
"A person might have a chance of being killed as they cross a very busy road. But it's not a probability they will be killed as they might be a very careful person."
---
Advances should mean more crimes solved quicker

Hayley Quigg, Forensic Scientist
The advances of science will help unlock the mysteries of more crime scenes in the future, according to one expert on the forensic frontline
Hayley Quigg, who works for the Scottish Police Authority, which provides technical back-up services to police, said DNA profiles can now be extracted from ever-smaller samples and pointed to mobile units as a means of providing possible instant DNA matches at crime scenes in the near future.
Speeding the process up, so that DNA could be matched at the scene of a crime, could provide investigators with vital leads in the so-called golden hours immediately following a crime.
Hayley said: "We can now obtain a DNA profile from smaller samples including those not even visible to the naked eye.
"Just five years ago we were using a system where we looked at 10 parts of a DNA sample. Now it's over 20 and the advances mean we can get a DNA profile from smaller samples than before.
"The technology is constantly advancing but one area where I think there may be significant progress in the near future is in mobile working.
"The way we work is about prioritisation and for major inquiries we can conduct analysis of samples quite quickly.
"Even top priority cases can be forced to wait 24 hours at the moment while samples are analysed and checked against the national database. We are always looking to speed things up to assist investigations."
Funding has already been allocated to develop mobile working to potentially allow scientists at crime scenes to connect straight into the Scottish DNA database.
Hayley joined the SPA as a production officer, dealing with evidence samples, before becoming a forensic examiner based at the old Strathclyde Police HQ at Pitt Street in Glasgow.
She now works at the Scottish Crime Campus in North Lanarkshire as one of more than 160 staff working in biology and one of 540 working in SPA Forensic Services as a whole. Her workload at any one time can include looking at 10 to 20 cases.
She said: "We get case information from the police then target our sampling accordingly.
"We have a forensic strategy meeting for each crime. It's not feasible to sweep a whole football pitch, for example, so we focus on where we are most likely to get a meaningful sample.
"We know that those who commit crimes may be aware of some methods we use.
"We come across people trying to clean crime scenes or stop themselves leaving samples but we can now check for traces not visible to the naked eye. It's about staying a step ahead.
"I have wanted to do this since I was in school. In a way I owe it all to Mr Fagan, my biology teacher at St Cuthbert's school in Johnstone. He was inspirational to me and my friends say, 'if Mr Fagan could see you now, he would be very proud'."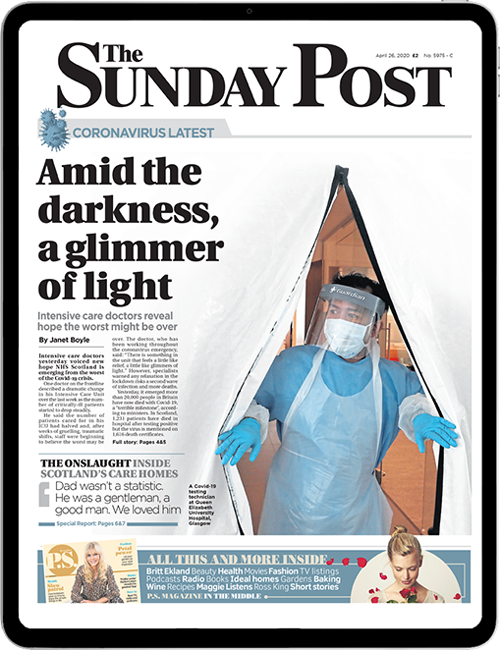 Enjoy the convenience of having The Sunday Post delivered as a digital ePaper straight to your smartphone, tablet or computer.
Subscribe for only £5.49 a month and enjoy all the benefits of the printed paper as a digital replica.
Subscribe