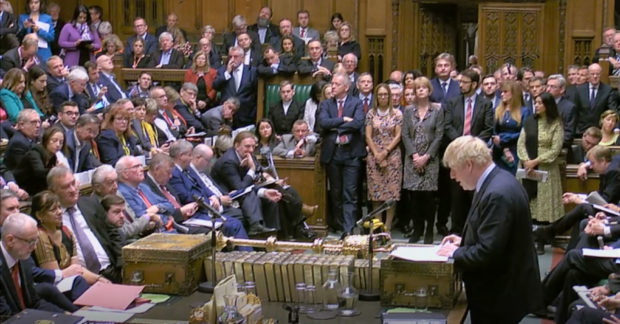 Boris Johnson was last night warned by his opponents they will see him in court if he refused to ask the European Union for another Brexit delay.
The Prime Minister insisted he will not negotiate with Brussels for an extension despite losing a key vote in the House of Commons yesterday and being legally bound to write to the EU and ask for a delay.
He said he would press ahead with his Brexit deal "undaunted", but opposition politicians warned of a court action at Scotland's highest court tomorrow if he did not comply with the vote.
At a special Saturday sitting – the first in 37 years – MPs voted by 322 to 306 in favour an amendment withholding approval of his Brexit deal until legislation to implement it is in place.
The amendment, tabled late on Friday and blindsiding Downing Street, was intended to force Johnson to comply with the Benn Act requiring him to seek a Brexit extension.
The amendment was tabled by former Cabinet minister Sir Oliver Letwin, who lost the Tory whip for previously voting against the government on Brexit.
He said the amendment was insurance against the UK crashing out of the EU without a deal on the scheduled deadline of October 31. The Prime Minister has previously said he would take Britain out of Europe by then "do or die". He also said he would "die in a ditch" before asking for an extension.
Johnson said he was not "daunted or dismayed" by the result as ministers said they would bring his deal back to the House of Commons for approval within days.
The Prime Minister said yesterday: "I will not negotiate a delay with the EU, neither does the law compel me to do so."
But opposition leaders warned Johnson he could not ignore the Benn Act. He had a deadline of 11pm last night to get a deal or else seek a three-month extension in a letter to the EU.
Labour leader Jeremy Corbyn said: "The Prime Minister must now comply with the law. He can no longer use the threat of a no-deal crash-out to blackmail members to support his sell-out deal."
SNP Westminster leader Ian Blackford said: "Boris Johnson has been defeated on his appalling deal. The Prime Minister must now obey the law and secure an extension – or we'll see him in court."
SNP MP Joanna Cherry said she would go to court tomorrow if Johnson failed to the letter last night.
A legal action requesting Scotland's highest court, the Court of Session in Edinburgh, appoints an official to send the letter in the PM's place was deferred earlier this month to tomorrow to await the result of yesterday's Commons vote.
Liberal Democrat leader Jo Swinson said: "The most urgent thing right now is the Prime Minister complies with the law."
Following the vote, Johnson said he did not believe the other EU member states would be "attracted" to a further delay.
He said the government would be tabling legislation next week to implement the terms of the agreement.
He said: "I hope that then honourable members, faced with a choice of our new deal for the UK and the European Union, will change their minds because it was pretty close today.
"I hope they will change their minds and support this deal in overwhelming numbers.
"I will continue to do all I can to get Brexit done on October 31."
Commons leader Jacob Rees-Mogg said tomorrow's business would change to include a debate on a motion on the UK's draft agreement with the EU, followed by a vote.
The move was criticised by Speaker John Bercow, who earlier this year prevented then Prime Minister Theresa May holding repeat votes on broadly the same question as she failed to secure support for her Brexit deal.
He said: "The apparent purpose of the said motion which ministers are attempting to table is to invalidate or obviate the effect of the decision that the House has reached today, and that does seem most curious and irregular."
Bercow added he had met with Rees-Mogg during the week, but he had not indicated he had any "reserve plans" for further votes. He said: "The leader of the House certainly, in that meeting earlier this week, gave me no indication of any, what might be called, reserve plans in the event that things didn't proceed as he had hoped.
"So I just want the House to know that I have been blindsided on this matter as others have been, and I would that it had not been so."
Sir Oliver said he believed the government's new motion was "nothing more and nothing less than to repeat what would have been the effect of today on Monday".
He said the new motion "very clearly flies in the face" of his amendment to withhold approval for the deal as it seeks to push on without MPs ­passing legislation. The government was defeated after the 10 MPs from the DUP joined the other opposition parties in voting for the amendment.
The DUP is furious about the proposed customs arrangements for Northern Ireland that would see checks on goods coming from the rest of the UK.
Ten former Conservative MPs who now sit as independents, including former Cabinet ministers Ken Clarke, Philip Hammond and Amber Rudd, also backed the amendment. Just six Labour rebels voted against it.
Voting on the Letwin amendment took place as tens of thousands of protesters from across the UK took part in a People's Vote campaign march in London on support of a second referendum on Brexit.
The result of the vote was greeted by huge cheers by the crowd assembled outside Westminster in Parliament Square.
Organisers claimed up to a million people attended the march, while police said it was "very busy".
Cabinet ministers Michael Gove and Rees-Mogg were heckled by protesters as they left Westminster and were given police escorts.
Business Secretary Andrea Leadsom tweeted that she had faced "frightening" abuse outside Parliament. And Shadow Home Secretary Diane Abbott was also escorted by police after being followed by pro-Brexit supporters.
---
It was not about speeches and emotion but cold, hard numbers

Chris Deerin, Commentator
It was a day, said Boris Johnson, to "heal this country". He hoped MPs would "come together and bring the country together today as I believe people at home are hoping and expecting."
That prospect lasted precisely until the Prime Minister sat down. Next up in the House of Commons, meeting on a Saturday for the first time since the Falklands War, was Jeremy Corbyn, who made it clear Labour had no intention of backing the new Brexit deal Mr Johnson brought back from Brussels last week.
Then came the rest. A sense of outraged betrayal drifted across the chamber from the Northern Irish benches like a toxic fog.
The nation's unionist MPs believe the PM has sold them out, creating a border in the Irish Sea.
"It was once said that no British prime minister could ever agree to such terms – and indeed those who sought the leadership of the Tory party said so at our conference," said Nigel Dodds, deputy leader of the DUP, referring to a speech Mr Johnson had given before becoming PM.
Lady Hermon, an Independent unionist, was spittingly contemptuous. The SNP's Ian Blackford could only say, pungently, that Scotland had been "shafted". The Lib Dems demanded a second referendum. Labour claimed workers' rights and environmental standards had been downgraded in the new agreement and said they believed Johnson was still playing for no deal.
Outside Westminster, thousands of protesters gathered to say: not in our name.
The potential for unity was further hampered by the fact that the most ardent support for the deal came from those who had previously proved the most truculent: the hard-nut Leavers of the Tory European Reform Group queued up to announce they would be backing it. This rang alarm bells among Brexit-sceptics. If Steve Baker and Mark Francois were suddenly onside, a long spoon was required.
In the end, of course, it didn't come down to speeches or marches or calls for unity, but to cold, hard numbers. The Prime Minister simply didn't have them.
An amendment by Sir Oliver Letwin was passed by 322 votes to 306, ensuring parliament withholds approval of the deal until the legislation to enact it – the EU withdrawal bill – is passed.
This also compels Johnson to request an extension beyond the planned Brexit day of October 31 from Brussels – the idea being that if something subsequently goes wrong there is no possibility the country might crash out without a deal.
The government will now seek to get its withdrawal bill through the Commons, beginning tomorrow. There may also be another court battle if the Prime Minister refuses to ask for an extension as mandated.
In short, Britain remains in a holy mess. Johnson asked parliament to give him its trust yesterday.
Parliament's robust response was that, given his track record, it had absolutely no intention of doing so. Boris might eventually get his Brexit, but he will have to scrap every inch of the way for it.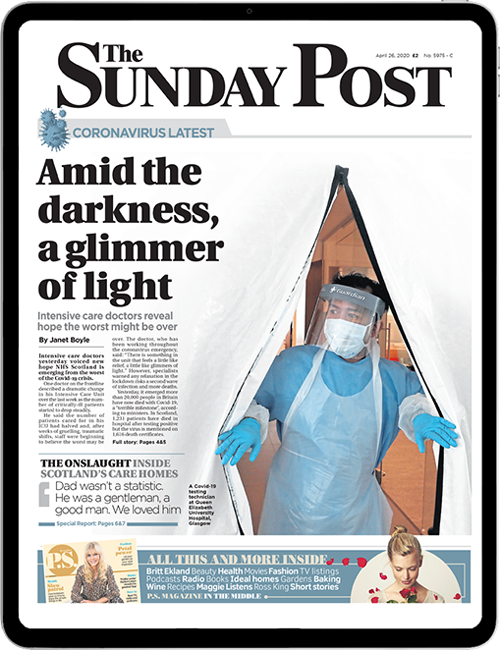 Enjoy the convenience of having The Sunday Post delivered as a digital ePaper straight to your smartphone, tablet or computer.
Subscribe for only £5.49 a month and enjoy all the benefits of the printed paper as a digital replica.
Subscribe