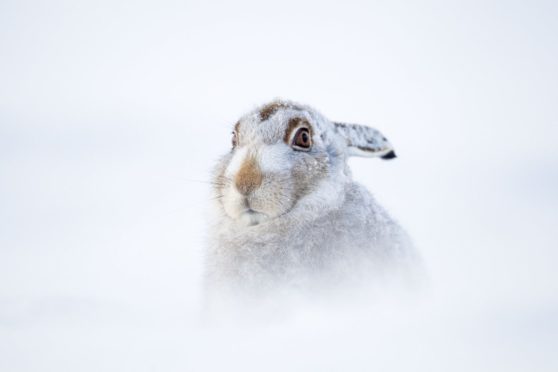 Scotland's mountain hares are facing a double threat from climate change as there is not enough snow in winter and they do not thrive in hotter summers, experts have warned.
The hares are vulnerable to predators when there is little snow because they grow white winter coats and can be picked off by eagles. They are also not well adapted to prolonged rain as their fur becomes waterlogged and they can develop hypothermia.
But in summer they rely on spells of wet weather as they absorb moisture from eating damp heather and grasses.
Now experts are working on a project to count the number of hares living in Scotland to assess how stable the population is.
Wildlife photographer and guide Karen Miller has been monitoring the hares on the hills at the edge of the Cairngorms National Park near Inverness.
She gave up her job in Glasgow to move to the Highlands in 2019 after being inspired by the hares during a week-long photography workshop five years ago.
But already she has noticed the challenges faced by the hares, and a decline in their numbers on the hills where she photographs them.
She said: "Climate change is causing a real problem with the mountain hares, both summer and winter. Hares aren't like rabbits, they don't have as many young. They tend to just have one litter, maybe two. It's a downward spiral at the moment.
"I go to the hill now and even at times of year when you'd expect to see quite a lot I was struggling to see many and I know what to look for and where to go.
"It's really worrying. They're beautiful and hardy, living up mountains. I go up to photograph them and I'm wearing 100 layers and I'm still freezing, and they're sitting there. It's incredible."
A study published in December showed they suffer a "camouflage mismatch" due to fewer snow days in winter compared to the past, though this winter has provided good conditions for them. The hares start growing their winter coats every October and begin moulting at the end of February.
Parasites may also contribute to a 10-year cycle of population highs and lows observed by experts.
The charismatic species has previously been classified as being at risk, partly because of the lack of accurate data on the true number living in the UK.
But wildlife lovers and hillwalkers will be asked to help change that by logging sightings of the hares as part of a project using the power of citizen science to monitor their numbers.
They have now been given additional protection by the Scottish government, and on March 1 it became a crime under the Wildlife and Countryside Act to intentionally or recklessly kill or injure the hare without a licence.
Studies have been done on the most effective ways to count hares, and research on heather moorland showed that land managers using spotlights at night is one of the best where there are the resources and expertise to play a part.
But nature enthusiasts can also play a part, even if they don't see a hare if they are out walking or running in areas where the mammals live.
An app developed by the Mammal Society allows people to log their entire route in the hills and even those where no hares are seen can give scientists an insight that is just as important as positive sightings.
Leading mountain hare expert Scott Newey, a population ecologist at The James Hutton Institute in Aberdeen, said: "We have been doing a lot of work on how to monitor and count mountain hares, particularly in relation to population control and sport shooting.
"That work has now clearly changed and we're currently involved in a large project to look at the national monitoring scheme for mountain hares across Scotland."
He continued: "There are different methods depending on the purpose and also the area. In areas where there was the expertise and the resources to do so, then the night-time counting of mountain hares was still the best and the preferred method.
"But in areas that were not managed for grouse shooting, the more remote and mountainous areas, then it was to use a number of citizen-science-based approaches.
"That could be to ask and encourage hillwalkers to report and record mountain hare sightings as they go about their recreational activities.
"Hopefully it will be a national survey and people get involved, we get a lot of hillwalkers involved and dog walkers and joggers will be prepared to use the app to record what they see."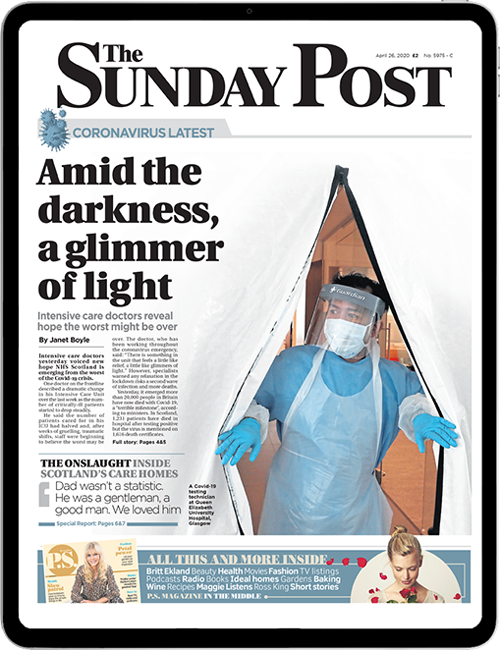 Enjoy the convenience of having The Sunday Post delivered as a digital ePaper straight to your smartphone, tablet or computer.
Subscribe for only £5.49 a month and enjoy all the benefits of the printed paper as a digital replica.
Subscribe