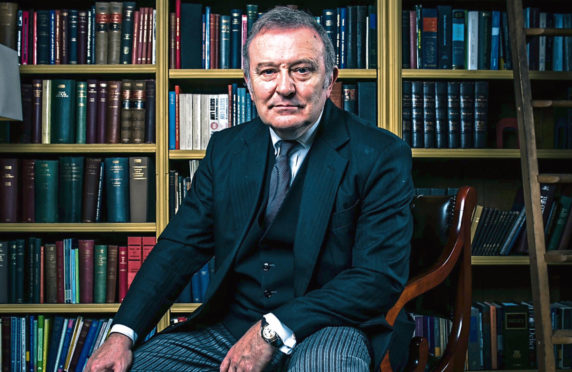 The telling of stories is part of everyday life for Ross Macfarlane as the leading lawyer persuasively argues his case in front of a jury or judge.
Now he has used his flair for compelling narrative – along with a fascination for Victorian Edinburgh – to write a Christmas murder mystery featuring advocate sleuth, Edward Kane, and his manservant. "The idea for Edward Kane came to me as I was standing in the graveyard at Canongate Kirk in Edinburgh," said Mr Macfarlane.
"It came to me that 19th Century Edinburgh would be a great location for exciting mystery stories with Calton Jail, where they held public executions, the High Court, and the different strata of society."
Edward Kane And The Parlour Maid Murder is set in Edinburgh in 1850, when the penalty for murder is death by hanging. Kane and Horse's search for the truth about the gruesome crime takes them from the great houses of the New Town to the seedy taverns and alleyways of the Old Town. Mr Macfarlane, a Supreme Courts Advocate, drew on his own experience in the ­criminal justice system to write his first novel. "Being in court is like being a writer – you have to keep your audience engaged. The more attractive the story, the better the result you get.
"Edward Kane is like any young person thrown into a crisis – he's an advocate who has never been in a murder trial. I drew on my own experiences when I started out."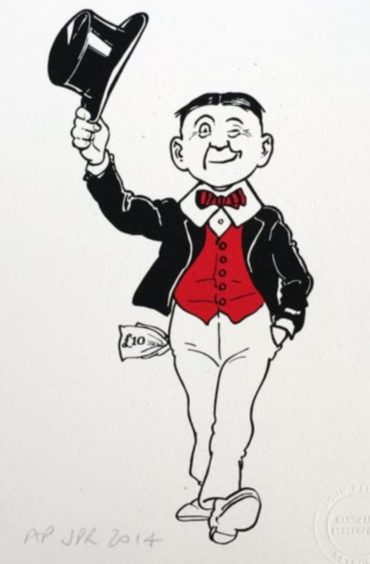 When he started "devilling", or training to be an advocate, Parliament Square and the Advocates' Library, with its bewigged advocates and judges, felt like a far cry from his roots in the Gorbals, where he grew up in the 1960s. "I loved the theatricality of the law and the courts – the antique court dress of horsehair wig, white bow tie and black tailcoat. It was like falling asleep and waking up inside Tom Brown's School Days."
Today, Mr Macfarlane lives in Edinburgh's New Town, but he's never forgotten growing up in a tenement in the Gorbals, the son of a head chef and a waitress. "It's only when you get older you realise those were pretty hard times," he said. "I remember at primary school looking around me when I was seven or eight and, even at that age, I knew many of the kids were doomed to a life of poverty and crime.
"As I got older, I didn't run with any gangs as I thought the whole macho culture was stupid. I would be approached periodically by boys and asked to join in some scheme or another, but their plans were hair-brained and doomed to failure, so I politely declined.
"I was happy sitting at home. I loved reading and collecting comic books. It struck me that if Superman wasn't breaking the law, then why should I?
"A lot has a been written about how grim the Gorbals were in the 1950s and 1960s, which was then considered the most socially-deprived area in Europe, but you don't see that as a child. It was a close-knit and caring community – ordinary folk helping their neighbours when they could in tenements that were 'vertical villages'."
He stood out at Holyrood Secondary for taking Latin and Greek, and for insisting on talking in the "BBC English" he heard on the radio. "I've always been ­aspirational. I loved Lord Snooty in The Beano and wanted to get a job where I could wear a top hat like him."
His upbringing has proved useful in court, where he sometimes has to translate witness statements that baffle colleagues from more well-heeled backgrounds. "I have to explain the 'cloack' on the mantlepiece is not an opera cloak, and when a witness said there was a 'chap at the door' the other advocate asked what he looked like."
Mr Macfarlane is not only involved with criminal cases – one of the most notable was when he unravelled a historic miscarriage of justice with the kind of forensic research used by the advocate hero of his murder mystery novel.
Thomas Muir of Huntershill was a pioneering 18th Century Scots advocate whose calls for political reform saw him struck off and sentenced to exile in an Australian penal colony. After 200 years, Mr Macfarlane successfully pled for Muir to be re-admitted to the roll of the Faculty of Advocates after his research led to the discovery of a court document that proved his expulsion was void.
Mr Macfarlane, who is also the founder and artistic director of the Faculty of Advocates choir, is now working on a sequel to his murder mystery, but how does he find time to write between court cases?
"I spend a lot of my time on trains getting to and from courts. I hate to waste time, so I thought I would try my hand at writing a novel on those daily train journeys. I had already written short stories that had been published and plays that had been produced, but never a full-length novel. So, every day, on the train, five days a week, I would sit and write for an hour.
"The majority of the characters just popped into my head with no pre-planning. It was as if they already existed and were trying to elbow their way into the book. Now they're fighting to get into the sequel."
---
From the book
Edward Kane And The Parlour Maid Murder begins in 1850 when the eponymous hero joins a crowd of 20,000 in Edinburgh to witness an execution.
The murderer, Charles Makepeace, a.k.a. "Black Charlie", was being led on to the scaffold.
Makepeace scowled at the crowd, baring a mouthful of uneven teeth like a row of winter chimneys. Yes. Men of all degrees were standing for him now. Women of all ages watched, some with half-smiles on their faces, some breathless with the excitement of his end, some visibly praying for the repose of his not-quite-departed soul.
Then there were the children in the crowd. Some dressed in their finery for the occasion, or asleep in their mothers' arms, some excited now and looking in his direction. And there were those other children on the streets. Whose parents were still lying in drunken stupors in the hovels they called home. A life of petty crime would be their daily fight against starvation. The time-honoured techniques: the dipping of pockets, the three card trick, the rolling of the drunken gentleman.
Makepeace smiled. The day of his death would be an anchor in the memories of others, a reference point in their personal almanacs: "It was around the time that Black Charlie danced on air" they would say. That memory, and only that, would be his lasting monument.
The trapdoor beneath Makepeace's feet opened.
For one so schooled in a lifetime of punishment and the constant threat of the noose, this development seemed to be a complete surprise to him…
---
Edward Kane And The Parlour Maid Murder by Ross Macfarlane is published by Scotland Street Press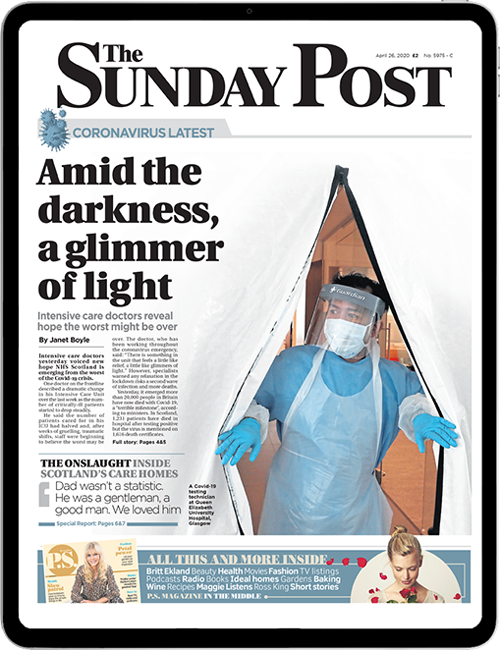 Enjoy the convenience of having The Sunday Post delivered as a digital ePaper straight to your smartphone, tablet or computer.
Subscribe for only £5.49 a month and enjoy all the benefits of the printed paper as a digital replica.
Subscribe