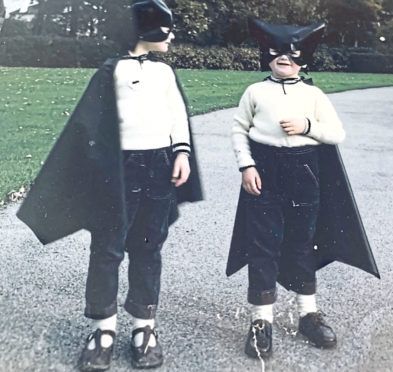 It is difficult to write these words. I say difficult but agonising is closer. It is agonising to think about the person who inspired them. I say agonising but heartbreaking is closer.
My wee brother, Calum William MacLeod, passed away ten days ago, in his sleep sometime before last Thursday morning. He was 57.
So what words do I have to pay tribute to someone I loved more than any words can express? Words I only wish he was here to hear. Words to tell him how much we loved him. Me, our mother Margaret, his brother Lewis and everyone who knew him.
With just a year separating us, I cannot remember a time as a young child when Calum wasn't around, a time when he wasn't in my face, breaking my toys, nicking my sweets and cliping on me.
We ate together, played together, walked to school together, had our baths together and slept in the same room. Our clothes were identical, school uniforms, T-shirts, shorts, wellies, Batman costumes… everything, right down to the oversized, hand-knitted woolly jumpers we were jemmied into.
So, of course, we tore lumps out each other every other day. Sometimes every day. Sometimes twice a day. Sometimes more.
We remained tight through secondary but, as we rampaged through our teenage years, a crack opened between us. Whereas I was morphing into a loud, cheeky and music-mad punk, Calum was becoming more and more insular.
His mood swings were also becoming increasingly erratic and worryingly aggressive. After one violent incident, involving a neighbour, my brother was arrested then sectioned.
He was subsequently diagnosed with manic depression and hypomania – a life-altering, debilitating and, for many, incurable illnesses that, along with occasional bouts of schizophrenia, would come and go, plaguing Calum throughout his adult life. These episodes shaped and scarred him and they shaped and scarred his relationships.
He endured unimaginable mental pain and those who loved him endured our own agony, a torment of worry and frustration and more worry.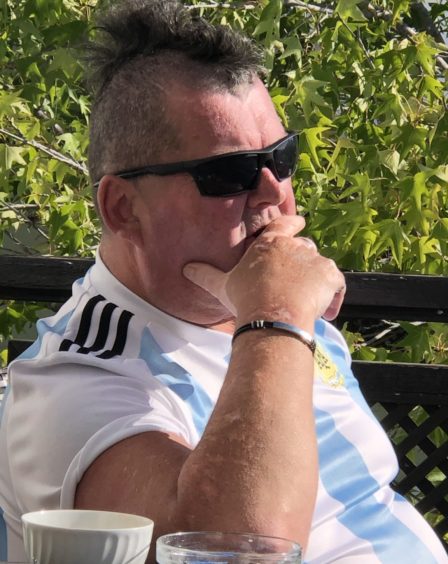 I won't dwell on it but Calum, as you would expect, was conditioned by those awful episodes, the drugs prescribed and the amount of time he spent in secure wards. His illness ruined personal relationships and hopes of employment.
He was bipolar, which meant he was very trusting, vulnerable and easily influenced. This was exploited later in his life by people he thought were friends, who loved him and could be trusted. They were not his friends. I have others words to describe them.
But, however low the lows became, Calum would always pick himself back up and face life with great courage. He never, ever lost his incredible and infectious sense of humour.
He was, as my daughter Lauren recently remarked, the funniest in our family. Even her uncle, a hilarious comic, and my little brother, Lewis, an acclaimed impressionist, would not disagree.
Calum could out-mimic Lewis any time of the day, and his Jack Nicholson impression was as terrifying as it was hilarious. His Joker line "Never steal another man's rhubarb" was a particular show-stopper or party-starter, depending on his mood.
He also didn't care what he said, where he said it or who might hear him. He would speak his mind and, if you didn't like what he said, he would repeat it louder while laughing uproariously.
He loved nothing better than sitting outside coffee shops on Glasgow's Byres Road or Sauchiehall Street watching the world go by, and smiling benignly at those giving him a wide berth because of his trademark look, most usually a fetching Mohawk haircut, toothless grin, and a T-shirt and shorts ensemble, clearly designed for a much, much smaller man.
He will be missed, as much by those who stepped around him as he will be by all those who knew, liked and loved him. If the messages of condolence are anything to go by, there are many, many of us.
His death shattered us and it shocked us too but, truthfully, not as much as it should have. He was not the fittest of people, he was overweight, smoked, ate badly, had COPD and had very high blood pressure. He was a heart attack waiting to happen. And then it did.
For the last month or so, because of his health, we had feared that he might fall victim to coronavirus. He, at least, avoided that battle but, while Covid-19 may not have killed Calum, it has cost us any chance of giving him a proper burial.
As the authorities struggled to cope, we were faced with a blizzard of conflicting instructions in the days after his death. Thankfully, Co-op Funeral Care in Maryhill came to our rescue and cut through the confusion.
Still, due to the lockdown, there will be only 10 mourners at his service, no funeral cars, no wake. Any celebration of Calum's life will have to wait.
But we will wait for this was a life worth celebrating. And, Calum, my loved and loving wee brother, we will.
The grieving process is a long road we all have to walk, but I'm proud and take great comfort knowing that while I stumble tearfully along this particular track, my brother Calum will be walking along beside me.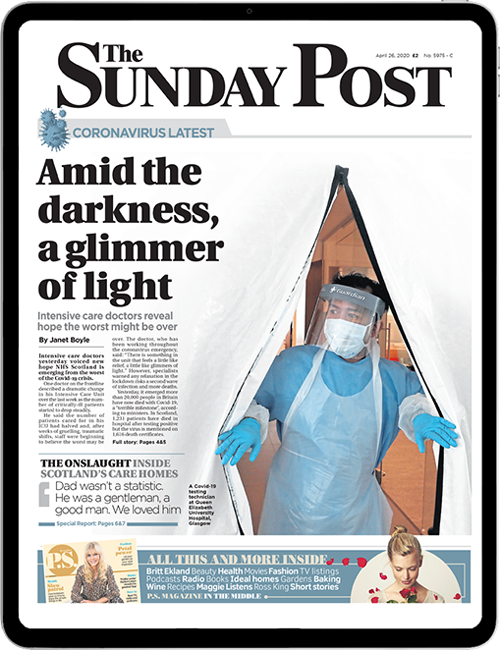 Enjoy the convenience of having The Sunday Post delivered as a digital ePaper straight to your smartphone, tablet or computer.
Subscribe for only £5.49 a month and enjoy all the benefits of the printed paper as a digital replica.
Subscribe