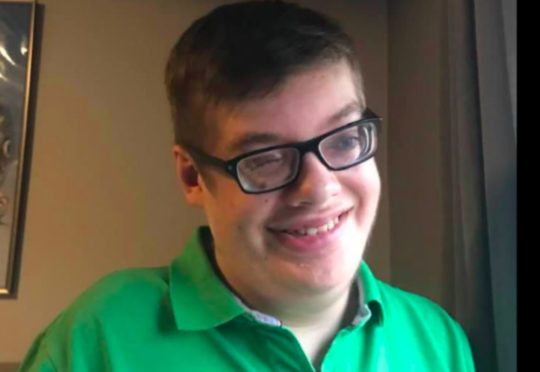 A leading advocate is calling for young Scots with special needs to be vaccinated as a priority.
Laura Wray's 22-year-old son, Frankie Wray, is blind and unable to walk, talk or feed himself but, because of his age, she has no idea when he will get his first Covid jab.
Frankie has been diagnosed with a rare chromosome abnormality called coffin-siris syndrome, meaning he is also vulnerable to any kind of infection.
Wray, the widow of former Labour MP Jimmy Wray, says if Frankie were to contract Covid he would almost certainly die. Because of his condition, he is also unable to receive a Covid test, unless it is given under anaesthetic.
She says parents with special needs children, like Frankie, feel they have been failed by the Scottish Government's vaccination programme.
He currently lives in a residential home in Liberton, Edinburgh run by the Sight Scotland charity where he receives expert round-the-clock care.
Wray believes young people with severe disabilities like Frankie should be a priority in the vaccination programme.
The 59-year-old lawyer, who specialises in personal injury cases, has not seen her son since Christmas Eve because of lockdown restrictions.
She added:"People like Frankie are among the most vulnerable people in our society.
"My son is profoundly physically and mentally disabled and needs constant care. He has severe and complex learning difficulties and is unable to speak or communicate effectively.
"His sight has deteriorated since he was 13 and he is now registered as blind. However he does not appear to be on any kind of priority list for a vaccination.
"There are hundreds of other children like him in the same situation. I would ask the Scottish government to prioritise vaccinations for people like my son as soon as possible."
Jimmy Wray, who was MP for Glasgow Baillieston for 18 years, died in May, 2013, at the age of 78 from bowel cancer. The couple married in 1999 at the Palace of Westminster when boxing promoter Frank Warren was the MP's best man.
Wray suffered a stroke in 2004 and although separating five years later, they remained friends right up to his death. At the time, she described her husband who was from Glasgow's Gorbals as "a lion of a man".
Wray who got her Covid vaccination last Friday added: "I don't think it's right that I have had a jab and Frankie hasn't. I would have gladly given Frankie my vaccination if it had been possible.
"Young people like my son are falling through the cracks in the system. They all have huge underlying health problems and vulnerabilities.We have contacted the relevant authorities, but no one is able to say when Frankie might finally get his jab."
Last month Inspector Rebus author Ian Rankin talked about the difficulties getting the jab for his 26-year-old son, Kit, who has special needs and said he also felt let down by the programme.
Rankin said that Kit, had been "forgotten" as vaccines were delivered to care homes. The author told the BBC he believed that those in Kit's circumstances "should have been prioritised".
Kit, 26, who lives in care in Edinburgh, received his vaccine on Wednesday.
Radio presenter Jo Whiley also spoke out, saying she was "living a nightmare" after being offered a Covid jab before her disabled sister.
The Radio 2 host, 55, said that she would give up her vaccine "in a heartbeat" to protect care home resident Frances.
Hours after Whiley's emotional plea, she found out her sister, 53, had caught the virus – in what she described as "like a plot twist from a terrible film". She added that her "worst fears had been realised".
Mark O'Donnell, chief executive of Sight Scotland said: "We believe young people with visual impairment and complex needs, including learning disability, should be prioritised for vaccination.
"Our view is that the Joint Committee on Vaccination and Immunisation should have given priority to these young people at an earlier point.
"We would therefore share the concern of any parent of a young person in this category who has still to be vaccinated."
The Scottish government said: "People aged 16 and above who have learning difficulties and certain underlying health conditions are part of cohort 6 for vaccinations and should be receiving their invites over the next few weeks.
"Where people in this group are living in long-stay nursing and residential care homes, the Joint Committee on Vaccination and Immunisation recommends that everyone living in the same home is vaccinated to prevent the risk of exposure."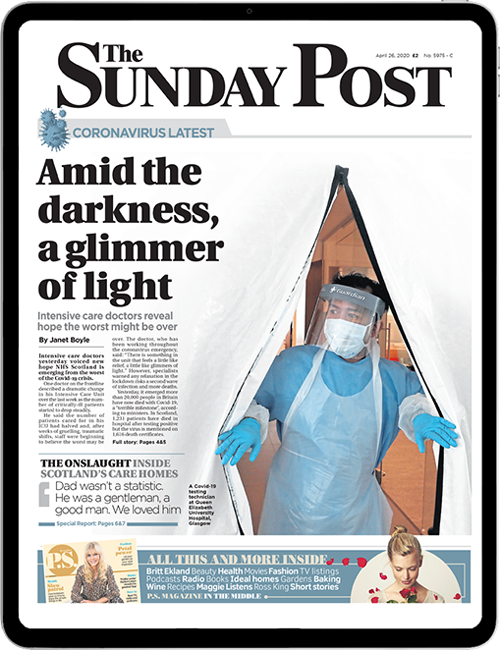 Enjoy the convenience of having The Sunday Post delivered as a digital ePaper straight to your smartphone, tablet or computer.
Subscribe for only £5.49 a month and enjoy all the benefits of the printed paper as a digital replica.
Subscribe