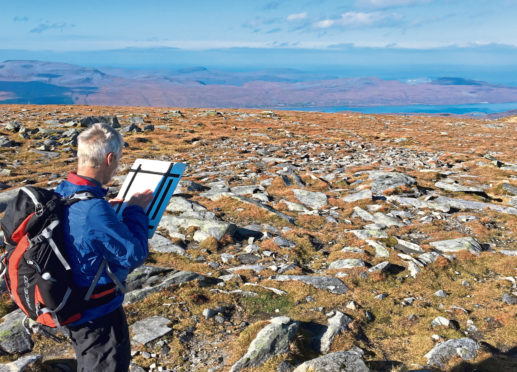 For as long as Adam King can remember, maps have been both a useful and aesthetic part of his life.
Now the CEO of Scottish company Harvey Maps, he finds it surprising – but "also somehow not surprising" – that his work allows him to be immersed in maps daily.
"It's my perfect job, although I still feel fortunate to be here after so many years," says Adam, 41, who joined the company as a cartographer in 2010. To be able to work for a map-maker, creating maps for walking – which I also enjoy – is very special."
As a boy growing up in the Cotswolds, Adam's first clear memory of a map was on a night navigation activity with the Scouts.
"I remember the excitement of looking at an OS Map and realising that if I could understand the code, work out what the lines and symbols meant, I would be able to navigate myself back to the base. I could see that once you knew the code, it would be similar for all maps and, wherever I went, I would be able to understand the landscape."
Adam, who now lives in Linlithgow, West Lothian, recollects how maps were the focus of another lightbulb moment in his early 20s.
"I had recently graduated with a degree in sociology and was wondering what to do next with my career."
"It came to me that I liked maps, especially the look of maps, and I thought, 'Someone makes maps. I wonder who makes maps?' I headed to my local library and found a book on careers and this is when I discovered what a cartographer does."
An MSc in Geoinformation Technology and Cartography at the University of Glasgow led Adam to a role with an English planning and architectural firm and then to a job with British Waterways, before returning to Scotland to join Harvey Maps.
The company dates to 1977 when Sue Harvey and her former partner Robin Harvey, both keen orienteers, decided to try to make a living from making maps.
Their aim was to make a map that was easy to read while moving at speed, and that was highly durable and waterproof – particularly useful in Scotland.
One of the first maps was of Howgill Fells for the renowned Karrimor International Mountain Marathon – now the OMM. The scale chosen was 1:40,000 in centimetres, offering the advantages of a compact sheet size and the space to include the level of detail needed to give a clear picture of the terrain.
A collection of Superwalker maps, and maps of National Trails and Long Distance Paths followed. The first of which was published in 1996 detailing Scotland's original long-distance trail, the West Highland Way. Within a few years there were more than 40 similar titles. Over the years, their maps have developed and evolved with the most convenient possible sizes, layouts and materials to ensure that they are tearproof and waterproof to withstand any wild-weather adventures.
The company continues to expand its product range and has developed overseas maps, UK Summit Maps, mountain charts, cycling maps, books and even a jigsaw map called a Mazzle.
Further map innovations include a Challenge Map series, covering routes such as the Ramsay Round in Scotland, and specific race maps. However, map making is a slow and intensive process.
"We are not a huge company," Adam says. "We have nine full-time staff – and each new map takes a long time to develop. We use aerial photos and a photogrammetrist plots what is seen on the ground. This part can take up to six months for a new map.
"Then there is the creation of the detail of the map, where the cartographer chooses what we believe is necessary detail while also making the map useful and, of course, beautiful. Harvey Maps has always believed the look of a map is important, as well as the detail. The maps are also checked on the ground with staff undertaking field studies. I was part of a great survey trip when we were creating the Superwalker map of Suilven, for example."
While Harveys do not provide full UK coverage, this is not viewed as a disadvantage compared to their largest competitor, the Ordnance Survey (OS).
"OS is the national mapping agency for Great Britain with the responsibility to map every inch, and must include as much detail and information as possible.
"Whereas we have greater freedom. We can choose what we include in each map and remove any unnecessary information to provide greater clarity. We gather as much information as we can from our own resources and from actual walkers too.
"The aim of Harvey Maps from the start has been to be different to OS Maps and to offer a choice of maps to walkers. That is as true now as it was almost 45 years ago."
In more recent years, the founders, who have both been honoured with MBEs, have retired, although Sue remains a director. The company has also revamped their Map Shop and created a Map Bothy, where there is an exhibition of map making, at their headquarters in a 17th-Century coaching inn in Doune. Adam was chosen to become CEO in January 2020 and has relished the chance to forge his own path.
"It wasn't an easy year to become CEO because 2020 was so affected by the Covid-19 pandemic but I feel I am settling in now.
"I have been learning from Sue's legacy and also making plans for what I believe should be the future for Harvey Maps. Sue and Robin made a courageous and inspired decision to found the company and it remains a strong business. I hope I can build on this bring in some of my own ideas."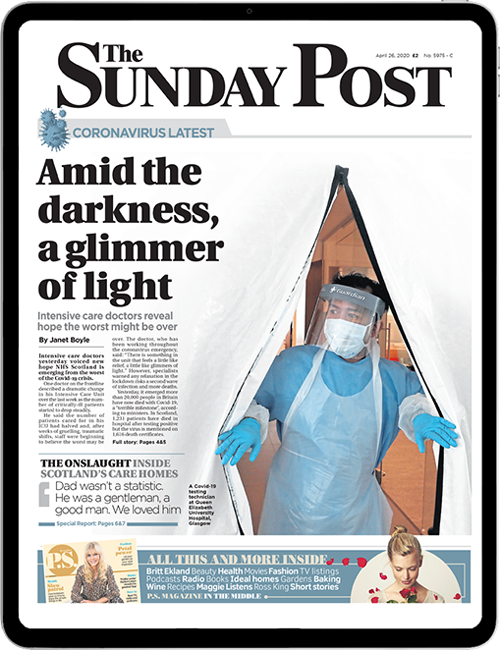 Enjoy the convenience of having The Sunday Post delivered as a digital ePaper straight to your smartphone, tablet or computer.
Subscribe for only £5.49 a month and enjoy all the benefits of the printed paper as a digital replica.
Subscribe