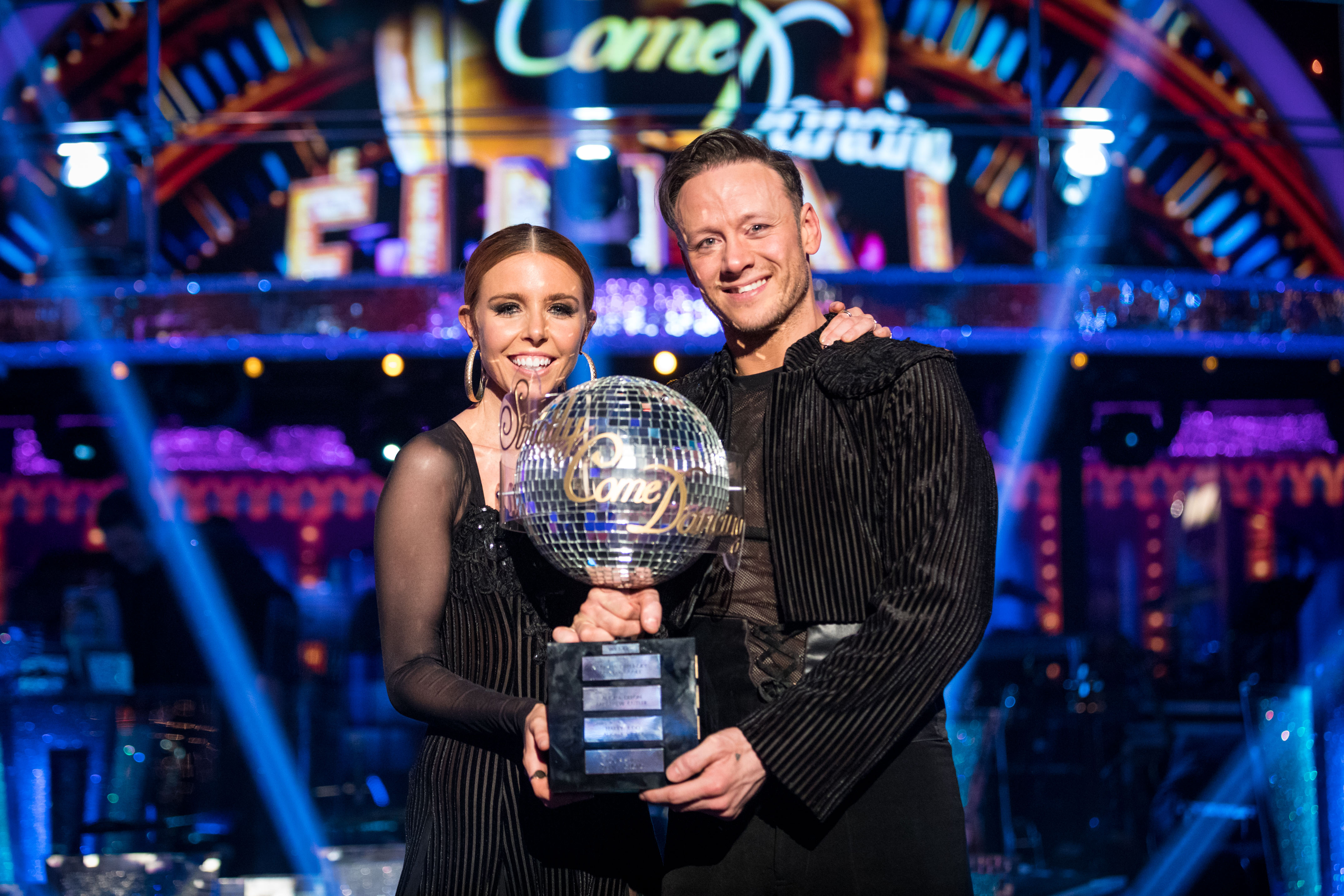 EVERYONE loves a little bit of sparkle at Christmas, but few can bling up a Christmas tree like Kevin Clifton.
This year's Strictly winner has revealed how he is making seasonal use of the glitterball trophy he won last Saturday night.
"I have a tiny Christmas tree, but didn't have time to decorate it," he said.
"So I've put my little replica winner's trophy at the tree. It's my only decoration, but it's one not many people have!"
Kevin, four times a Strictly runner-up, finally won the show with Stacey Dooley.
"Saturday was pretty crazy and I was emotionally exhausted," admitted the 36-year-old.
"Neither Stacey nor I thought we were going to win, especially when we were bottom of the scoreboard.
"I wasn't sad about that, I was proud we made the final and proud of Stacey. I was shocked when they said our names, and that's why my legs gave way and I started bawling."
A cooler persona is required for Kevin's next job, as rock star Stacee Jaxx in touring musical Rock Of Ages.
While a leather-clad rock god may seem a world away from Kevin's clean-cut image, it's one he's familiar with.
"I'm a big rock fan and I used to be a goth," he smiled. "I had long hair, black fingernails, wore leather trousers and boots, the lot, so I thought this sounded fantastic."
Kevin feels he has something to prove.
"I want to justify my place in the cast. I don't want to be someone who is only there because he did well in another area.
"I'm in my comfort zone in Strictly, but with Rock Of Ages I feel how the Strictly celebrities must feel. I'm going in with a cast of experienced singers and actors at the top of their game."
There were lots of rumours during the latest Strictly that this could be the last one for Kevin, as relations with ex-wife and fellow pro dancer Karen Clifton were said to be at an all-time low.
But she was the first to congratulate him on his win and he says if the producers ask him to return next year, he'll be only too glad to defend his crown.
Rehearsals for Rock Of Ages begin in the second week of January and the first tour stop is Glasgow, a city Kevin became fond of after rehearsing there with Susan Calman, his partner on last year's Strictly.
The two became close friends and vowed to have special tattoos should they make it to the Blackpool episode of the competition. She would get an "I Love Grimsby" tattoo in a nod to Kevin's hometown, while his would be "I Love Glasgow" in honour of Susan's roots
As yet, only Susan has held up her end of the deal.
"I do feel a connection to Glasgow now and Susan and I have become really good pals," he added.
"She'll be coming to the show and, of course, I still need to get that tattoo.
"Maybe I'll do it over Christmas, and have it somewhere really visible so that when I go out in front of the Glasgow audience they see it and are immediately on my side!"
Kevin is looking forward to a relaxing Christmas and New Year at home.
"I can't wait to go home, sit on the sofa in my pants, eat about 16 advent calendar chocolates in one go – and learn my script."
Rock Of Ages, King's Theatre, Glasgow, January 22-26, His Majesty's Theatre, Aberdeen, January 29-February 2