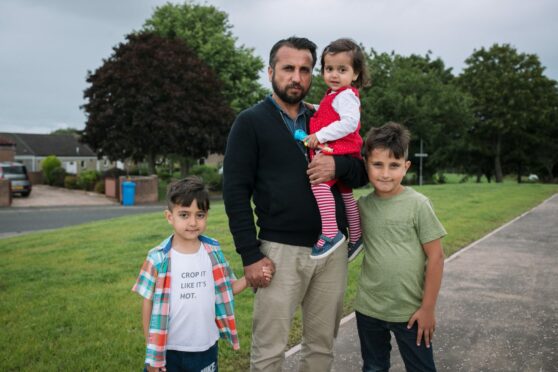 An Afghan journalist who has settled in Scotland after being forced to flee the Taliban a year ago has revealed his children are so well settled in school they now speak with Scottish accents.
By sharp contrast, his niece, living in Afghanistan under Taliban rule, is unable to go to school and fears she may never go to university.
Omid Asak escaped from Kabul in August last year as Taliban fighters closed in on the capital. Asak had written articles critical of the Taliban and had already been warned his life was in danger. The 39-year-old was able to get a flight out of Kabul and is among the 21,000 Afghan refugees who have been resettled in the UK.
He and his wife Zarifa, their two sons, Ahmad Shah and Jebran, and two-year-old daughter Maryiam, have created a new life for themselves in Irvine, Ayrshire.
The dinghy was too crowded. When the waves hit, I feared for my life: Afghan refugees on building new lives in Scotland
Asak said: "I didn't know much about the UK or its culture, though in Afghanistan I had read a book about the world's great philosophers and I remember reading about several Scottish philosophers. This made me want to live in Scotland. Everyone has been very welcoming here in Scotland. Everywhere I go, people smile. I think Scotland is one of the best countries in the world."
Asak plans to work as a journalist in the UK and obtain a master's degree in political sociology. Meanwhile, his sons Ahmad Shah, seven, and Jebran, six, are settling into their second year of primary school in Scotland. He said: "School has been very informative for them because when we came here, they didn't know a single English word. Now they speak very good English and have Scottish accents. If I mispronounce English words, my sons will say, 'Dad, your pronunciation was wrong. You should say the word like this'. I think their future is very bright."
However, Asak fears for the future of family members still living in Afghanistan, whom he remains in regular contact with.
Under Taliban rule in Afghanistan, women are restricted from working outside the home, must cover their faces in public and have a male chaperone when they travel.
Education has also been curbed, with Afghanistan the only country in the world where girls are banned from going to secondary school.
He said: "Taliban rule has been bad for women, the education system, economy, democracy and freedom. And the situation in Afghanistan is getting worse every day. On Wednesday, more than 20 people were killed in a bombing on a mosque in Kabul by Islamic State. It is a very worrying situation."
Asak remains in regular contact with his family in Afghanistan, including his 19-year-old niece.
"She had hoped to go to university. She says, 'We had high hopes for our future but now all that hope is gone.' Her father was in the Afghan army and lost his job, and now they don't have any money to pay for bread to eat. It is a desperate situation."
Meanwhile another Afghan refugee has told how he spent four months living in a Glenrothes hotel with his young family after fleeing to the UK.
Ahmad Karimi was at Kabul airport just 20 minutes before a suicide bomber murdered more than 180 people.
After arriving in the UK, he, his pregnant wife and 18-month-old son were sent to a hotel in Glenrothes, where they stayed until being assigned a home in Yorkshire.
He said: "The hotel was clean but it wasn't ideal. It was a bed and breakfast and the hotel management had a portable kitchen outside for cooking purposes.
"Due to hygiene reasons, we were not allowed to cook or use it. We got an offer of a house in Yorkshire through the Home Office.
"When I look at the news and see what is happening in Afghanistan, I feel so very sorry. It is terrible to see.
"I have brothers still there and they are all suffering as the economy has collapsed and they are jobless."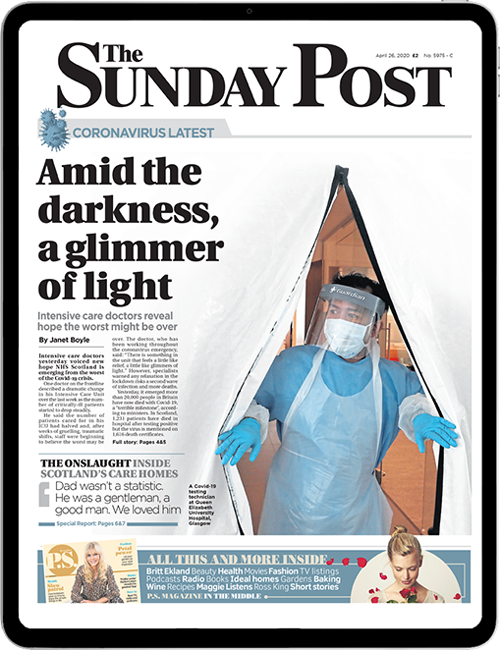 Enjoy the convenience of having The Sunday Post delivered as a digital ePaper straight to your smartphone, tablet or computer.
Subscribe for only £5.49 a month and enjoy all the benefits of the printed paper as a digital replica.
Subscribe