SHE'S seen as the BBC's face of sport, taking over its prime TV coverage of golf and fronting everything from football to the Winter Olympics.
But Scot Eilidh Barbour says there's one little price to pay for her soaring career – being left red-faced by her mum Di.
"My mum's really embarrassing," Dunkeld-born Eilidh, 35, told The Sunday Post. "She just gets so excited about what I'm doing.
"But both she and my dad, Wattie, are really supportive. At the start when I was trying to get to somewhere that seemed impossible, they were always there.
"So it's nice to show them I've been able achieve what I set out to do.
"And when I'm doing something like the Winter Olympics, I try not to think of the big audience watching or I'd probably get a wee bit scared by it.
"A lot of the time I imagine I'm just telling my mum and use her as someone who's not massively into sport but who is watching anyway, to keep it comfortable and relaxed.
"It's when I speak to mum later and she tells me about all the people that have seen it or have turned on the BBC in New Zealand or France, that it brings home that it's a really big thing."
Eilidh was hosting breakfast time coverage from out in South Korea, so was on the spot for the highs and lows of the British team. That included seeing fellow Scot Elise Christie crash out during the first speed skating event, one of three heartbreaks in Pyeongchang.
"I went along to the 500m short track finals," says Eilidh. "In the arena it's so fast it's just a blur but when I saw Elise sliding across the ice I couldn't believe it had happened to her again.
"My mouth was wide open. But it's incredible in how many of those sports you are balancing right on the edge between success and failure."
While the BBC sent Eilidh to South Korea, co-presenters Clare Balding and Hazel Irvine were in studios back in Manchester.
Both are huge role models to Eilidh, and while she knows Hazel well, she's never actually met Clare.
"We'd be handing over to her every day but we've never sat down and had a conversation. We've chatted over email and social media, but not in the flesh. She's brilliant, so I hope that happens soon."
Eilidh has had lots of advice from Hazel, whom she wrote to as a teenager looking for guidance on getting into broadcasting.
She took over hosting the BBC's golf coverage from Hazel last year and next month heads off to Augusta for the US Masters, the first of the Majors she'll cover this year, including the Scottish Open and the Open.
She'll also be at the Ryder Cup and on her usual football duties for the BBC and BT.
It means she savours time back at her home in Glasgow, seeing her boyfriend, catching up with friends and relishing slipping into a routine.
"It sounds really boring but I love waking up in my own bed and cooking my own food. You eat too much rich food when you're away. You have a full breakfast because you don't know when you'll eat again and end up having three massive meals in a day."
Eilidh is back at home at the moment and will be at Hampden Park on Tuesday for Super Movers. It's a partnership between the Premier League and BBC, supported by the SPFL, aimed at helping primary school teachers to inspire children to become active during the school day.
Eilidh was especially keen on football in her schooldays and still plays for Partick Thistle's ladies' team.
"I was outside all the time growing up in the country but I see now it's much harder for kids in the city to be active," says Eilidh. "Super Movers isn't going to solve our obesity problem, but it will hopefully show children being active doesn't necessarily mean running miles in the rain. Doing this in the classroom or at home is hopefully more fun."
And though Eilidh is the star at the BBC, ultimately she just enjoys her job.
"If all this ends tomorrow I don't really have a plan B. So I just hope that I keep learning and I have a focus to keep on the path I'm on."
Super Movers Live Lesson is at Hampden Park on Tuesday at 2pm. Schools can watch the live stream for free on bbc.uk/livelessons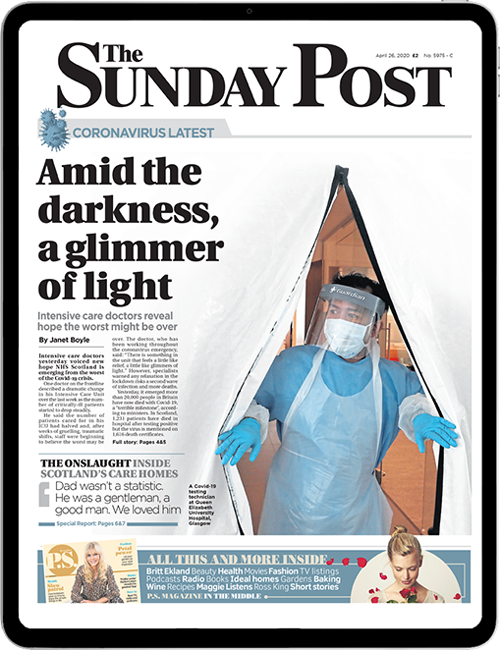 Enjoy the convenience of having The Sunday Post delivered as a digital ePaper straight to your smartphone, tablet or computer.
Subscribe for only £5.49 a month and enjoy all the benefits of the printed paper as a digital replica.
Subscribe