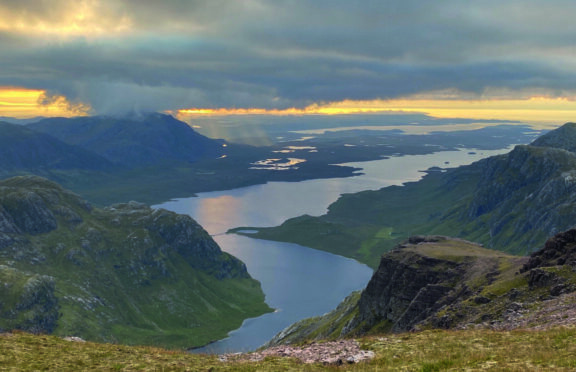 Climbing our last mountain of the day in the remote Dundonnell and Fisherfield Forest in north-west Scotland, a red deer hind and calf eye us curiously.
Although normally wary, the beautiful beasts hold their chosen spot on a rocky headland nearby. I can only assume they are aware that my husband Gordie and I pose no threat due to our laborious walk uphill.
This is our fifth mountain of the day and finally we reach the top of A' Mhaighdean at 3,172 feet, where we plan to pitch our tent for the night. It is a relief to take off our rucksacks, laden with camping and hiking equipment, and we sit next to the cairn enjoying a spectacular view west over mountains, inland lochs and to The Minch, a sea strait that separates the mainland from the Outer Hebrides.
While large billows of white cloud obscure some peaks and sections of the horizon, long rays from a setting sun break through at intervals sending spotlights on to the land and water below.
We had been hoping for a fabulous wild camping spot – and this truly is it.
After setting up the tent and cooking a simple hot meal, we relax and sip on a small hip flask of sloe gin – our luxury camping ingredient. It is difficult to avert our gaze from the vista west, yet there is a magnificent landscape in all directions in this remote area of Wester Ross, often referred to as the Great Wilderness. We can see the outlines of the other four mountains we walked over a long day since leaving our car beside the A832, near Dundonnell.
A wide track – extending some four miles – had led us up a gentle climb to a high point of around 1,300ft before descending towards the first major challenge of the outing, the Corbett Beinn a' Chlaidheimh.
The climb from the east to a wide ridge that runs north to south on Beinn a' Chlaidheimh, is long and on patchy sections of path amid a mix of rocks and heather. Gordon and I were too eager to reach the 2,998ft top and became frustrated by how long it seemed to take, especially as we headed into low morning cloud.
We met two very cheery walkers cooking a mid-morning snack on a camping stove next to the cairn. They were to be the only other people we saw throughout the mountain walk.
Continuing in cloud, we walked south on a long rock-strewn descent of the Corbett. Walking between a series of lochans, we could see the next mountain rising ahead. I was sure it wouldn't be long before we were on top of our first Munro of the day, Sgùrr Ban, but Gordie was less convinced. He was right. The terrain turned from grass to large expanses of jumbled and loose rocks. It was a joy to finally see a large cairn on the 3,244ft mountain.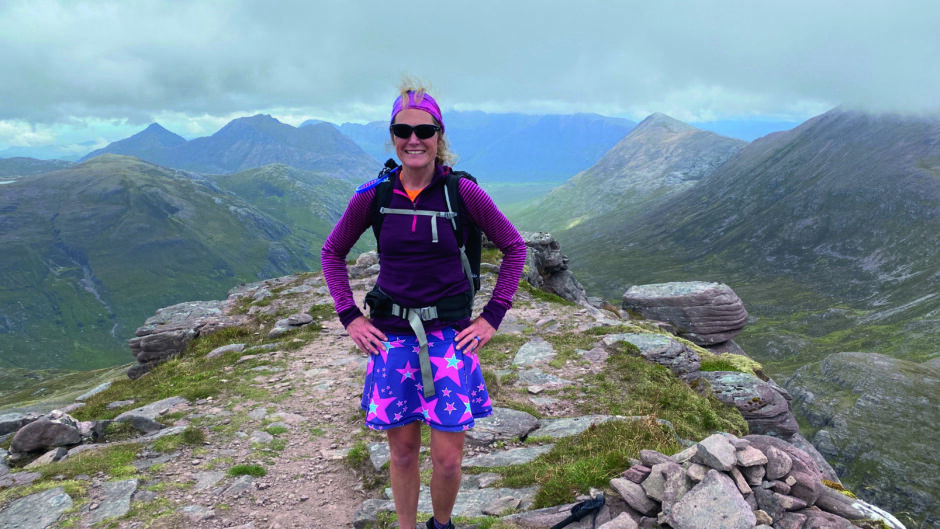 We had walked into clouds again and we checked the map to make sure we followed the correct route south from Sgùrr Ban.
The next Munro looked wonderfully close and, as we walked towards the low point at around 2,650ft, we spotted a path climbing steeply up, zigzagging though scree.
Although Mullach Coire Mhic Fhearchair was the tallest of the day's Munros at 3,330ft, it was surprisingly quick to summit.
Clouds persisted so we descended a little lower to perch on a large rock for lunch with clearer views. With energy restored, we referred to the map again and headed west on our long circular hike.
Beinn Tarsuinn, another Munro with a summit of 3,074ft, was a much smaller proposition and, brilliantly, it had an obvious path.
By this point, my legs were starting to tire but seeing what looked like the top of Tarsuinn "just up ahead" gave me a boost of enthusiasm. The clouds had also lifted so our vistas from higher altitude were amazing.
The route to A' Mhaighdean began with a descent to a narrow path along a short ridge of small pinnacles and rocky promontories. It was a good diversion for thoughts of, "Oh no, we need to climb yet another Munro."
A path took us lower still and to an area of boggy grass and peat hags before we started slowly uphill again. And, finally, having given the deer some early-evening entertainment we reached our superb summit camp spot.
As well as being able to look across and track the route of the mountains already summitted, we could see ahead to Ruadh Stac Mòr, the final Munro of the two-day trip. This would be my penultimate Munro in my first round of all 282 summits.
Having crawled into our sleeping bags before 8pm, we rise early the next morning. We are soon on our way, the camp struck, walking towards Ruadh Stac Mòr.
This final big climb is emotional. Touching the cairn at 3,011ft elevation, I feel a huge sense of achievement and pride.
It has taken the best part of a decade to bag 281 Munros and now I can organise a celebratory hike to my final summit, Beinn na Lap at Corrour.
I had walked the majority of the mountains with Gordie and my summit ambitions had started soon after we met on a Munro in the Kintail region.
As we descend Ruadh Stac Mòr, we chat about plans for Beinn na Lap. It's almost as if we have forgotten that we still have a long walk back to the car. On fatigued legs, the walk turns out to be very long indeed.
Looking ahead along the wide glen, we can glimpse remote Shenavall Bothy in the distance. We walk on a good path, which then peters out to a maze of bog, heather and bracken. I try to think about how wonderful it is to spend a Monday amid such incredible scenery but the many miles and climbs are taking their toll.
Eventually, we reach the bothy before a final push back up to 1,300ft elevation where we rejoin the wide track and descend back to the road. In total, we walk 26 miles and climb 9,500ft. It is worth every exhausting step.
Into the wild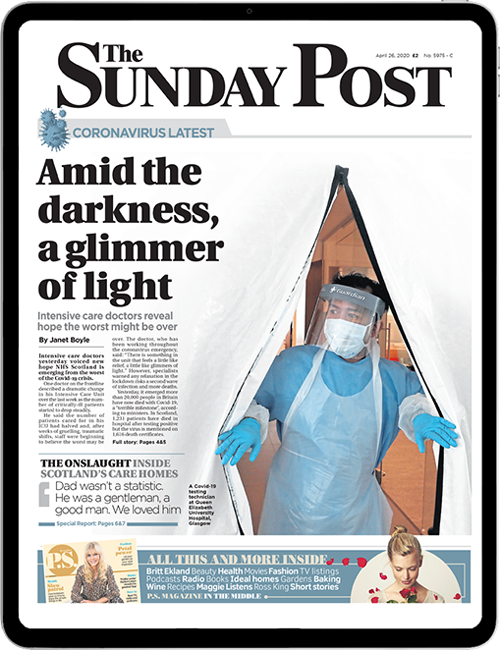 Enjoy the convenience of having The Sunday Post delivered as a digital ePaper straight to your smartphone, tablet or computer.
Subscribe for only £5.49 a month and enjoy all the benefits of the printed paper as a digital replica.
Subscribe