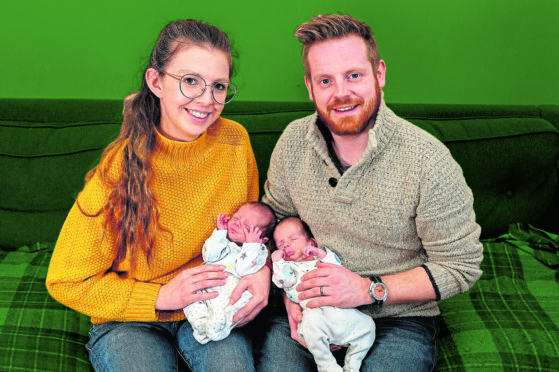 A mother who became seriously ill in pregnancy and had her twin boys two months early has urged Nicola Sturgeon to appoint a Women's Health Champion as an absolute priority.
Charli Morrison says the long-promised appointment must be made urgently as the first minister revealed discussions are still ongoing while promising progress is being made.
She said her experience is a perfect example of why a champion working to improve the treatment offered to women and close care inequalities is vital. She said a simple test being rolled out in England, but unavailable in Scotland, would have revealed her life-threatening pre-eclampsia and saved her twins a traumatic, worrying arrival.
Morrison, 29, a health and safety environmental manager, is also calling for the urgent introduction of a test to detect the serious condition – which strikes up to one in 10 expectant mothers.
Now happily home with her twins, Alfie and Teddy, and husband Hayden in Moffat, Morrison said: "All tests which flag up serious illnesses like pre-eclampsia should be available routinely for mums. There should be no delay in rolling them out.
"A Women's Health Champion should be appointed as soon as possible to ensure women get the best of care.
"I developed a dangerous condition called hemolysis, elevated liver enzymes and low platelets (HELLP) syndrome which has up to a 25% fatality rate.
"It is a serious and debilitating condition for any mum to endure and challenging for obstetricians to treat. My boys and I are only alive thanks to the wonderful skill and care of a superb medical and nursing team and I will be forever grateful to them."
Another charity backs campaign for Scots women's health champion
Morrison was rushed into Dumfries and Galloway Royal Infirmary's maternity unit in October as her blood pressure soared, a tell-tale sign of pre-eclampsia.
Doctors walked a tightrope to administer steroids needed to prepare her unborn sons' lungs for survival outside the womb, while at the same time treating the pre-eclampsia which was affecting Morrison's vital organs and threatening her life. The boys were born by section and immediately transferred to neonatal intensive care while doctors and nurses fought to save their mum. Now seven weeks old, the boys were allowed home a week ago.
Their mum recalled their dramatic birth. She said: "My blood pressure had been slightly high and my obstetrician gave me a blood pressure monitor to use twice daily at home.
"It registered 168/109 – the healthy range is less than 120/80 – and I was told to get to hospital as soon as possible.
"The doctors worked to stabilise me and prepare my twins to be born at 32 weeks and within two days they were born by caesarean section.
"It was only when I was well on the road to recovery, I was told that up to 25% of women die through its effects."
It is 16 months since the post of Women's Health Champion was announced as a key measure in the Scottish Government's Women's Health plan last August.
However, after The Post revealed the appointment might take three years to fill, 17 national health charities wrote an open letter demanding greater urgency.
In June, Sturgeon promised a summer appointment but last week, after being questioned in parliament, she said there would be an update in the new year.
We reported last week how Scottish maternity units will not join in trials of Tommy's App – new technology analysing all data from maternity appointments to flag up mums-to-be at risk.
The most common reasons for mothers to become critically ill or die from HELLP syndrome are liver rupture or stroke, through leaky blood vessels or a brain haemorrhage.
Marcus Green, CEO of the charity Action on Pre-eclampsia, said: "It is distressing that Scottish women are still becoming seriously ill with pre-eclampsia. The PlGF test, which detects those mums at risk, is available in England but not yet approved in Scotland, leading to a postcode lottery, it is unfair and leads to poorer outcomes for mums.
"We continue to urge the Scottish Government to approve and encourage its use to all mums at risk of pre-eclampsia as the risks of serious illness are very real.
"Women should be given every available help to have a safe pregnancy and delivery with properly targeted care.
"First Minister Nicola Sturgeon once again promised on Thursday to appoint a Women's Health Champion early in the new year and she must now deliver on this promise after woeful delays to improve the obvious gaps in gender health for women."
The government's Women's Health Plan was launched in a blaze of publicity to tackle inequalities and improve women's health in Scotland where healthy life expectancy has been falling since 2014 for women. Those living deprived areas suffer most and spend a third of their lives in poor health in Scotland. A total of 17 major charities signed a letter to the first minister urging her to make the appointment urgently and without delay to address poorer survival in health for women from a spectrum illness.
At First Minister's Questions, Nicola Sturgeon promised that an update would be made by the health secretary in the new year. It was in response to a question from Scottish Labour MSP Carol Mochan, shadow women's health minister.
Mochan said: "It is disappointing that the appointment will not be made before Christmas. With health inequalities affecting women from deprived areas disproportionately and women's health diagnoses areas in cancer that specifically impact women remain stubbornly high, we need a Women Health Champion timeously," she said.
Sturgeon replied: "A number of very high-calibre candidates have been interviewed for this important role and the appointments process is now in its final stages and the health sec will provide an update to the parliament early in the new year."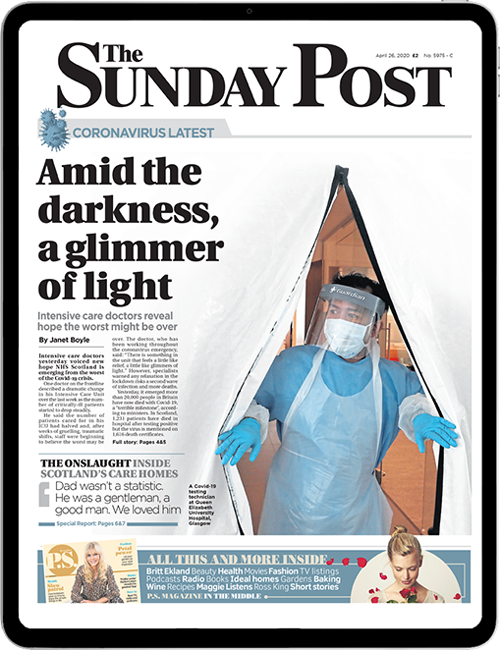 Enjoy the convenience of having The Sunday Post delivered as a digital ePaper straight to your smartphone, tablet or computer.
Subscribe for only £5.49 a month and enjoy all the benefits of the printed paper as a digital replica.
Subscribe