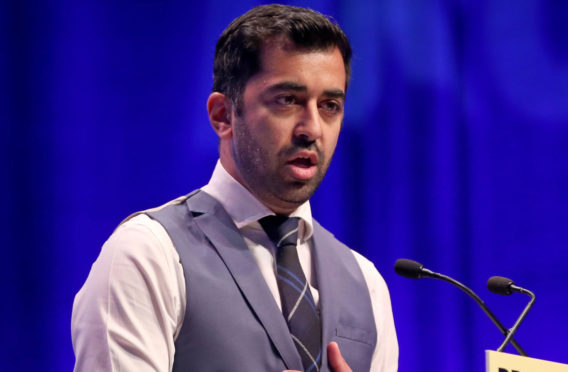 Spot checks could not be done on airport arrivals meant to be isolating in Scotland because officials did not complete paperwork for two weeks, we can reveal.
Quarantine law came into force on June 8 but a data-­sharing agreement between the UK and Scottish Government was not finalised until June 23 – the same day the Justice Minister told MSPs checks were already happening.
We told last week how not one check was done to ensure arrivals were self-isolating despite First Minister Nicola Sturgeon warning that infected people arriving from abroad was the greatest risk of another coronavirus outbreak.
Justice Minister Humza Yousaf says there was a problem with the quality of data collected at the border by Home Office officials but that has been denied by the UK Government.
The Home Office confirmed yesterday details of arrivals to Scotland were available to the Scottish Government from June 8 but officials did not provide the information needed to access the data until June 23.
But on June 23 Mr Yousaf told the health committee 20% of arrivals from abroad were checked by Scottish Government officials to ensure they were quarantining themselves for 14 days to control the spread of coronavirus.
Mr Yousaf told the committee that 3,200 people arrived in Scotland in the two weeks after quarantine law came into force.
Shadow secretary for justice Liam Kerr said: "These dates are surely not a coincidence and suggest the Scottish Government only submitted the paperwork when reminded at the last minute."
Mr Yousaf also told the health committee that Police Scotland had reported "very high" compliance – but the force had no data.
Until Friday, all arrivals to Scotland were required to self-isolate but checks did not start until Tuesday of last week. Arrivals from 57 countries now no longer need to self-isolate for a fortnight.
Mr Yousaf has written to the health committee to retract the inaccurate statements. Health committee chairman Lewis Macdonald has replied to ask Mr Yousaf to explain why he believes there was a problem with the quality of data provided by the Home Office. The Labour MSP warned the Justice Minister the committee could recall him and "revisit this subject".
Speaking in the Scottish Parliament on Thursday, Ms Sturgeon defended Mr Yousaf. She said: "What he said was what he believed was going to be the case – that checks were starting on that day or, in fact, had started the day before…we now know it took longer than we had thought it would take to agree the memorandum of understanding with the Home Office that allows those checks to be carried out."
The Scottish Government said: "The Justice Secretary was advised that Public Health Scotland's follow-up calls were beginning the week commencing June 22. A first data extract was received from the Home Office on June 24, however the reason the calls started on July 7 is that a number of issues needed to be resolved and to put in place appropriate data protection that would meet the terms of the Memorandum of Understanding."
The Home Office said: "These claims are misleading and inaccurate. Since June 8, the devolved administrations could access it [the data] by providing information required through a Memorandum of Understanding. However, the Scottish authorities delayed sending the information."