BEING diagnosed with a terminal illness is far from a laughing matter, but Dennis Dick is determined to continue smiling through the challenges.
He was diagnosed with motor neurone disease (MND) last November and, six months on, is resolute in continuing with a life that has so far provided plenty of adventure.
"At the age of 83, when someone says you have a progressive degenerative disease that could make you increasingly immobile over the next few months or years, and that you will probably die sooner rather than later of breathing problems, your reaction is to ask what has changed," Dennis joked.
Father-of-one Dennis noticed his speech was becoming slurred last spring.
"It sounded as though I had been drinking too much. But worse was to come as I began to struggle to speak clearly.
"This was quite a blow as I had spent much of my life speaking in public and chairing meetings."
Dennis, who was awarded an MBE for services to biodiversity, conservation and environmental sustainability, describes such a moment in October 2016 as perhaps an omen.
"I was chairing a reception at the Scottish Parliament and introducing the cabinet secretary for the environment when I suddenly lost my voice completely. It had never happened to me before."
Dennis, who lives in Edinburgh with wife Mary, went to his doctor in May last year and was referred to an ear, nose and throat specialist and then a neurologist.
Further tests showed he had MND.
"It wasn't a great, shattering blow for me, as I had plenty of time to research the disease and knew exactly what I was in for.
"Interestingly my MRI scan showed my brain was 'unremarkable'. And I always thought I had a good brain, so now I know."
Born in Dundee, Dennis was conscripted for National Service at 18 and spent two years in an army hospital as part of the Royal Army Medical Corps.
He worked for DC Thomson from 1956-58 as sub-editor on boys' comic, The Wizard, and went on to become a journalist.
Dennis was TV Editor on the Radio Times, ran the BBC's publicity service in the west of England, and produced and directed TV programmes that took him to remote parts of the world.
He worked with many big name stars such as Sir David Attenborough and when he returned to Scotland made shows about the countryside and islands with Jimmie MacGregor as his presenter.
"In retirement I got very involved with the environment in Scotland, chairing a range of charities, including the Scottish Wildlife Trust, and other organisations both nationally and locally.
"I even ended up advising Scottish Government ministers on biodiversity."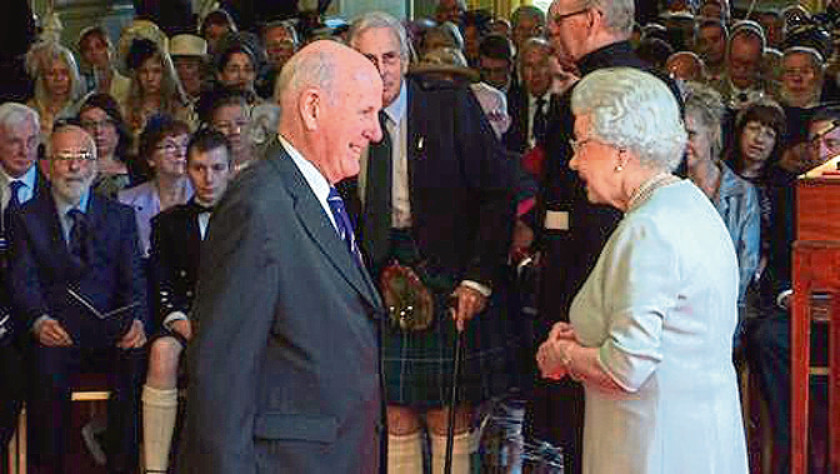 Dennis's condition has continued to deteriorate. "My voice is now very degraded and I'm beginning to use speech assistive technology. The problem is mainly with thick saliva, particularly after meals.
"The best medicine, I have found, is a good malt whisky!
"I regard myself as lucky as I still have full use of my hands and fingers. Walking has become a bit stilted and I certainly have a fear of falling."
Dennis praised the support he has received from the NHS, charity MND Scotland and his MND clinical specialist.
"When Gill came into my life the future suddenly looked more ordered and calm," he continued.
"The level of care Gill and all these nurses bring to their role is tremendous.
"The number of carers in my life grows all the time but top of the list is Mary. She does an amazing job and without her I would be sunk and in despair."
He remains upbeat about the future.
"I have researched MND thoroughly and can see the challenges ahead.
"The MND consultant seems to think I'm on a slow track and there are plenty of examples of people who live for years with MND, such as Stephen Hawking.
"Although there is no known cure and its progress is unpredictable, there can be much hope of a future and purpose in life. It is, in fact, just another of the many challenges life can throw at you.
"As my consultant noted on one of his reports, 'Mr Dick has led a very full life'. Me, a full life? No, I just followed my nose."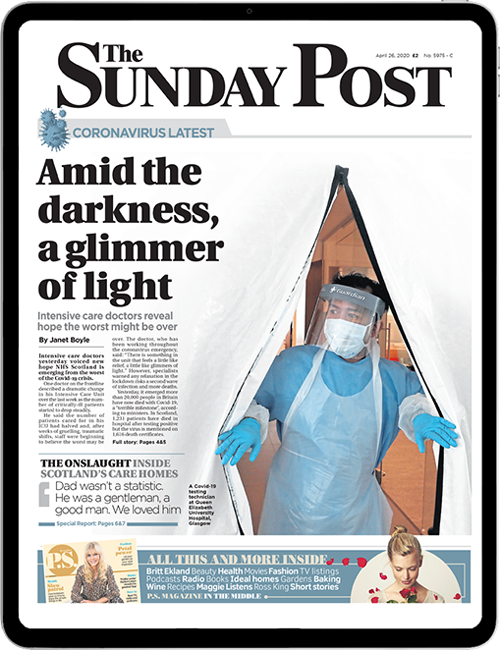 Enjoy the convenience of having The Sunday Post delivered as a digital ePaper straight to your smartphone, tablet or computer.
Subscribe for only £5.49 a month and enjoy all the benefits of the printed paper as a digital replica.
Subscribe