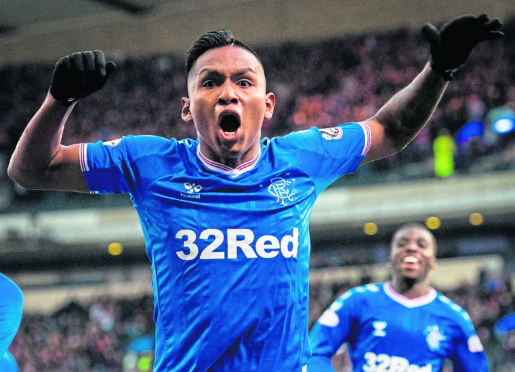 He swears it didn't bother him at the time.
Yet Kris Boyd admits that, in hindsight, his scoring record against Celtic is a huge regret.
The former Scotland internationalist played ten times for Rangers in the Old Firm derby, and only hit the back of the Hoops' net once.
That was on May 5, 2007, when his left-foot volley opened the scoring, notched up his 100th goal in Scotland's top-flight and set the Light Blues on course for a 2-0 victory.
In the end, his inability to be as prolific in the Glasgow derby as he was in other fixtures became something of a self-fulfilling prophecy.
Walter Smith believed he was unlikely to score in the fixture, so tended to use Boyd off the bench, a move that lessened his chances of putting a more favourable shine on the stat count.
Boyd's playing career is over now, the 36-year-old having hung up his boots and moved smoothly into a career in the media.
Yet in terms of Sunday's League Cup Final between the Glasgow rivals, his experience is more relevant than ever.
Why? Because Alfredo Morelos' derby scoring record is even worse than his!
He hasn't scored any goals at all in the ten games he has played against Celtic.
"I know how he feels!" said Boyd, with a wry laugh.
"My one derby goal came in 2007, and at the time I thought I would go on to get a good few more against them.
"But it wasn't to be, and if there's one thing in my career that I look back on with regret, that's probably it.
"At the time, there was more made out of it in the media in the build-up to games than anywhere else.
"When you are a goalscorer, that kind of thing doesn't really play on your mind.
"You concentrate on your next game, and back yourself to take the chances which will come your way.
"I knew scoring against them would give me an opportunity for more playing time in the Old Firm games.
"And when I look back at some of the derbies I played in, I had a big part to play, albeit I didn't score.
"I set up Kenny Miller for a couple at Ibrox, and I should have scored the winner that Artur Boruc saved but Maurice Edu put in the net.
"I managed to score 300 goals. One of them was against Celtic.
"I'm sure a lot of other strikers would have swapped 299 goals for one against Celtic. So I can't complain.
"As much as I can look back now and say I should have done this or that, for Alfredo Morelos right now, it's business as usual.
"He'll be looking at the next game as an opportunity to go and break his duck and score against Celtic in the Final."
That's a trick which, Boyd insists, he is capable of pulling off in next Sunday's showpiece.
"For me, it is only a matter of time," he said.
"When you see the improvement in Alfredo from the end of last season, it is night and day. He is a player right at the top of his game.
"Rangers miss him when he's not playing. We saw that at Hamilton last Sunday.
"He is something different, a throwback to the older generation's style of strikers. He's robust and doesn't really bother with anything else
"With a lot of players now, it's the style and how they look when they play the game.
"Alfredo doesn't care. He's still annoying people, he's in your face, he's angry.
"He plays aggressive, and all of that controlled has turned him into a top-class striker, who looks as if every game, he is going to score.
"I don't know if it's all down to Steven Gerrard. He has a good bunch of coaches around him with experience.
"From what we hear, Michael Beale does a lot of the coaching.
"It is easy to say the manager's put his arm round him. But looking at Morelos, his game has improved, and his hold-up play and his decision-making are better than they were.
"There is also the competition for places. With Jermain Defoe breathing down his neck, if he doesn't perform, he is not going to get back in.
"Alfredo is going to leave Rangers one day.
"We know that and he is playing like a guy who wants to get as much money as he can for the club – but also as much for himself when it comes.
"He wants to be able to justify the money, to be able to say, 'I have done this, this and this. I have scored against all these teams.'.
"That is why he wants to score against Celtic, so he can add that to his CV.
"He has scored league goals, he has scored European goals and he is now off the mark for Colombia.
"What Alfredo is doing is generating money for Rangers, and getting a healthier wage packet for himself."
The talk of a Morelos dividend coming to Ibrox in the future can be heard everywhere you turn in Scottish football this season.
So much so, in fact, that Rangers chairman Dave King addressed it at the club's AGM last Tuesday when stating the Colombian would not be sold in January, even if a £40-million bid came in.
Which leads on to arguably one of the most-frequently debated pub questions of the last few months –Given a free choice, who would you sign, Morelos or Odsonne Edouard?
"It depends on what team you are in because they are two totally different players," is Boyd's view.
"I'll flip it back, and I will say I don't think Odsonne Edouard would have as big an impact in the Rangers team as Morelos does.
"But I don't think Morelos would have as big an impact in the Celtic team as Edouard does.
"The players Celtic have in the wide areas and midfield need a striker that is going to hold the ball up, take touches, bring them into play and get runners off them.
"When you look at the Rangers example, a lot of their players are looking for those little passes, looking for a striker down the sides.
"But if I am sitting on Football Manager, I'd probably sign the two of them!"
Plenty of observers, Celtic manager Neil Lennon among them, would argue Edouard's return of five goals in the derby against zero from Morelos make him a 100% better bet to net in this latest renewal.
When it comes to talking about his old club, though, Boyd can be skilful in accentuating the positives from a Light Blue perspective.
"If Rangers can somehow find a way to win, Celtic will be under massive pressure because it would be the first time they have lost a domestic trophy in three years," Boyd continued.
"The Celtic fans have been spoiled over the last few years.
"They expect to win. You see it when they lose a couple of games.
"I've never had pelters like they got when they lost Livingston because they are used to winning games, and that's what happens.
"Ryan Christie got sent off there, and it changed that game.
"Can Rangers score against Celtic? Of course, they can.
"It is football. You just never know what is going to happen."
n Kris Boyd was speaking at a media day as Five Star Events and 1st Star Events donated £10,000 to Glasgow Children's Hospital Charity from funds raised at their 2019 sporting events.