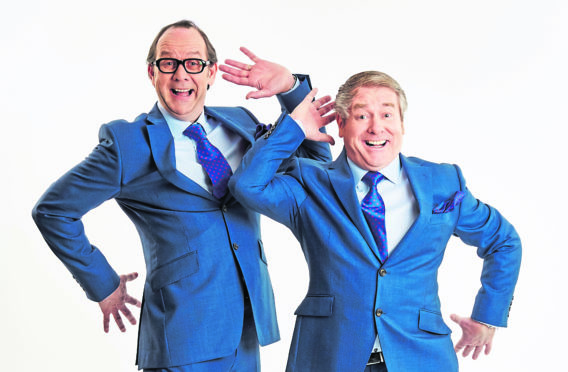 Thought you'd never be able to see Morecambe and Wise live on stage?
Think again as, thanks to Ian Ashpital and Jonty Stephens, we can enjoy a bit of that Eric 'n' Ern magic once again.
Currently touring the UK, the pair have been appearing as the much-loved double act for five years, with successful runs at the Edinburgh Fringe and in the West End, winning an Olivier Award along the way.
Ian and Jonty perform classic Morecambe and Wise sketches, many of them penned by their legendary writer Eddie Braben, and also new material in the style of the comedy icons.
"I have been fascinated with Eric Morecambe for as long as I can remember," admits Jonty. "I took on his persona at school and it never really left me.
"He was the funniest and loveliest of men. We both feel it's a privilege to play Eric and Ernie and some people have said it's like we're channelling them."
Jobbing actors Ian and Jonty met at drama school more than 30 years ago and when Jonty was asked to play Eric at a charity show he knew that, with his diminutive stature, Ian would be the perfect Ernie Wise.
Jonty says: "To be honest it all came about through other people seeing what we had from a five-minute sketch and saying, 'You should do something with this.'
"It was a real voyage of discovery for both of us. I was a massive Morecambe and Wise fan and had seen and read just about everything they'd ever done or had been written about them."
Ian adds: "It was only when we sat down and talked about it that we decided that if we were going to do something, it had to be a play that looked at the relationship between them.
"It was Jonty's brilliant impression of Eric and his knowledge of Morecambe and Wise that laid the foundation to everything that followed really."
Jonty laughs: "The pairing happened for that five-minute sketch which we performed at the host club for the Stage Golfing Society, of which we are both members.
"Someone asked me to do Eric for the show and I said 'Yes but I'll need a Little Ern' and looked across the bar and there was Ian with his hair and short, fat, hairy legs.
"What we try and do is get the audience to believe that for two hours we are Eric and Ern – and no one knows more than we do what a tall order that is."
Ian nods: "Jonty always said, 'We're sticking our heads above the parapet and hoping no one shoots us down' and they haven't yet.
"It's gone from Jonty doing an impression and growing into both of us doing a portrayal of two working-class lads who made it in comedy."
"And there's no better feeling in the world than making people laugh," says Jonty, "but to make them laugh as Morecambe and Wise…
"It's joy to perform as them. They were so beloved by the public and we feel that affection when we're doing the show.
"The show is a real celebration of the comedy of Morecambe and Wise. You'll see some of their most-loved sketches along with some you may not be so familiar with – plus some new material by us in the style of Eric 'n' Ern.
"It's real family entertainment, with good old-fashioned belly laughs at the silliness and brilliance of Eric and Ern – as it was with all the M and W shows.
"We love it when there are children in the audience laughing along with their mums and dads."
Says Ian: "Of course they're seeing this comedy for the first time and love it as much as we did when we were kids."
Asked how people react when they see the pair on stage in character, Ian says: "For the first few minutes the audience are slightly shocked, they're still taking it in, tuning in almost."
Jonty adds: "But then they get swept away and just enjoy the great comedy of M and W.
"We have had some lovely comments, people saying, 'We forgot that we weren't watching the real Eric and Ernie' to 'Thank you for bringing them back to us'."
"I think also there is a huge emotional connection to M and W," nods Ian.
"As soon as they see us and hear the music, they're transported back to a time that they watched them with their nearest and dearest.
"A lot of people are in tears at the end of the show. Which is a shame really because it's meant to be a comedy."
Unsurprisingly, the pair have very similar ideas on what makes Morecambe and Wise so special.
Says Jonty: "I think it was the fact that they were so close, performing together from the age of 13.
"They honed their skills for over 20 years before they really made it big in their 40s. That friendship and closeness gave them their unique talent.
"They were just so funny through the years together. The running gags, Ernie's wig, Eric's glasses. Their roots in variety with song and dance. The innocence of their comedy."
While Ian reckons: "It was also their relationship off and on stage which gave them their huge success.
"They were so funny together, they trusted each other. There's a chemistry between them that you can't fake. It has to be real. They had such broad appeal. Mums, dads, children and grandparents – three generations laughing at the same comedy written by the late, great Eddie Braben.
"There is nothing like it on TV today and I'm not sure there ever will be again."
Jonty explains: "It's a huge honour to portray them and shine a light on their huge talent. We take it very seriously and feel a huge responsibility to represent M and W in the right way.
"We have been very lucky to have had amazing support from the Morecambe family and the estate of Ernie. We treasure our relationship with them and try to run everything past them before we do anything as Eric and Ernie.
"It's vitally important that the families are happy with what we are doing and how we are portraying the boys.
"What's been great is that we obviously get the diehard Morecambe and Wise fans who we love because they get everything and sometimes join in.
"But also we are also getting young people who maybe didn't know Eric and Ernie initially and are brought along by parents and find they are loving the comedy just as much.
"Then they go home and look them up and start watching them online."
---
For tickets and information visit www.ericandlittleern.co.uk