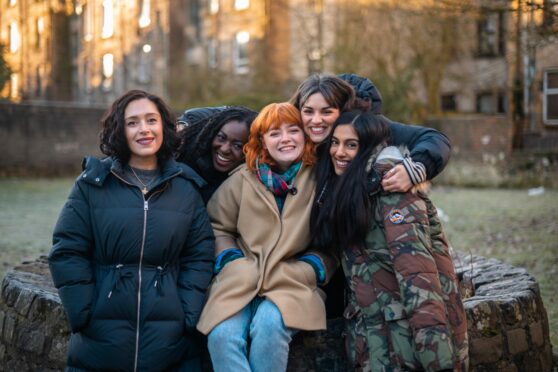 Maryam Hamidi was at high school before she saw the inside of a theatre. It transformed her life.
Now one of Scotland's most in-demand writers for stage and screen, she is "heartbroken" at the funding cuts risking the power of the arts to reach more girls and young women.
Hamidi, also an actress, said: "I feel there's a real absence of theatre storytelling that holds a mirror up to young women which allows them to explore themselves as audience members and to be reflected back. That really critical transitional moment from girlhood to womanhood feels under-explored.
"I feel we're at a point as a theatre industry that we've taken a real kicking and not just since the pandemic but before that too, this state of eternal contraction with so little money, and as a result we're seeing a lot of the audience – the older demographic – dropping away, and beyond theatre in schools or children's theatre, what is there to hold audiences and bring new people to the theatre?"
Hamidi, who has written extensively for stage, radio and screen, including Hollyoaks, CBeebies' Molly & Mack and on Radio 4, has tried to address that imparity with a new play, Moonset, with four schoolgirls centre stage.
She said: "I was lucky enough to go on school trips to see plays when I was at high school but they weren't stories that necessarily reflected me. You empathise with other people's experiences, of course, but it was rare to see anything of ourselves at that age, and so it feels really exciting to have created something that reflects young women back to them in some way, or at least attempts to.
"I feel heartbroken sometimes at the diminishing state of funding for the arts and of arts education in schools. There's a real danger we take away people's voices. Comprehensive schools need the same access as private schools for this type of education.
"The arts – the stories and self-expression – give power to put across thoughts and articulate ideas and explore philosophies that maybe weren't in your home growing up; they can take you somewhere else. I'm terrified there will be a poverty of ideas because we're diminishing those resources."
Each facing their own challenges, the four young women in #Moonset are on a collision course towards the supernatural. As they create a form of witchcraft which will either bond them or break them. 🌒🕯️#Moonset is a powerful new work by @MazzHamidi: https://t.co/JCncgoPpHj pic.twitter.com/70FuJ1l9r4

— Citizens Theatre (@citizenstheatre) January 26, 2023
Born in Iran in 1983, Hamidi moved to the UK when she was a toddler, living in Essex then Cheshire, before moving to Scotland for her studies and making her home here.
"It was a really fumbled journey to understand that drama, performance and storytelling was for me," she explained.
"I didn't even know what a theatre building was until my high school took me on trips.
"We're an immigrant family and we didn't have English in the household that much. It was about trying to navigate the world outside of our house. Watching films and TV, reading books, became the escape but also the access to learn and adapt.
"At high school we had drama class and I joined a youth theatre where in the summer we went on residentials. It was extraordinary to see this playful environment where we could relate and tell stories from morning to night for 10 days away from home, and that's where I realised this could be a career."
Having played Leyla Brodie in River City for several years, Hamidi said having children – now six and nine – changed her outlook and she diversified into writing. She has several TV projects in development and is involved in the second series of BBC hit Vigil but she's overjoyed to bring Moonset to the stage, having started the project in 2018 when she won the Playwrights' Studio New Playwright's Award.
Presented by the Citizens Theatre, and taking inspiration from the Paisley witch trials of 1697 – believed to be the last mass execution for witchcraft in Western Europe – it tells the story of four young women from the Renfrewshire town who begin meddling in witchcraft.
"Come and be entertained, come and be moved. Come and feel communion with other audience members." We spoke to #Moonset writer @MazzHamidi about the inspiration behind this brilliant and bold story 🌖

🗓️ @trontheatre (3-11 Feb) & @traversetheatre (16-18 Feb) pic.twitter.com/Q7O3gPpoQr

— Citizens Theatre (@citizenstheatre) January 25, 2023
She said: "I stumbled on the witch trials. I was struck by the story of the young woman who had a conversion disorder that she blamed on people in her community, and they were put on trial and accused of witchcraft."
Hamidi hopes Moonset finds an audience, especially young females. "Theatre is a place of real communion. It's about collectivism and that shared experience," she said. "I think it's unmatched to sit and watch a story together. We touch on it in cinema but that is a very different experience to theatre. That live theatre experience is something very precious and I think it can take people somewhere and show them something in a way other mediums can't."
I was told wanting to act was unrealistic
2023…. I'm so excited!! 👀 @keddiescott @PaulHarperSwan @euannixon https://t.co/1phzp1VjzA

— Layla Kirk (@LaylaKirk94) December 20, 2022
Layla Kirk has enjoyed a hurtling rise since graduating from her acting course in 2018.
The Aberdeen actor has appeared in ITV drama Karen Pirie, plays the lead role in an upcoming eight-part police series filmed in Latvia, and has a Scottish horror film coming out this year.
She plays lead character Roxy in Moonset, her first professional theatre job. Kirk was always interested in acting but her careers adviser told her it wasn't a realistic target. "It wasn't until I was 21 I did a foundation theatre course. Then I went to London six years ago to do a two-year screen course, graduated and got an agent.
"People believe because I come from an Asian background that acting wasn't something I was allowed to do but it wasn't that. I never mentioned it because I thought people would say I was silly.
"My dad was from South Africa and moved to London where he met my mum, Yvonne, so he thought it was amazing when I told him I was going to London to study. They were all for it."
Kirk played Iona Kaleel in Karen Pirie, which led to a role in new film Mercy Falls. She has also filmed crime show Emergency Exit in Riga.
"I've recently moved to Paris, where I teach English when I'm not acting. I had to come back after 90 days due to Brexit, until I got my visa. While I was back I got the role in Moonset."
---
Moonset starts at the Tron, Glasgow, on Friday, then at the Traverse, Edinburgh, later in the month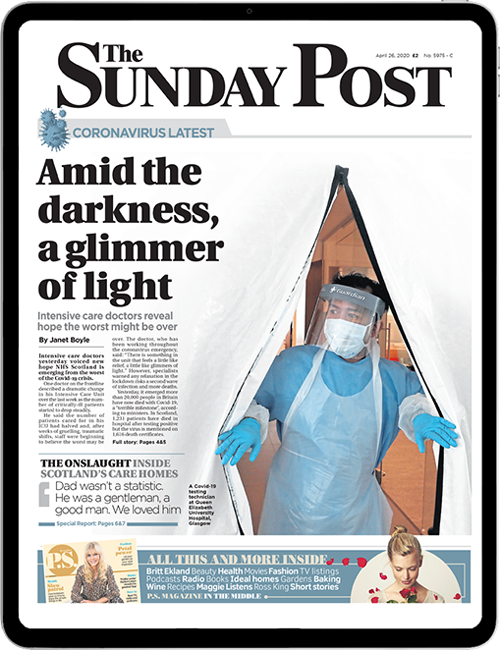 Enjoy the convenience of having The Sunday Post delivered as a digital ePaper straight to your smartphone, tablet or computer.
Subscribe for only £5.49 a month and enjoy all the benefits of the printed paper as a digital replica.
Subscribe