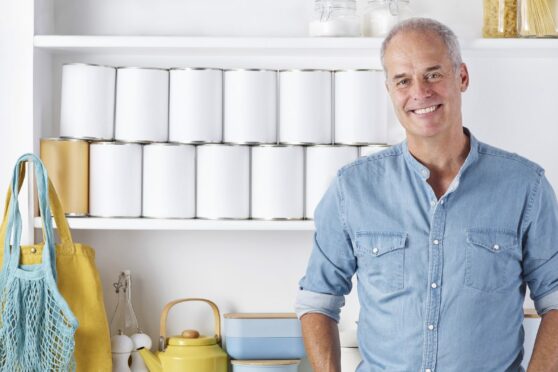 You wouldn't think a top chef would dare serve a Michelin inspector instant custard power – but that's exactly what Phil Vickery did. "I did a steamed sponge pudding, and I served it with Bird's Custard – and I got a Michelin star for that meal," says Vickery, 60.
"OK, I adapted it. I put a few vanilla seeds in and bits and pieces but, essentially, it was a thickened starch-based custard – and he loved it!" Not only that, but in the same meal in 1999, he served something out of the freezer. "I had a frozen baby cockerel, because I couldn't afford to throw them away – I froze and defrosted them – and the head of Michelin had that cockerel as well."
The chef, who's been a mainstay on ITV's This Morning for 23 years, first started using canned and frozen ingredients in the early-1990s when he took over as head chef of a hotel in financial difficulty.
"That hotel owed a huge amount of money to the bank, all the staff had gone, it was the recession and the bank was going to shut the doors in six months, so I just couldn't afford to buy expensive ingredients," he says. So, he delved into the store cupboard and used what was there.
Even when a famous chef came to lunch with a renowned food critic, Vickery served them soup made from water, stock cubes, tinned butter beans, onions and garlic, with a sprinkle of thyme and olive oil on top.
"The food critic said, 'Oh my goodness, that's the nicest butter bean soup I've ever had – can I have another bowl?' So I thought, 'Hang on a minute. If it's good enough for him, it's good enough for my customers'."
What was originally conceived out of financial necessity made him view things in a different way. His new book, The Canny Cook, celebrates all things canned and frozen, and the cheap, sustainable, easy meals you can make from them.
On This Morning, Holly Willoughby, Dermot O'Leary and Co. give rave reviews of Vickery's dishes using store-cupboard ingredients but he's been criticised by fellow chefs for "deskilling" the industry. Not that he cares.
"I don't give a t*ss," he says. "I've been called some awful things on Twitter… Some people say to me, 'You're the s***test chef on This Morning. I just laugh at it."
There is, he says, a new-found appreciation of tinned foods thanks to the early stages of the pandemic which saw the public panicking to refill their cupboards with non-perishable goods.
And even now we're over the worst of it, the looming economic crisis has meant we are all tightening our belt.
"People are squeezed, budgets are squeezed, and it's just a perfect way of utilising what's around," Vickery says.
"And you can make very good dishes – simple stuff, without having to spend too much money. So don't turn your nose up at some things you can buy canned or frozen."
While some preserved ingredients can simply be thrown into whatever you're cooking to save time and money (he recommends swapping half the meat in a lasagne for a tin of lentils), others need a bit more love.
"I hated frozen cauliflower," he admits, "but I bought some in Iceland, a bag, a kilo, I roasted it in the oven – to get rid of the moisture – and I put salsa verde and chopped anchovies on it out of a can. It was amazing! And that was a pound."
He continues: "I bought 360 grams of individually frozen yellowfin tuna steaks (£2.99) from Aldi, wanting to hate them. Oh my goodness, I made ceviche, I made a poke – it was fabulous."
There are a few things he doesn't recommend buying frozen – scallops or monkfish, for example, but cod, haddock, salmon and tuna all freeze perfectly well, he says. His recipes include canned crab meat and lobster.
While we all probably have tins of beans, tomatoes and sweetcorn languishing in our cupboards, Vickery suggests trying canned potatoes, asparagus, pumpkin and peppers, and even canned or vacuum-packed hotdogs.
Children of the '70s and '80s might want to recreate school dinners with Vickery's Spam fritters recipe.
He says: "As a kid growing up, my mother refused to cook on a Sunday evening, because she cooked all week, and Spam was a treat."
And you probably wouldn't expect to see a recipe for fish fingers and waffles (exactly as it sounds) from a Michelin-starred chef. But it's one of his favourites.
---
Phil Vickery's Spam fritters with spring onion mash recipe
This is a "don't knock it 'til you've tried it" kind of dish.
"I had to include my version of this iconic school food staple," says Phil.
"I vividly remember seeing the large aluminium trays stacked full of Spam fritters in the canteen. They're real Marmite things: you either love them or hate them. I hope this recipe brings back a few memories."
You'll need
500g frozen mashed potatoes
200ml milk
50g salted butter
4 spring onions, finely chopped
Vegetable oil, for deep-frying
340g can Spam, chilled
300ml sparkling water
200g self-raising flour
2–3 tablespoons cornflour
Method:
Reheat the mash in a microwave-safe bowl according to the packet instructions and mix well.
Add the milk and butter, and then microwave for a few seconds to melt the butter. Mix well and taste for seasoning. Stir in the spring onions and set aside.
Heat the vegetable oil in a deep pan or wok to 180C. Cut the Spam into four equal slices.
Place the flour in a bowl, add the sparkling water to the flour and then mix into a soft batter. Dust each slice of Spam with a little cornflour, then dip into the batter.
Carefully slide into the hot oil and cook for four to five minutes until browned and crispy.
Drain well on kitchen paper. Serve with the spring onion mash.
---
The Canny Cook by Phil Vickery is published by Kyle Books, priced £16.99. Photography by Kate Whitaker. Available now.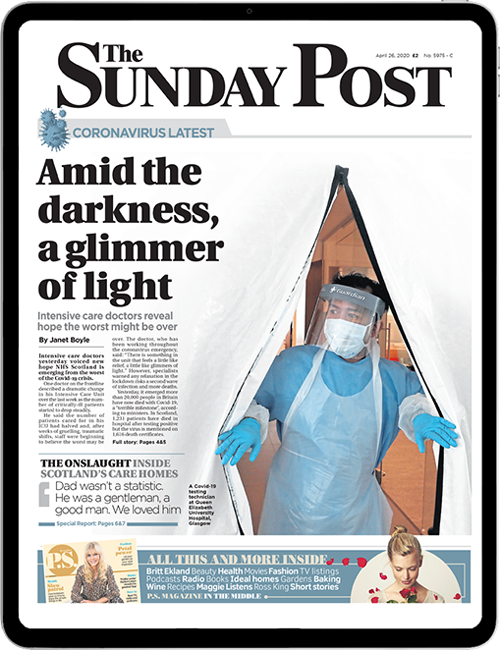 Enjoy the convenience of having The Sunday Post delivered as a digital ePaper straight to your smartphone, tablet or computer.
Subscribe for only £5.49 a month and enjoy all the benefits of the printed paper as a digital replica.
Subscribe