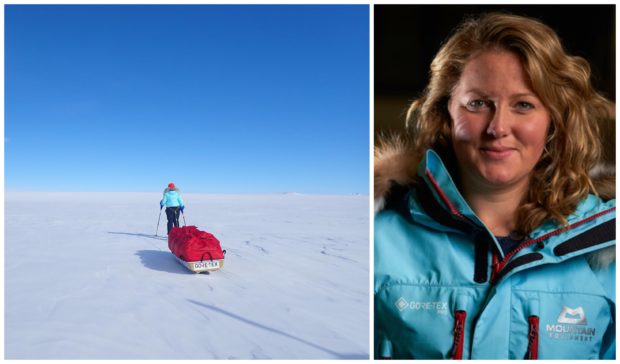 When she was six, Mollie Hughes wanted to be a footballer when she grew up.
A few years later, her chosen career had changed to vet, and a few years after that, the plan was to join the police.
But becoming a professional explorer couldn't have been further from her thoughts.
"I was quite shy as a kid," said Mollie. "I had ambitions, but I could never have imagined then doing what I do now. It was just never on my radar."
Having just set a record as the youngest woman to ski solo across Antarctica, and previously twice scaled the summit of the world's highest mountain, all before turning 30, it's hard to believe.
"My love of adventure started pretty slowly," admitted the 29-year-old.
The turning point came at 17, when she joined a school expedition to Kenya.
"We climbed Mount Kenya and I loved it… the views, the altitude," she said.
Mollie went on to study psychology and sports biology at Bristol University and, as the years went on, her passion for adventure grew and grew.
"I would save up and then go a big trip in the summer," said the explorer. "I went back to Africa, to India, South America – and got into climbing more and more.
"In my last year of uni, I decided to write about the psychology of climbing Everest for my dissertation.
"I spoke to seven guys who summited – and I was hooked. I knew it was something I wanted to do myself."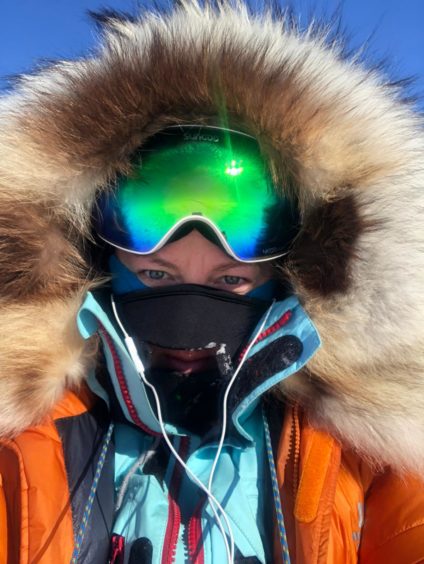 After three years of research, training, and raising tens of thousands of pounds, in 2012, at the tender age of 21, Mollie became the youngest woman to summit the south side of Everest. But the two-month trek was so mentally and emotionally exhausting, it left her, at the time anyway, never wanting to climb again.
"Looking up at the summit, I did wonder if I'd ever get there," said Mollie of the ultimate climbing challenge. "However, I had a pragmatic view. I broke it down, and concentrated on making it through each day. My focus was to stay alive. From the first step, I felt very lucky. After all, it's not something many people get to experience.
"But it was hard. From the altitude sickness to the physical toll on my body, I suffered every day.
"Getting to the top was amazing – but it did make me say I never wanted to see another mountain again."
Five years later, though, Mollie, who now stays in Edinburgh, found herself in the same spot, this time having climbed Everest from the northern side.
Explaining her decision to go back, Mollie said: "It takes about six months to forget the pain, then you spend the next six months remembering the sunrises and sunsets and the views – and you just want to do it all over again."
The northern ascent was more challenging. As well as being colder and with higher winds, climbers spend more time at high altitude. Then, she came up with her next, even greater ambition – a solo ski, from the coast of Antarctica to the South Pole.
The trip lasted 59 days and took her across 702 miles of unforgiving terrain, as Mollie battled temperatures as cold as –45°C.
Incredibly, Mollie had barely done any skiing before beginning her preparations.
She trained by pulling a 105kg sled packed with equipment, and dragging tyres around beaches and hills. "I worked out it was the weight of an All Blacks rugby player," she said. "But it had all my kit, my tent and food to my one change of clothes and seven pairs of pants, so it was necessary."
After two years of preparation, Mollie, who had bulked up by gorging on chocolate bars, endured a nightmare start to the mammoth trek.
"The first eight days were the hardest. There was a blizzard that caused a whiteout," she recalled. "I couldn't see a metre in front of me and relied on my compass. I spent night after night in my tent with it shaking all over the place. I realised just how fragile I was.
"A broken tent pole or a ripped canvas could have meant it was all over before it started. Each day I had to just focus on survival. By day eight, I was desperate.
"But just as I was running out of hope, the sun came out. I was so happy, I cried. There was one day when it was warm – at minus 15 – and there was no wind. I realised how silent it was and just looked out at this incredible vast, open whiteness. When life gets chaotic, I try to remember that moment."
Coping on her own was a daunting prospect, but Mollie never felt lonely.
"There isn't much visual stimulation and there's nobody to talk to. But I wanted to do it solo, to know I could rely on myself. I felt alone, but not lonely. I was too busy.
"I would get up at 6.30am, melt ice and snow to prepare breakfast and water for the day, pack up, and go. Then ski for 11 hours until it was time to set up the tent, melt snow and ice for dinner, and sleep.
"It was hard having nobody to chat to, to give me a cuddle on the hard days, but I think it was worse for the people back home worrying about me."
After returning home last month, Mollie is now planning her next adventure – turning her daily diaries into a book. And instead of skiing, she'll be taking to the road to talk about her experiences.
"I hope I can inspire people to try things they could never have imagined. Discovering your inner adventurer is hard work – but so rewarding."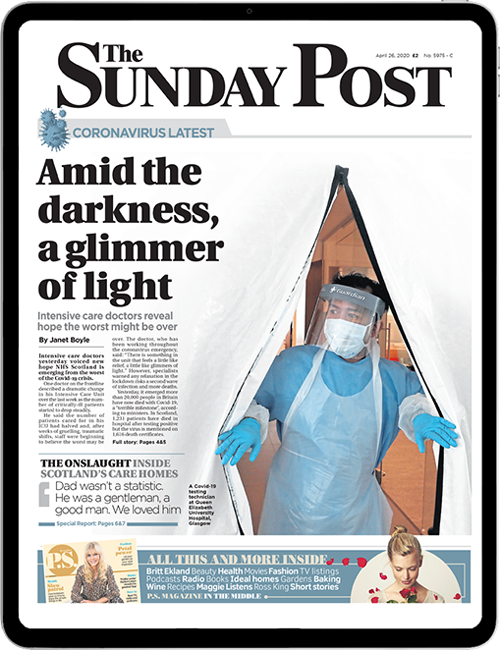 Enjoy the convenience of having The Sunday Post delivered as a digital ePaper straight to your smartphone, tablet or computer.
Subscribe for only £5.49 a month and enjoy all the benefits of the printed paper as a digital replica.
Subscribe