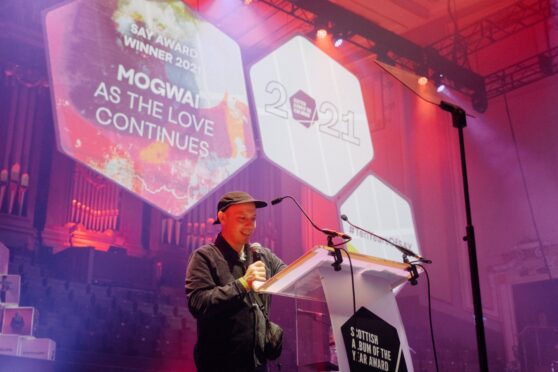 Mogwai's As The Love Continues has won the Scottish Album of the Year (SAY) Award for 2021.
The band's tenth studio album is their first to win the coveted award, with the group having been shortlisted four times previously.
The album reached number one in the UK charts when released in February 2021, and was nominated for this year's Mercury Prize.
The win was announced at a ceremony in Edinburgh's Usher Hall, which aimed to bring together the world of Scottish music after a tough 18 months.
Collecting the prize, Mogwai's Stuart Braithwaite said: "I really was not expecting this, I have not thought of anything to say other than thank you and I wish I'd got steaming!
"This has been a really mental year for the band and this is just another thing we never thought would happen. I want to thank everyone who has bought and played the album,
"I'd like to dedicate this to Mick our booking agent who passed away last week. I'd like to thank everyone,  the SMIA and you all for being here. This is nuts!"
For being named album of the year, Mogwai received £20,000 and a special trophy.
The album was picked out of a shortlist of ten, with all nine runners-up awarded £1,000 and their own bespoke awards.
The colourful trophies, made using a range of recycled plastics, were created by Glasgow based design duo Still Life.
Ian Rankin, Jackie Kay, Ashley Storrie and Tim Burgess were among the judging panel for the award, which saw over 300 eligible album submissions whittled down to a shortlist of ten.
The acts in the running alongside Mogwai were AiiTee, Arab Strap, Biffy Clyro, Joesef, Lizzie Reid, Rachel Newton, Stanley Odd, The Ninth Wave and The Snuts.
Hosted by Vic Galloway and Nicola Meighan, Saturday night's ceremony saw performances from last year's winner Nova, alongside Sacred Paws and Hamish Hawk.
As well as the main prize, the Sound of Young Scotland Award was awarded to rising star LVRA.
Chosen by a panel of former SAY Award nominees from this year's eligible applicants, she will receive up to £5,000 to facilitate the creation of her debut album as well as 500 vinyl pressings of the finished release.
Before taking to the stage, she said: "This is amazing! Thank you so much to everyone who's been supporting my music, it's so awesome to win this in my home town of Edinburgh!
"I hope you listen to and enjoy my music – please support Scottish music because these other nominees were amazing and we all support each other."
On the night, Frightened Rabbit's album The Midnight Organ Fight was also honoured with the inaugural Modern Scottish Classic award.
As the band collected the award, Grant Hutchison, brother and bandmate of the late Scott Hutchison, said: "I don't why you're clapping for us we didn't write any of it! All of us can come at it from the same place that all of you can – this was and is Scott's album.
"These are his words and they should be shared by all of us. It's amazing to have an album that's 13 years old and still inspires artists today, because it still inspires me everyday."
He added: "Thanks to Scott, what a guy. He's already thinking that I've spoken for too long so I'll leave it there and if everyone here tonight could do one thing – if you could text someone in your phone book who might need to hear from someone.
"Just ask them how they are or if they want to meet up. Just say hi, it might change their path. Thank you to all of you, you're all amazing and this means so much to us."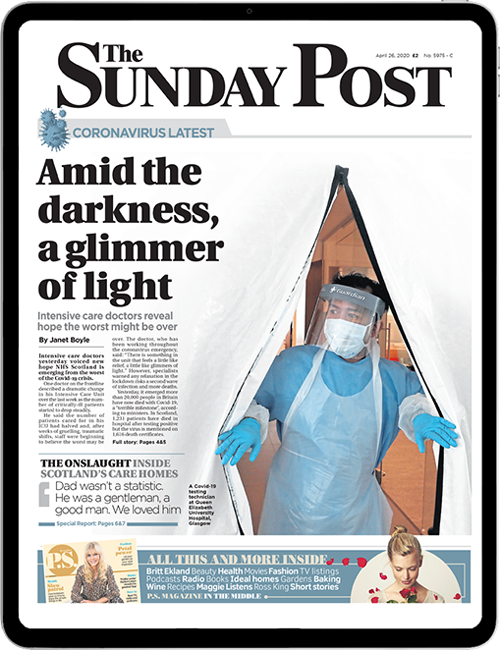 Enjoy the convenience of having The Sunday Post delivered as a digital ePaper straight to your smartphone, tablet or computer.
Subscribe for only £5.49 a month and enjoy all the benefits of the printed paper as a digital replica.
Subscribe