It was March 1854 when Orcadian explorer, medic and surveyor John Rae set out from Naujaat, then called Repulse Bay.
Together with an Inuk, William Ouligbuck, and an Ojibway, Thomas Mistegan, Rae accomplished one of the most important expeditions in the history of Arctic exploration.
His journey would have been gruelling with the threat of death from wild animals, exposure and hunger.
Despite the odds against him he made his crucial Northwest Passage find, which subsequently enabled navigation of the sea channel, now named the Rae Strait, to the Pacific Ocean through the Arctic archipelago.
Rae also found evidence, including starvation and cannibalism, of a failed expedition led by Captain Sir John Franklin some nine years earlier.
Franklin's ships had been trapped in ice for years. Franklin had set out in May 1845 with two ships, HMS Erebus and HMS Terror, and 129 crew on a mission to find the missing link of the Northwest Passage. The last reported sighting of the ships was in 1848 and the resultant loss was said to be the worst disaster in the Royal Navy's history of polar exploration.
Rae reported his findings to the Admiralty in London but faced a campaign of denial and vilification for believing the word of "savages" (the indigenous Inuit population) and suggesting that Royal Navy officers would resort to cannibalism. Such was the denigration, Rae's place in history was not recognised until new evidence highlighted the truth in a book published by Ken McGoogan in 2001 called Fatal Passage: The Story Of John Rae, The Arctic Hero Time Forgot.
Last year, the Royal Institution of Chartered Surveyors awarded Rae the title of honorary charter surveyor to mark its 150th year.
Now an Arctic expedition is hoping to bring greater recognition to this courageous 19th-Century explorer.
A four-man 2019 Arctic Return Expedition has been retracing the steps Rae made 165 years ago.
The 400-mile journey across the Boothia Peninsula in the Canadian Arctic was due to take up to 42 days while charting a dangerous course over a land of ice and snow in one of the world's most inhospitable regions.
David Reid, originally from Bishopton, Renfrewshire, and now living in Canada, is leading the modern-day adventure.
Joining him are former Royal Marine Commando Richard Smith, of Broxburn, West Lothian, and two Canadians, film-maker Gary Tutte and adventure writer Frank Wolf.
The team has had to ski and trek in temperatures as low as -50C while hauling heavy sleds of food and kit.
Potential hazards include frostbite and hypothermia from the severe weather, and attacks from polar bears.
While the journey is arduous, the aim is to honour Rae and highlight his achievements.
David said: "We want to shine a light on this important chapter of Arctic history and John Rae is a massive part of this."
Richard said: "The expedition is not a bid to be the greatest, best or fastest. Rather it's about raising awareness of a Scot whom many feel has not been properly recognised for his incredible achievements.
"It is about giving John Rae his rightful place in history and about educating people about his important Arctic discoveries.
"His success was due in great part to his willingness to learn from the indigenous people of the region."
The expedition left from Naujaat on March 22 and, within the last few days, had made it to within 30 kilometres of Point de la Guiche, where John discovered the "missing link".
There, the team planned to stop and toast a dram of Highland Park whisky – made in Orkney – to him.
Another strand of the expedition is to raise awareness of a project to transform John Rae's birthplace into a world-class Arctic expedition history centre. John was born at the Hall of Clestrain, Orphir, near Stromness in Orkney.
Reid hopes the Arctic Return will inspire donations to Clestrain. He said: "It would be wonderful if the expedition could help breathe new life into the hall.
"I envisage a World Heritage site that all can enjoy."
---
You can find out more or offer support and sponsorship at arcticreturn.com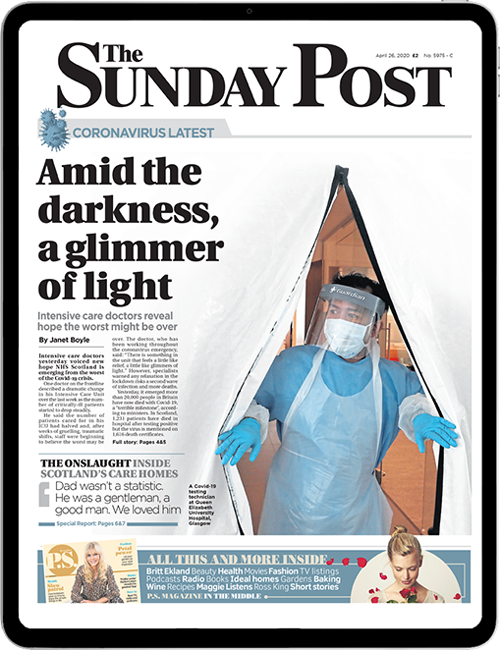 Enjoy the convenience of having The Sunday Post delivered as a digital ePaper straight to your smartphone, tablet or computer.
Subscribe for only £5.49 a month and enjoy all the benefits of the printed paper as a digital replica.
Subscribe