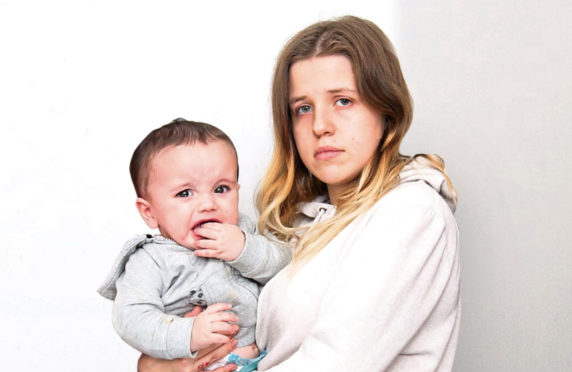 A teenage mum sent to Malta by a Scots judge during lockdown has been repeatedly arrested by police there after refusing to leave her baby son alone with his father.
Leigha Collins has twice been charged and visited by police on four occasions after refusing to leave baby Hayes alone with his father Kyle Borg – who has been described in court as having a dependence on drugs and recently pled guilty to a violent assault.
She fled Malta last year after her relationship with Borg broke down but was ordered to return with their son, despite the international lockdown, after he brought a case against her under an international anti-child-kidnapping law.
Now an MSP is demanding Nicola Sturgeon intervene to secure her return from Malta, which has seen a sharp rise in its number of Covid-19 cases.
A Maltese court granted Borg access to Hayes three days a week, despite his probation officer revealing his dependence on cannabis and concern that he could not behave "normally". He will be sentenced next month for the assault on a pizza delivery man.
Leigha said: "I cannot believe that nobody seems to be able to do anything to help me protect my baby. All I care about is whether he is in a fit and proper state to be in charge of our baby, but I could be thrown in jail for protecting my child.
"Given the concerns of his ­probation officer, why would I allow him to remove the baby? There's nothing in the order stating that he can remove him, but the police have twice charged me with not complying with the order and visited me on four occasions.
"He should at the very least need a drugs tests before he is allowed anywhere near Hayes."
Probation officer Marilyn Attard told the court she and Borg's own mother had expressed "concern" over his drug-taking and mental health.
Ms Attard told the court she had "recommended that he should take responsibility for the drug use' and added that she urged him to see a psychologist and a psychiatrist in order to get help.
Ms Attard said Borg's mother was also concerned, adding: "I remember that she said he tried to stop cannabis but it was very difficult for him to stop and cope and behave, let's say, normal."
The probation officer said Borg told her he felt out of ­control without cannabis and she had offered him treatment for anger management.
But, instead of dealing with it, giving evidence earlier this month, she told the court Borg sought out a medical prescription for cannabis. She said: "It seemed more like justifying an addiction rather than, sort of, covering up an addiction."
Despite Ms Attard's testimony, the court allowed Borg access to baby Hayes.
Earlier this year Court of Session judge Lord Brailsford was given statements from Leigha stressing her concern about Borg's excessive drug-taking in close proximity to both Hayes and his brother, Alfie. Borg also said he "regretted" photographs of him posing with bags of cannabis, which were entered into evidence before the court.
In his summing up of the case, Lord Brailsford said the "intolerable situation" Leigha faced was regarding her "own circumstances".
He said he did not "need to judge that" and would not consider the criminal charges facing Borg as the case had not been dealt with in Malta.
MSP Alex Rowley said: "I was more than disappointed when the First Minister for Scotland said she could not intervene when Leigha was ordered back to Malta during lockdown.
"But things have now ­progressed to an extremely ­worrying situation where I believe the safety of this young Scots mum and her baby are being placed at risk.
"This is something the Scottish Government must do something about. The facts of this case, with Borg's probation officer showing concern about his drug dependence, are not only deeply disturbing, but must merit action as under the rules of The Hague Convention. The safety of a child takes priority over everything else.
"The Hague Convention was designed to protect ­vulnerable mothers and children, but in this case it's used instead to give this father access to his child no matter what."
Mr Rowley will raise the issue next week in parliament and demand the intervention of the government to bring Leigha home as soon as possible.
In addition, Shadow Justice Secretary James Kelly will be raising the case in the Scottish Parliament next week.
Mr Kelly said: "This is a ­completely unacceptable ­situation. We've been deciding on legislation all last week about looking after children, but here we have a vulnerable young Scottish mum and her baby being treated like this in a foreign country.
"We'll be pressing for an immediate intervention by Scottish justice authorities and will be seeking to have Leigha and her baby brought home to Scotland as quickly as possible."
The Court of Session in Edinburgh was assured Leigha would get access to benefits in Malta and Borg would provide accommodation for her and baby Hayes. But Leigha said: "I've no access to benefits and I'm reliant on whether Kyle gives me around £45 a week to keep the both of us.
"My parents are facing huge legal bills for my lawyer in Malta and this nightmare could go on for seven years or more.
"I'm trapped indefinitely and separated from my other son Alfie, who is missing his wee brother and his mummy. This is beyond cruel."
Borg's lawyer in Malta, Robert Thake, whose client was prescribed one gram of cannabis per day, said that this was medicinal, and should be considered like any other prescribed medicine.
On the child access order, he said: "The decree in question specified that access was to take place in the presence of his parents, and not in the presence of Ms Collins. If the court wanted the access to be supervised by Ms Collins it would have said so.
"The fact that Ms Collins has prevented my client from taking his son is in itself a criminal offence according to the Maltese Criminal Code since access was not exercised as per court order."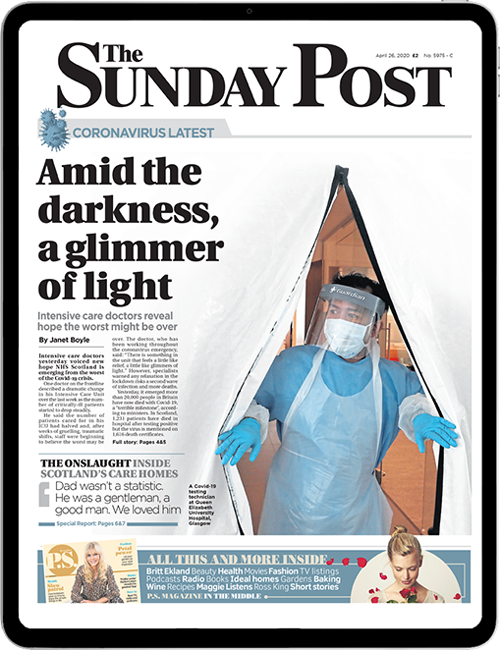 Enjoy the convenience of having The Sunday Post delivered as a digital ePaper straight to your smartphone, tablet or computer.
Subscribe for only £5.49 a month and enjoy all the benefits of the printed paper as a digital replica.
Subscribe