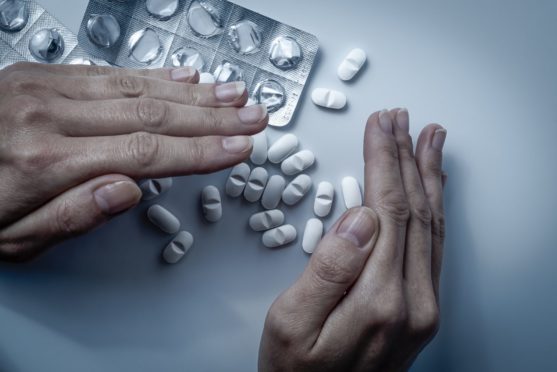 Chronic pain sufferers are at risk of addiction to powerful prescription painkillers because alternative treatments are underfunded, experts fear.
About 800,000 Scots a year receive at least one prescription for opioid painkillers, which can be as addictive as heroin, and ministers have been warned there must be greater investment in specialist clinics to cut waiting lists or more patients will be put at risk.
The warning comes amid calls for more resources to support sufferers at risk of drug dependence with concern growing around the use of prescription opioids. Family doctors in England have now been told to avoid prescribing potentially addictive drugs to chronic pain sufferers and the Scottish government is under ­pressure to tighten guidance when an official consultation on the issue closes on Friday.
Professor Jonathan Chick, ­medical director at the Castle Craig rehabilitation clinic in Peeblesshire and a former adviser to the World Health Organisation, said: "Access to NHS specialised pain management is limited. Like many other health areas, investment now could mean eventual savings to the public purse in terms of unnecessary investigations, prolonged prescribing costs and even sick leave and disability benefits."
Former MSP Dorothy Grace-Elder, who is secretary of the Cross Party Group on Chronic Pain in the Scottish parliament, said: "The general lack of help for chronic pain sufferers is a national scandal. The biggest problem is most GPs have no alternative to prescription.
"The doctors and nurses who ­provide the specialist NHS services are excellent, but they do not get enough funding, so services have huge waiting times. The government has been warned about this for years.
"We urgently need proper ­investment in pain clinics because their treatments work and they are comparatively cheap, but of course they have to have the specialist staff. People don't want wishy-washy self-management, which is sitting in a circle talking about yourself. People want the proper investment in specialist services they have been pleading for for about 15 years."
Prescribing for chronic pain in Scotland increased by 66% over the 10 years from 2006, but has remained stable over the past five years. Commonly prescribed drugs include opioids and ­gabapentinoids, as well as other medicines associated with dependence. The risk of harm substantially increases at opioid doses above 120mg per day with no increase in benefit.
A quarter of Scots patients who are prescribed opioids have been on the drug for more than two years, with official advice stating that the risks include overdose, abuse, fractures, myocardial ­infarction, and sexual dysfunction.
Official guidance in Scotland, which was revised last year, states: "Opioids should be considered for short to medium-term treatment of carefully selected patients with chronic non- malignant pain, for whom other therapies have been insufficient, and the benefits may outweigh the risks of serious harms such as ­addiction, overdose and death."
David Liddell, chief executive of the Scottish Drugs Forum, which provides expert advice on drugs policy to politicians, said a growing number of Scots suffer from chronic pain but lack appropriate support.
He said: "In most cases ­treatment involves the prescribing of pain medication. Our view is that people with a chronic pain issue should be assessed and that most could be supported by pain management clinics which exist across the country. This would ensure that people were provided with a range of ­coping strategies which may initially involve short-term prescribing. It is important that people have swift and easy access to such provision."
Liddell also warned that ­prescription painkillers can be a gateway to illegal drugs.
He said: "Clearly, the longer ­people are on pain medication the greater the risk of developing a dependency. There are examples of people requiring treatment within addiction services having started on a prescribed medication.
"Clearly there are grounds for ­concern and to ensure good prescribing practice. The focus of concern needs to be wider than prescribing. Simply enforcing stricter regulation of prescribing may have unintended consequences. If people who are dependent are told they will no longer be prescribed their medication, they may be forced to source it, or something similar, through a street or online supply. That is a highly undesirable outcome."
The Scottish government set up a working group to examine dependence on, and withdrawals from, prescription medication. It has made a series of recommendations, including a call to produce enhanced clinical guidance for prescribing and offer tailored support to patients with withdrawals. The consultation on the proposals closes on Friday.
Co-chair of the working group, the former MSP Irene Oldfather, who is also director of the Health and Social Care Alliance Scotland, a membership organisation for health charities, said: "The consultation offers the opportunity to hear about people's experiences, what matters to them, how well our proposals will help meet their needs and, as such, is an opportunity to influence future policy.
"Person-centred care should mean that it's not one-size-fits-all and it's important to frame policy in the context of what matters to patients themselves. Developing that culture and context is really important. I look forward to the outcome of the consultation and would encourage people to contribute their experiences."
The Scottish government said improvement of chronic pain services was a priority in the new programme for government. A statement said: "Living with chronic pain can be incredibly difficult and we are determined to improve services for all those affected.
"Chronic pain services remain a priority for the Scottish government; in September 2020 we published a Recovery Framework for NHS pain management services and are working with NHS boards to implement these actions.
"We know that there is need for improvement and working with our National Advisory Committee on Chronic Pain, which includes patient representatives, this year we will publish an updated framework for chronic pain service delivery to tackle improved access to care for people with chronic pain and deliver better health outcomes."
---
After a few weeks, I needed more tablets than I could get

– A former prescription drugs addict
A successful financial adviser in Ayrshire when he was prescribed powerful painkillers for back pain, John, not his real name, became dependent on prescription drugs.
He began buying them from the US, started abusing alcohol and eventually became addicted to illegal drugs, losing his business and partner.
After a spell in rehab in Glasgow, he began to rebuild his life and is now drug and alcohol-free, running a restaurant in the US where he lives with his wife and daughter.
I suffered a prolapsed disc in 2008 and I was given tramadol, which is a synthetic opiate, for the back pain, and diazepam, which is Valium, to ease the spasms. These drugs were prescribed by my GP in Ayrshire after I was told it would take months and months to get an operation on the NHS.
I had resisted getting any medication for seven months because I had heard about people getting addicted to painkillers. But the pain got so bad I could hardly walk.
Eventually, I couldn't stand up for more than 30 seconds without having to go down on to my hunkers, and I couldn't drive, which affected my ability to go out and see clients.
I remember vividly telling my doctor that I couldn't go on like this but my instincts were screaming that this could be bad for me. I didn't know what else to do so I took the medication.
The first time was just before I went into a meeting about a mortgage application and I got high in the middle of that meeting. It was like a whoosh right up the back of my neck.
After about a month I needed more than I could get. I was suicidal without them, very down and depressed. So, I ordered more through these online doctors in America. You just filled in a form and some waivers, which allowed them to get around it, legally.
At one point I overdosed and woke up in Crosshouse Hospital on a drip. I don't know how I got there but I later found out I collapsed in the street and was taken in by ambulance.
Another time I completely blanked out behind the wheel. I remember clearly driving along and then boom, I blanked out at a junction and a taxi drove straight into me. I could have been killed.
After six months I started drinking heavily and taking drugs, cocaine mostly. The prescription drugs were the gateway. I split up with my girlfriend and my business collapsed. It was horrible.
That whole period, I hardly remember anything. My brain is still mush. I can't concentrate on anything. My short-term memory has been affected. I don't take any medication now, apart from paracetamol.
But I don't blame the GPs. They are too busy. You get your five minutes and they just dish out pills. They don't have time to give you individual care. That's the NHS system. It's free but it's not very good.
When I moved to America I was shocked at the amount of money you have to pay for healthcare but the quality of care is a lot better than the UK, if you can afford it, of course.
---
Some patients – never prone to addiction –will enter a
vicious circle
by PROFESSOR JONATHAN CHICK, Medical director, Castle Craig Hospital
Opioids are addictive because they bind to reward pathways in the brain and in some patients elevate mood. So some will get, and like, a feeling of euphoria along with the pain relief. However, the brain adapts to drugs and tolerance develops, so larger doses are needed to get the same effect.
OxyContin, like a number of other products such as tramadol, have been widely prescribed because people demand help for pain, and not all doctors are equipped to know of, and communicate, the risks of addiction. Some doctors find the pressure from patients very difficult to manage, especially if access to other forms of pain management is limited. I'm not being critical of people in pain – they are distressed and seeking help.
Some enter a vicious circle and become mentally disturbed as the addiction to painkillers develops. They may be people who were previously never prone to addiction.
In good faith, the doctor prescribes something, but they become addicted to it. They are then in a distressing emotional conflict. Part of them seeks the drug and wants more and the other part is telling them not to take it.
When opioid medications are used regularly, pain-systems in the brain are altered, which can make pain worse. This should be more widely known.
Some people take extra doses, which can stop breathing and cause death. I have known people who lost their lives by unintentional overdose: I knew a family who got up to breakfast one morning and father wasn't there having died in his sleep after a few extra OxyContin. He had trouble sleeping, was using the drug for pain, took a few extra and didn't wake up. I know of other similar cases.
OxyContin and similar medications are as addictive as heroin. Some people who develop tolerance and feel pain worsening or who slip into withdrawal symptoms and cannot obtain an extra prescription, go to illicit markets to find substitutes and even end up being sold heroin.
Dr Jonathan Chick is medical director of Castle Craig Hospital, a private residential drug and alcohol rehabilitation clinic. He is a consultant psychiatrist, and formerly honorary professor at Edinburgh Napier University and adviser to the World Health Organisation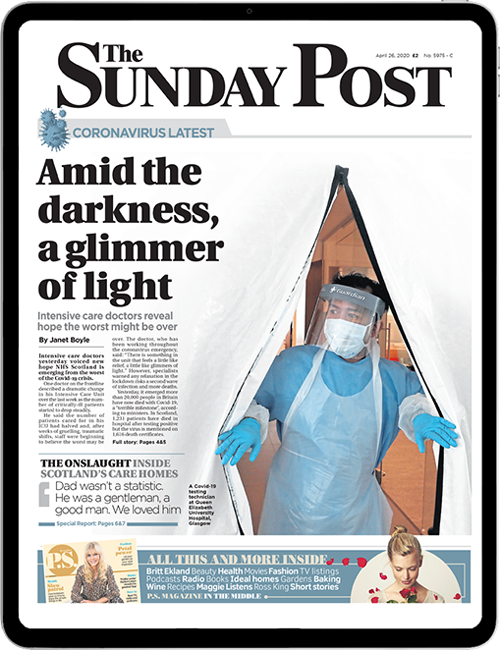 Enjoy the convenience of having The Sunday Post delivered as a digital ePaper straight to your smartphone, tablet or computer.
Subscribe for only £5.49 a month and enjoy all the benefits of the printed paper as a digital replica.
Subscribe