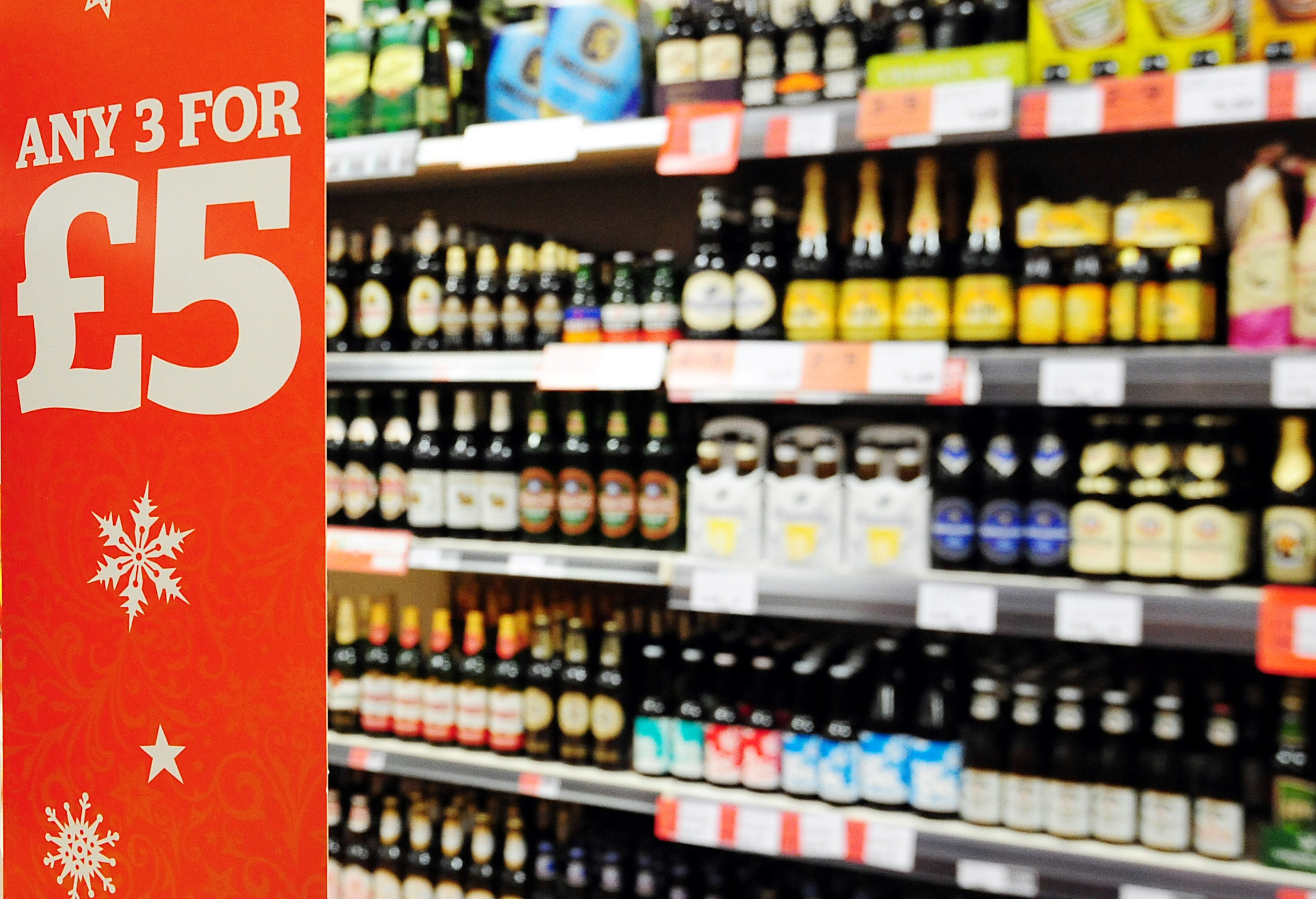 SCOTLAND will become the first country in the world to introduce minimum pricing on alcohol after the Supreme Court rejected an appeal against the Scottish Government's proposals.
The plans had been opposed by the Scotch Whisky Association (SWA) and faced several legal challenges.
Here's all you need to know about it.
What is minimum pricing?
The SNP led Scottish Government first announced plans for minimum pricing in 2009, saying that the alcohol problem in Scotland is so significant that ground-breaking steps had to be taken to reduce consumption.
They pointed to evidence showing that affordability is a driver for increased consumption, and further research into pricing policy concluded that a minimum unit price would be an effective option.
It was recommended as a way of increasing the price of drinks such as own-brand spirits and white cider, which have high alcohol content but are usually very cheap.
Minimum unit pricing is just that, it sets a level for which a unit cannot be sold for lower than. The more units, the greater the cost.
The Scottish Government say it 'is not a tax; it is a targeted way of making sure alcohol is sold at a sensible price.'
The policy was passed unopposed in the Scottish Parliament more than four years ago and is backed by many public health professionals, the police and alcohol charities.
Why price matters
Health campaigners argue that when the price of alcohol goes down, consumption of alcohol goes up. The more affordable drink becomes, the more people use it, and the more harm society experiences because of it.
The organisations Scottish Health Action on Alcohol Problems (SHAAP) and Alcohol Focus Scotland are among those to have campaigned for an increase in the price of drink to cut consumption and harm.
How it works
The Alcohol (Minimum Pricing) (Scotland) Act 2012 was passed by MSPs at Holyrood in 2012. The legislation outlined a 50p-per-unit minimum price.
Many drinks are already priced above this threshold, especially in pubs and bars.
Drinkers of cheap super-strength cider and own-brand vodka will feel the biggest effect from the new laws. Many of these can currently be bought for just 20p a unit, according to Alcohol Focus Scotland.
The price of some strong ciders would likely double.
---
50p minimum price would mean:
A 70cl bottle of whisky could not be sold for less than £14.

A 70cl bottle of 37.5% vodka could not be sold for less than £13.13

Four 440ml cans of 9% lager could not be sold for less than £7.92

A 75cl bottle of 12.5% wine could not be sold for less than £4.69
---
Benefits
Ministers say it means less money will have to be spent dealing with the consequences of alcohol misuse. Alcohol Focus Scotland says that in the first year alone, minimum pricing could prevent 60 alcohol-related deaths, 1,600 hospital admissions and 3,500 crimes.
The Institute of Alcohol Studies says analysis found that a 50p MUP would have minimal effect on moderate drinkers, while heavy drinkers would drink 134 fewer units a year on average.
Research by the University of Sheffield (April 2016) estimated that the proposed minimum price of 50p per unit would result in alcohol related deaths falling by about 120 per year by year twenty of the policy if it was in full effect.
Hospital admissions would also fall by 2,000 a year in the same circumstances.
Supreme Court rejects legal challenge against minimum alcohol pricing in Scotland
Opposition
The Scotch Whisky Association were among the strongest opponents of the legislation. They brought legal challenges against the laws in Scottish courts, the European Court of Justice and, eventually, the UK Supreme Court.
It was questioned whether it would breach EU competition law, and accused of damaging Scotland's drinks industry.
It was also argued that it wouldn't be effective in tackling alcohol misuse and would penalise those on low incomes who were responsible drinkers.
They agree there is a problem with alcohol misuse but say alcohol-related harm in Scotland has declined in recent years. In addition, existing laws on under-age sales and sales to drunk people are not fully and effectively applied at the moment, it argues.
When will it come into place?
Ministers have always said they will move "as quickly as is practicable" to put the policy in place.
Timeline
March 2009
The Scottish Government, a minority SNP administration, announces plans to set a minimum price for alcohol in a bid to stop drink being sold for "pocket money prices", immediately lining it up for a clash with the drinks industry.
September 2010
Nicola Sturgeon, the then Health Secretary, proposes a minimum price of 45p per unit of alcohol.
November 2010
MSPs reject the SNP's flagship plan for a minimum price on alcohol in a vote at the Scottish Parliament, by 76 votes to 49. Other laws to tackle Scotland's unhealthy relationship with alcohol were approved.
November 2011
The SNP administration at Holyrood reintroduces its plan for minimum unit pricing after securing a majority in the Scottish Parliament in the May election.
May 2012
Scotland becomes the first part of the UK to back minimum pricing for alcohol when Holyrood passes the Alcohol Minimum Pricing Bill. MSPs voted by 86 to one in favour of legislation which would mean drinkers must pay the increased price of at least 50p per unit of alcohol.
July 2012
The Scotch Whisky Association (SWA) launches its legal action against the law.
January 2013
The first legal challenge gets under way at the Outer House of the Court of Session in Edinburgh.
May 2013
The legal challenge fails in court after a single judge, Lord Doherty, rules that the legislation was not outside the competence of the Scottish Parliament.
February 2014
The SWA appeals against that decision to the Court of Session's Inner House.
April 2014
Three judges who heard the appeal refer the legal challenge to the Court of Justice of the European Union.
December 2015
The European Court of Justice (ECJ) in Luxembourg rules that the plan for a minimum alcohol price would breach European Union (EU) law if alternative tax measures could be introduced. It concludes a tax rise on alcoholic drinks could be less restrictive of trade but referred the case back to the Court of Session for a further decision.
June 2016
Court of Session judges hear further evidence after seeking the opinion of the ECJ.
October 2016
In a "landmark" decision, Scotland's highest civil court backs the Scottish Government's plans to bring in minimum pricing.
December 2016
The Court of Session grants the SWA permission to take its fight against minimum unit pricing to the UK's highest court.
July 2017
The appeal gets under way in front of seven justices over two days at the Supreme Court in London.
November 2017
The Supreme Court rejects the SWA's challenge to the plans, paving the way for minimum pricing for alcohol to be introduced in Scotland.