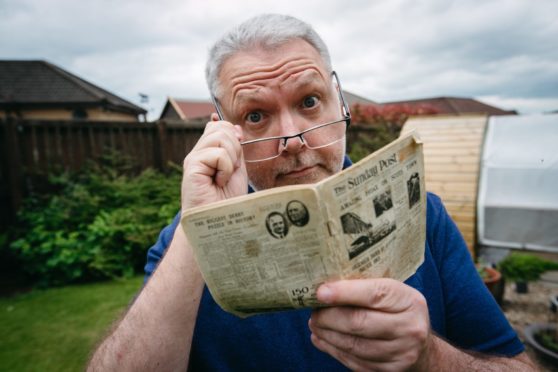 The New York Times famously ­carried All The News That's Fit to Print before Rolling Stone more prosaically had All The News That Fits.
Now, an old but miniature edition of The Sunday Post has revealed how we once managed to fit a lot of news on tiny little pages.
Stephen Lees was baffled after finding the copy of the newspaper from May 21, 1933, when he was packing up the belongings of his late dad at his home in Dundee. It was a replica of the full-size edition, complete with news stories, ­quizzes, a crossword and a sports section, but smaller than his hand.
It was produced in the year of his father David's birth and the former postman had kept it until he died, aged 76, in 2010. Lees, who lives near Coatbridge, said: "It's amazing. There is some great stuff in it. It's about the size of my palm, and it's a slice of history. It must have meant enough to him to keep it.
"It's in good condition for something that's nearly 100 years old. There are a few stains and the front page has seen it the hardest. But it's really interesting. A time capsule."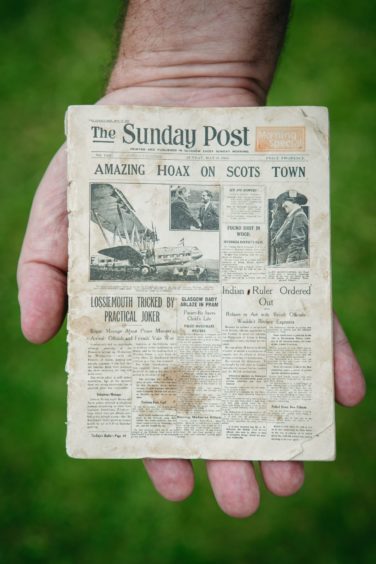 The lead story of the 28-page paper was about a practical joke that Prime Minister Ramsay MacDonald was due to arrive in Lossiemouth. Another tale describes how a baby girl had been plucked to safety by a heroic passer-by after her pram caught fire in Glasgow. Her woollen clothing had protected her from serious injury.
On the inside pages, agony aunt Margaret McCallum dispensed brisk advice to a series of lovelorn or lonely readers who had written in with their dilemmas.
The paper had been carefully stored in a box at Lee's home along with other mementoes and documents until he decided to research its history.
Having been born in Dundee, he had grown up with Oor Wullie and the Broons and remembered seeing DC Thomson delivery vans with their distinctive livery.
David Powell, archive manager at DC Thomson, said a number of miniature editions – measuring four by five-and-a-half inches – were produced from 1933 to 1959 as promotions to be given away at events where the company would have had a trade stand. It was likely to have been printed from photographs of the pages of the main newspaper from that week, which could then be converted into new printing plates.
---
May 21, 1933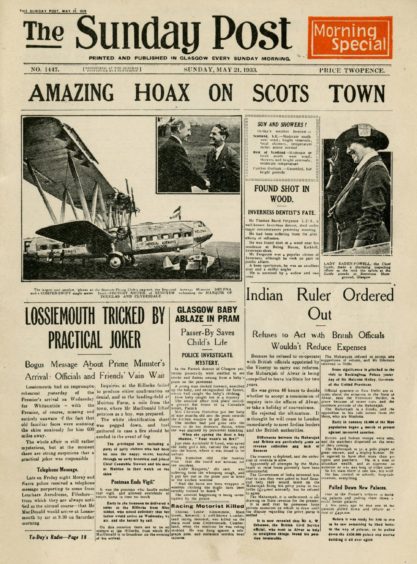 The stories making our front page 88 years ago…
Civic leaders pranked by hoax visit
A hoax message about the imminent arrival of Prime Minister Ramsay MacDonald sees civic leaders from Lossiemouth spending a morning standing in a field outside the town, waiting for his arrival.
The mystery begins when police receive a phone call on the Friday night, from "Leuchars Airdrome, Fifeshire", telling them that the Prime Minister would be flying into Lossiemouth – where he was born in 1866 – at 9.30am the next morning. After a morning's wait at the local airstrip, the reception party is told MacDonald will not be arriving until Wednesday.
The Sunday Post reports: "The whole affair is still rather mysterious, but at the moment there are strong suspicions that a practical joker was responsible."
An Indian big spender forced out
The ruler of an Indian state is ordered to leave for two years by the British authorities after refusing to curb his spending.
The Maharajah of Alwar was told to accept an inquiry or leave. He is expected to spend the time in London. The row was over the collection of tax and the state's poor financial position.
The Sunday Post reports: "The Maharajah is 51, a polo player of great renown, and a mighty hunter. He is a man of abundant wealth and as supreme an autocrat as was any king of olden time.
"In his state there is one law, his wish. He has control of schools, hospitals, taxation, everything.
"One of the Prince's hobbies is building palaces and pulling them down to build better palaces. A few years ago he had one of the palaces pulled down and rebuilt at a cost of £450,000."
Your wean's on fire: Boy raises alarm over burning pram
How a baby girl had a miraculous escape when she was saved by a passer-by after her pram caught fire also features on the front page.
Police are investigating the "unusual happening" after nine-month-old Margaret Hamilton's clothing had ignited and she was lucky to survive unscathed.
The paper reports: "In the Partick district of Glasgow yesterday passers-by were startled to see smoke and flames issuing from a baby's pram on the pavement.
"A young man dashed forward, snatched up the baby, and extinguished the flames, which had caught the baby's clothing. How the baby caught fire is a mystery."
The baby's mother, Mrs Christina Hamilton, had put her in the pram outside the kitchen window of her ground-floor flat to get some air.
According to the report: "The mother had just gone into the house to do her domestic duties, when she was alarmed by persistent knocking. When she opened the door, a boy shouted: 'Your wean's on fire.'
"Just then Archibald McLeod, who saved the baby girl's life, carried the tiny tot into the house where she was found to be unhurt." Mrs Hamilton told The Sunday Post she could not account for the accident.
"Little Margaret," she said, "was suffering from the whooping cough and I put her out in her pram just in front of the kitchen window.
"Had the bairn not been wrapped in woollen clothing she might have been terribly burned to death."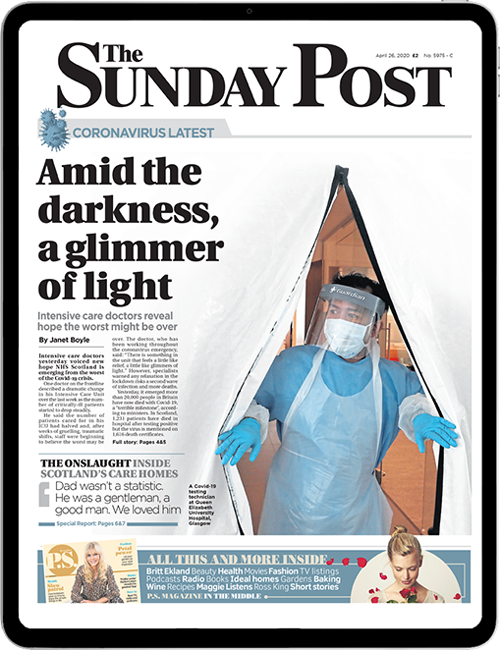 Enjoy the convenience of having The Sunday Post delivered as a digital ePaper straight to your smartphone, tablet or computer.
Subscribe for only £5.49 a month and enjoy all the benefits of the printed paper as a digital replica.
Subscribe