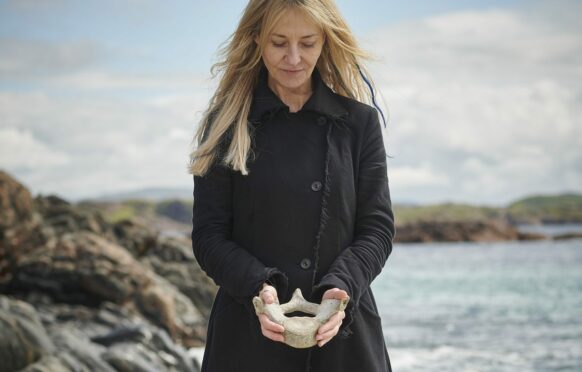 In the seas off Scotland's coast, two complex and often mysterious environments share a similar trait – a reliance on sound.
While human military activity bounces sonar around on exercise drills, deep below the surface are creatures like whales and dolphins that use echolocation for their own communication, navigation and hunting.
The delicate balance between the two and research into whether the presence of military sonar has played a part in mass strandings of whales in recent years has sparked a new multimedia exhibition.
The project, created by Iona-based artist Mhairi Killin, was inspired by a 'unique mortality event' in 2018 that saw around 120 whales wash up dead on Atlantic shores, with over 45 in the Hebrides alone.
One Cuvier's Beaked whale, which would become known locally as the 'north end whale', washed up on Iona and piqued islanders' curiosities.
"News travelled quite fast among local people," Killin recalled. "There was a buzz on the island and the same would've happened historically but for different reasons.
"Back then, a whale body coming ashore would've been a source of bounty for islanders, for food, oil and bone.
"This time, as the carcass decomposed and more and more of the skeleton was exposed, parts of it started to go missing. It wasn't the sea that was reclaiming them, it was islanders, clearly not for the reasons before, but more I think just because of a connection, a need to have something of this amazing creature closer to them.
"I was intrigued by that, why we as humans felt such fascination to the extent that we wanted to claim parts of its body and by why it had come ashore in the first place."
On Sonorous Seas, on display at Mull's An Tobar from next month, mixes whale bone sculpture, video, poetry and soundscape into an immersive sensory experience.
Much of the work has been inspired and created from research into sonar's impact on wildlife.
The Ministry of Defence confirmed in 2021 that it had been operating in the area of the 2018 strandings, and said they acknowledged the risks to marine life and had taken precautions before and during sonar operations to minimise them.
During the Joint Warrior exercise off the Scottish coast last May, which saw ships, aircraft and troops from the UK and 13 other nations take part in war drills, Killin joined the Hebridean Whale and Dolphin Trust (HWDT) for an 11-day expedition.
She collected recordings of orca calls, dolphin clicks, boat engines and magnified sonar  on the research boat Silurian alongside scientist Becky Dudley.
They've been transformed into a soundscape by composer Fergus Hall, while Dutch-born and Mull-based poet and artist Miek Zwamborn has written a new poem as an elegy and requiem for the whales.
The exhibition will also feature sculptures made from the remains of a whale washed up at Bragar on the Isle of Lewis in 2018, its skull suspended above a reflective floor.
Killin describes it as a "living project",  fusing science, music and art in a bid to engage people in what is a complex story to tell.
'We are an island nation and must lead the battle to save our seas': Scientist and documentary maker Ella Al-Shamahi's clarion call after examining death of whale on Scots coast
Along with the HWDT, she has also worked with the Scottish Association for Marine Science, National Museums Scotland and Scottish Marine Animal Strandings Scheme.
"It's a real partnership," she said. "I got the ball rolling but it has become the project that it is because of the contribution of so many amazing people, art creatives, scientists and thinkers.
"It's a story that is complex and by telling it through this partnership we encourage more people to engage with the issue and hopefully a bit more understanding about how industrial the landscape below the sea actually is."
Killin hopes the exhibition will expand conversations within the context of the climate crisis the world faces.
Particularly as the oceans make up a huge part of the earth's ecological system.
"It's not in any way presenting a binary argument that the military are bad and whales are good. It's far more entangled and complicated than that.
"We value our national security, but also the ecology of our seas. The question is how we have both those things, how these two sets of values sit alongside each other without causing damage.
"The two environments overlap – they were described by one of the scientists I spoke to as being cryptic environments. They're mysterious.
"Scientists actually know very little about this particular species of whale and we know very little about the activities of the military."
From the tales of Jonah and Moby Dick to the crowds that gather when sightings are made close to land, whales have always seemed to fascinate.
Killin suspects their mystique may stem from the limited interactions humans tend to have with the deep-sea creatures.
"With great sadness, most of us only see a whale either in a natural history museum or when they come ashore," she said.
"I wonder if it is that human to non-human connection. In many cultures, and in Hebridean culture right back to the Bronze Age, we see remains of ritual deposition of whale bones, not just for domestic or functional use.
"It's a really deep-seated human response and it's part of what I've been looking at in the project."
There will be events in August at locations where whales stranded on Mull and Iona, with a soundscape performance and talks by the artists and scientists involved.
"I was very fortunate that my local arts organisation really engaged with the proposal from the beginning and commissioned the work from me," Killin said.
"A gallery environment is a very traditional way of showing work but we're also really bringing the project back to the audience who are part of the island life, which for centuries has interacted with the sea and creatures of it."
Killin has lived and worked on Iona, where her grandfather 's side of the family originates, since taking a year out to stay there in 1997 and never finding a reason to leave.
"It's a privilege to live here," she said. "All the islanders feel like that about Iona. I'm very fortunate to be part of a thriving, pro-active island community.
"It's really fantastic as a local artist to show work that has been borne out of my own environment and show it back to a local audience.
"It's also really important that work made in this part of Scotland gets an opportunity to be seen on the mainland as well, widening out audience as much as we can and raising awareness of the kind of art that's being produced here."
---
On Sonorous Seas is at An Tobar, Mull from July 8 to August 27. Visit  onsonorousseas.com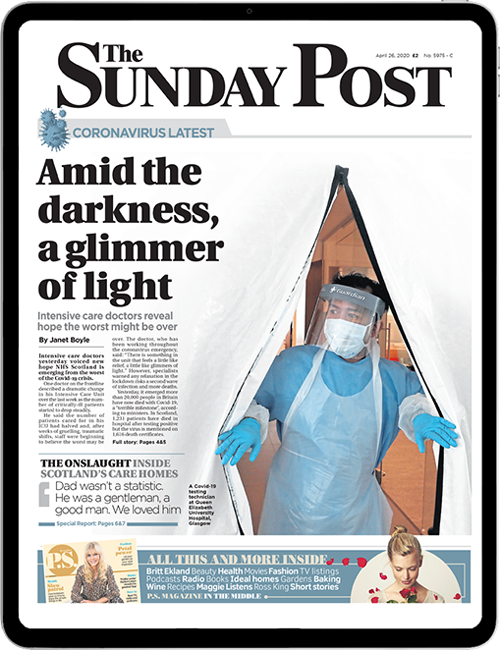 Enjoy the convenience of having The Sunday Post delivered as a digital ePaper straight to your smartphone, tablet or computer.
Subscribe for only £5.49 a month and enjoy all the benefits of the printed paper as a digital replica.
Subscribe