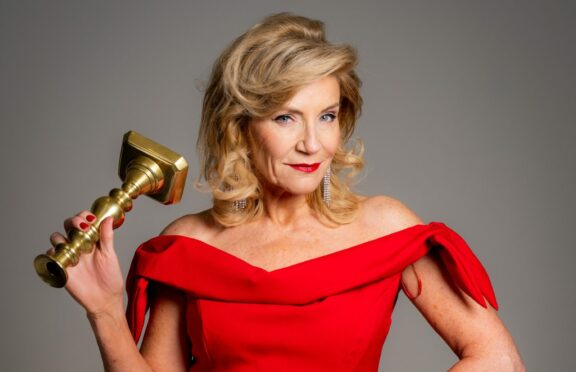 Each night, Michelle Collins hears the laughter from the audience and realises it's not just what they need, but what she needs, too.
The former EastEnder is playing murder mystery for laughs in the stage version of Cluedo, based on Clue, the cult 1985 movie that starred Christopher Lloyd, Tim Curry and Lesley Ann Warren.
Collins takes on Warren's role of femme fatale Miss Scarlett in the show, and she says it has come at just the right time after a difficult 12 months. Last Saturday marked the first anniversary of the death of Collins' mum, who passed away from cancer.
"It's been a tough year, so it's nice to do a comedy – it's a good distraction," she commented. "It's nice to hear people laughing. There's nothing like being in a theatre among other people watching a show. Laughter is such a tonic and I think we all need a laugh.
"It's been such an awful time for a lot of people, and there's a need to go to the theatre and escape it all. It's so good for our mental health and people realise how much they are missing it."
Collins, who played Cindy Beale for a decade, on and off, in Albert Square, lost her mum Mary on April 30 last year.
"She was on immunotherapy treatment in lockdown and she was OK – I was shopping for her, looking after her – but in the second lockdown she got a bit down, like a lot of people, and got sick and passed away.
"I also lost another very good friend, so it's been tough. My mum had a bit of dementia but it was the cancer mostly. She was terminal, but you do think, 'If it wasn't for the pandemic, would she have lasted a bit longer?' But we'll never know. So many people have lost a loved one and it's really hard to describe to others what it's like to lose a parent.
"I was very close to my mum and can't explain it – it's a massive hole in your life and you learn to deal with it. I feel it's nice to talk about them and keep the memory of them.
"I've lost a lot of people in the last couple of years. I say to people not to come near me – I think I'm going to be renamed the Black Widow. But that's life, I suppose. I have a lot of friends and people around me, so it happens, doesn't it? But it's about trying to be positive and seeing that we are coming out of this, and being in a comedy really does help."
Work on Cluedo, which also stars Midsomer Murders' Daniel Casey as Professor Plum, didn't get off to the best of starts for Collins when she caught Covid during rehearsals.
"I had to carry on with the rehearsals on Zoom," she explained. "I went back on the Wednesday and we opened on the Friday, so it was a very stressful time, I can tell you. I never want to go through that again."
Early in lockdown, mum-of-one Collins kept herself busy by organising a fundraiser, For The Love Of Arts, for entertainment industry professionals who had been affected by the pandemic.
"I'd been doing the Harold Pinter play, The Birthday Party, when we had to stop. I did this massive fundraiser where I got 50 actors to perform monologues and we raised lots of money, between £70,000 and £80,000.
"I've known Ian McKellen for a long time and once you get a name like that involved, and Derek Jacobi, who I also know, and people like Lesley Manville, then others say they'll also do it. There were only two people who said no, and I won't name them," she laughed. "They had been working on films and said they were too tired, and I said yeah, all right, but when they saw how good they all were, they regretted it.
"I worked with a friend who has a production company and we put it all together in two weeks. It's amazing what you can do when you put your mind to something and I'm really proud of it. A lot of actors were affected by what happened and I think a lot of people think all actors are rich, drive fast cars and live in big houses, but I can assure you they are not."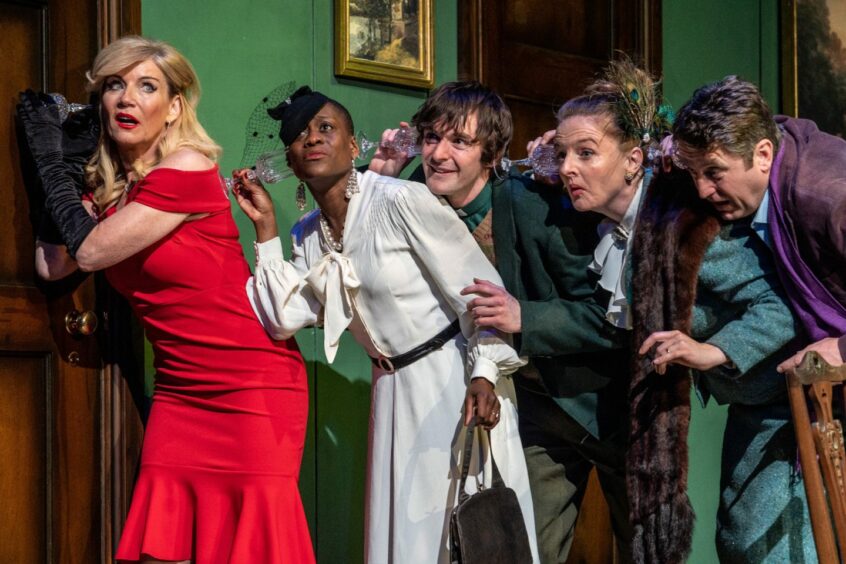 With a career as long and successful as Collins has enjoyed, it's no surprise she was able to call on such an array of big names to take part in the fundraiser.
Having begun her career in the theatre at 18, she became a backing singer for '80s band, Mari Wilson And The Wilsations, touring with them for 18 months. She returned to acting afterwards, and made her TV breakthrough opposite Gary Oldman in the BBC drama, Morgan's Boy.
She was a regular in '80s shows such as Running Wild and Gems, before EastEnders approached her to play Cindy Beale. Following her iconic character's demise, Collins went on to star in a number of TV dramas, including Sunburn, Daylight Robbery, Ella And The Mothers and The Illustrated Mum, and then she had a three-year run on Coronation Street as Stella Price.
She's looking forward to coming to Scotland with Cluedo as it will give her a chance to catch up with her co-stars from Two Thousand Acres Of Sky, which ran for three series on BBC from 2001.
"That was a hugely popular series and people always ask me why it didn't get brought back and where they can see it again. It never seemed to be repeated and I don't know why but it's available on Amazon now.
"It was kind of ahead of its time, I think, because it was about someone wanting to leave an urban life and move to the wilds of Scotland, which is kind of what people want to do now after the pandemic.
"I'm hoping I might make it along to visit the village where we filmed the show, and hopefully Elaine C Smith, who is a good friend of mine since we made Two Thousand Acres, can come along to see Cluedo. I'm hoping all the old cast can come along and see it. It was so sad about the death of Andy Gray, who was also in the series. He was a lovely man."
Collins recently had the opportunity to work with one of the new shining lights of Scottish screen talent, Mirren Mack, in an upcoming film called My House.
"She's great – I'd watched her in The Nest before working with her, so when I was told she was going to be in the film I was really excited. Francis Magee, who I know from EastEnders, is also in it and Mirren kind of plays my stepdaughter but I can't say too much about it.
"I also made another film called Stephen, which is from a really interesting new filmmaker called Melanie Manchot. It is about addiction and is set in Liverpool. I did a real mix of things during lockdown, including play readings and also I have my own production company, so I'm trying to get my own stuff off the ground, which can be developmental hell. You just need to keep at it, like everything really, but there are lots of things going on as well as Cluedo."
With a busy career, her engagement in March to her partner of 10 years Mike Davidson, and her 60th birthday coming up later this month, not to mention the personal losses she has suffered recently, Collins says it feels like a new chapter in her life is beginning.
"I suppose it does feel like that," she added. "April 30th was a year since my mum passed away and I think everyone who has a parent who is ill and you're looking after them, it's tough, really tough, for both parties – for them, because they are ill, but it also really affects the person looking after them, mentally, as well.
"I definitely feel much more positive and I feel very grateful to be actually working in an industry I love, because I know a lot of people aren't – a lot of people have left the industry because they couldn't manage to survive – so I count myself lucky."
---
Scarlett woman is so strong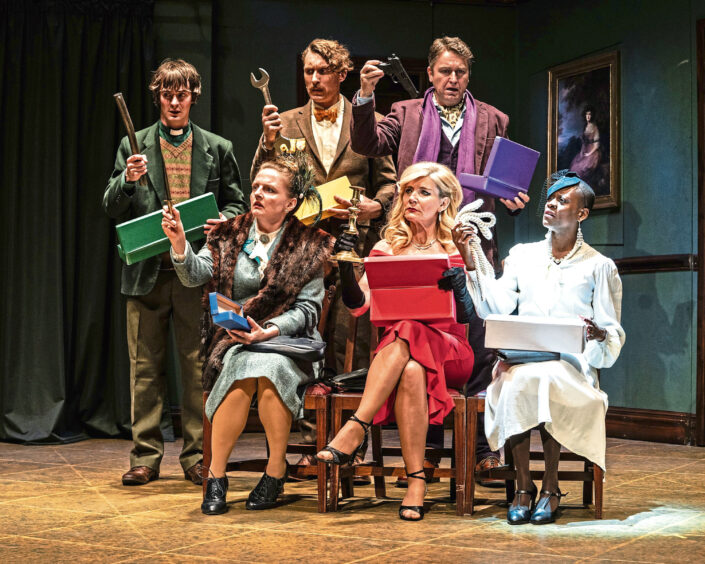 Directed by Jonathan Lynn, who co-wrote Yes Minister and Yes, Prime Minister, and co-written with The Blues Brothers' John Landis, Clue was a box office flop when it was released in 1985.
Despite its all-star cast, which included Spinal Tap star Michael McKean and Oscar nominee Eileen Brennan, critics' reviews were mixed but it eventually found its audience on home video and has long been regarded as a cult classic.
"The play is quite similar to the movie in the sense that all the characters, like Scarlett, Plum, Mustard, the butler, are in a big manor house," said Michelle Collins.
"Our director did The Play That Goes Wrong, so it's kind of quirky. Don't expect your average whodunit murder mystery.
"There's a lot of physical movement in it, so much so that we had a movement coach work with us.
"People say they don't know what to expect and it's hard to explain because there's not much like it. It's kind of out there on its own. It's been described as funny, silly and clever, and it's a good family show.
"Miss Scarlett is such an iconic character – she's who I wanted to be when I played the game. She's the most truthful and honest character in the play, much more down-to-earth and she doesn't come from a privileged background like the others.
"She's the most real, which is why I like her, and she's strong."
---
Cluedo, King's Theatre, Edinburgh, Tuesday-Saturday, Theatre Royal, Glasgow, July 4-9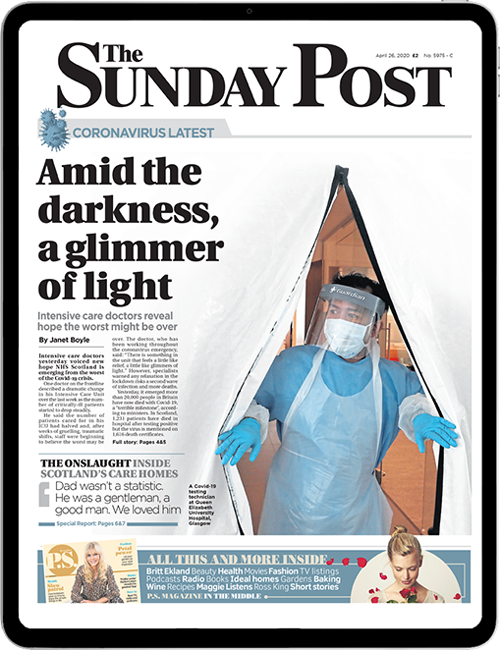 Enjoy the convenience of having The Sunday Post delivered as a digital ePaper straight to your smartphone, tablet or computer.
Subscribe for only £5.49 a month and enjoy all the benefits of the printed paper as a digital replica.
Subscribe