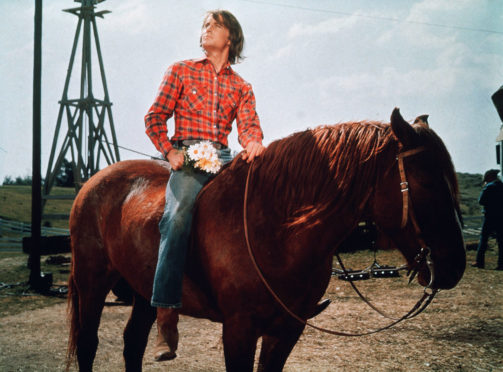 Like everyone else I'm missing my pal, although we did get the chance to catch up on video!
Last week, Michael Douglas was on his phone camera – where we all seem to spend our time these days – for a wee natter.
I've been pals with Michael for years so it was great to see him doing well during lockdown. One thing I wanted to know about him is if he's planning to come back to the Marvel universe.
He's had key roles in the hit Ant-Man movies, and it's expected he'll be in the third instalment.
Unfortunately Michael knows he's in more danger than his character in Basic Instinct.
"I can't talk about it," he laughed. "Because the Marvel guys will shoot me with a blowgun.
"But I think you got to hang tight because there might be some information coming out pretty soon."
As for how he's doing, Michael seems happy with the family – and his news channels.
"I'm a news junkie so I haven't been able to break away from that," he said.
"I'm fortunate that we have a bike trail near us, along the Hudson River in New York.
"Dylan and Catys are back from school so we're happy to have them back. We thought we were empty nesters but it turns out not!
"And I've been catching up on my Netflix, too.
"But for a guy who loves sports, we're outta that one! I guess I've got to count on news instead. Which isn't very good…"
Yeah, I'm not really enjoying this series of the news either, Michael. I thought it went a wee bit dark in the last couple of years so was hoping it would be a bit lighter. Apparently not!
Michael also reminisced about his first movie role, in Hail, Hero!. "It was about a young man trying to get out of the draft to go to Vietnam. The character was thinking of going to Canada.
"It wasn't a very good movie and I had to wear a wig. I had my hair cut and had to wear a long-haired hippy wig.
"They didn't do a very good job in those days – and I ended up looking like Veronica Lake!
"The hair came across my forehead and curled round the back of my head.
"I thought this might be the shortest career on record…"
Thank goodness it wasn't. Michael also moved on to chat about the rest of his career, and talking about the films that gave him most satisfaction.
"The one I'm most proud of is one I wasn't in – One Flew Over The Cuckoo's Nest," he revealed. "That was the first film I produced, when I was 30 years old.
"It won five Oscars and began my parallel career as a producer.
"As an acting role I like the movie Falling Down. Weird kind of picture, it was unpredictable, I enjoyed it.
"I also liked a picture called Wonder Boys, it was a dark comedy. I enjoy doing comedies."
Anyone who's seen my broadcasts knows I do too…